Digital Trade Show Displays
Interactive Displays, iPad® Kiosks & Monitor Stands
---
Five CEIR Insights Into Digital Trade Show Marketing
If you haven't heard of it before, the Center For Exhibition Industry Research, CEIR, is the resource for up-to-date information and statistics on the trade show industry as a whole. They constantly conduct the most reliable and comprehensive surveys of trade show exhibitors, and have an extensive library of research available to download.

In Sept. 2013 they collaborated with several partners, including the IAEE and Exhibitor Magazine, and released a Digital Playbook describing how exposition attendees are using digital resources to promote and supplement their trade show displays.
We've downloaded our copy, and so we've got a fresh batch of new insights to discuss when it comes to bridging the physical and the digital displays at trade shows. What do you need to know about digital exhibiting? Read on to find out more!
What CEIR Tells Us About Digital Integration At Trade Show Displays
A Digital Shift Is Most Definitely Occurring
One of the most clear indicators in the new CEIR playbook is that virtually everyone is starting to incorporate digital trade show displays, if they haven't already. Only 5% of respondents reported having no digital marketing strategies at all, and 72% of companies responding are predicting an increase in their digital spending in the upcoming business year. 68% already have full digital strategies in place, as opposed to simply working with digital sources ad-hoc.
Even better, it appears to be paying off. 83% of respondents say they see value in digital strategies when building attendee engagement at trade show displays, and only 5% reported no revenue that could be attributed to digital marketing. On top of that, 10% report that up to 50% of their revenue comes through digital sources, a big jump over previous years.
So, if you're on the fence about whether it's time to invest more in digitally marketing your exposition booths, it looks like the time is most definitely now.
Email Rules, Social Is Gaining
Email is the most common and everyday digital marketing tool, with almost universal adoption in business. It's also still seen as the most successful, likely in part due to its inexpensive nature. 72% of firms responding saw email as their most important tool for revenue generation. By comparison, only 40% rated in-booth lead capturing as their biggest lead generator.
By the same token, use of direct postal mail is shrinking. Less than half of the businesses polled say they're sticking with direct mail over email as a primary tool.
Social media is gaining rapidly, however. Two-thirds of businesses expect to be doing more social media marketing in the next few years, and 40% keep social conversations going year-round for the sake of keeping leads on the hook.
All in all, two-thirds of the companies polled see social media and digital strategies as becoming more profitable as time goes on. Plus, literally no companies stated that they expected to see their digitally-generated revenues decrease. At worst, digital revenues are merely expected to remain the same for the upcoming year.
Digital Tactics Successfully Engage Visitors
OK, we've been saying this for years, but it's always nice to see actual statistics backing up our gut instincts. Digital marketing gets your visitors interested, and helps build robust and multifaceted relationships that create multiple interactions over time.
In fact, of the companies who reported integrating strategies with digital displays into their trade show booths, 88% consider them either valuable or highly valuable. While the question wasn't asked directly, this would also tend to suggest that going "all in" is an important aspect of digital trade show marketing. That is to say, once you go digital, keep it up for the best results.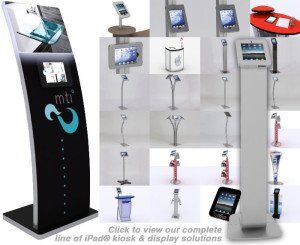 Even overall, 4 out of 5 respondents said they found digital tactics to be valuable.
Market segmentation is a big part of this. 70% reported that they were customizing their digital campaigns to micro-target market segments that would have been inaccessible using more traditional marketing methods. Personalization of your digital trade show strategies is extremely important, and will make the difference in engaging visitors.
Shifts In Strategy Are Going Realtime
52% of those polled stated that the best time to act on new information or trends in social media is immediately, even while a trade show is underway. Companies are increasingly willing to monitor their trade show social interactions and use them as the basis for strategy shifts as soon as the information becomes available. Given the real-time nature of the Internet, this shortening cycle of feedback and reaction is almost inevitable.
From our perspective, the biggest issue here is that the technologies which allow this sort of real-time feedback and strategy adjustment are extremely new. There aren't any off-the-shelf solutions for monitoring social media and making adjustments to your trade show display presentations. Companies who are expanding in this area are likely doing it on an ad-hoc basis, combining technology and unified communications strategies as they become available.
If you can find ways to integrate this real-time feedback into your own trade show strategies, you'll be positioning yourself as both a thought leader and a pioneer in visitor engagement.
Welcome To Technographics
Unfortunately, all this means you have a new set of statistics to track: Technographics. That is, what digital consumption devices does your market have, and what do their online behaviors look like?
One of CEIR's biggest recommendations is that companies track this in a formal fashion. This technographic data is necessary for digital marketing, just as traditional demographics are needed for offline marketing.
Look to gather information about your leads and customers such as:
Types of devices used – Desktop, laptop, mobile, etc.
Operating Systems utilized across their devices.
Times of day they're most likely to be online.
The physical locations they inhabit when accessing the Internet.
Which websites they prefer.
Their preferred communication methods – email, IM, or social media?
Willingness to research andor make purchases online.
When combined with your existing demographic information, this will provide you with a robust source of information for targeting your digital strategies. A great deal of this information is available for free – Google Analytics is very helpful, if a little daunting to use. Some free dashboards for filtering and organizing your Google Analytics data were recently offered in a helpful SEO blog.
You should especially look to factor in your leads' own context when planning your digital trade show marketing. Remember, everyone is somewhere when they're reading one of your emails or looking at your Facebook pictures. Whether they're doing this at the office, or at Starbucks, or at home in the evening, can vastly affect how they perceive your messages.
Going forward, one of the keys to successful digital marketing will be finding ways to make your own messages "fit in" with the customer's environment. That email you spent an hour writing and rewriting was your sole focus, but if it arrives on their iPhone in the middle of a dinner out, it may get ignored.
Technographics remove the uncertainty, and help you find ways of successfully targeting your audience no matter where they are.
Stay Current On Trade Show News
Well, hopefully we've given you a few new insights into the state of things, and there's far more in the CEIR report for you to browse through as well. Remember that as the Internet continues to work its way into our everyday lives, the pace of change for everything is accelerating.
Check out our blog, and watch for new reports from CEIR, to keep your trade show strategies up to date!
—–
On Topic – Blog Posts related to:
Digital

Trade Show Displays
The trade show environment is forever changing as technology becomes more accessible and affordable. The increase in interactive digital signage media at events, even in the smallest and lowest budget displays, cannot be ignored. Attendees are coming to expect digital trade show displays to be a part of your trade show display stands because they are such a part of everyday life.
However, you must not forget the basic rules of engagement at your event. Technology alone will not guarantee a successful trade show. Therefore, please read these handy blog posts to cover some of the more standard items you should always keep in mind to engage your visitors.
Some other articles you might find interesting:
Making Your Trade Show Displays Pinteresting!
Using Digital Signage in Trade Show Booth Designs
Effective Communication: Engaging Your Target Audience at Trade Shows
Digital marketing isn't the only solution - there are lots of other ways to market your products and services - but digital marketing is certainly a growing part of the future of our industry.