Trade Show Banners and Banner Stands
---
Trade Show Banners and stands have been around for years, and remain a reliable tool for providing a quick and easy way to promote your organization. We offer all types of portable banner stands, including three types of hanging banners (graphic and overhead banner frame), and literally dozens of retractable banner stands, non-retractable indoor banner stands, conference display banners, as well as outdoor retractable banner stands, custom tradeshow flags, backdrop banner stands, vinyl and cloth banners for trade shows, company display banners, non-retractable outdoor banners, pop up posters, and even rotating and inflatable banners.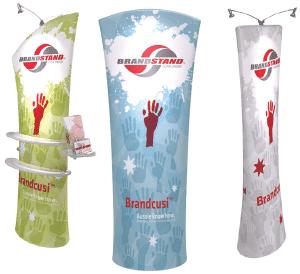 Trade shows are an investment and, like any other marketing effort, the goal is to generate additional business. That means Return on investment (ROI) needs to be maximized. Premium banner stands can help you do that. Trade Show Banner Stands offer the opportunity to start with fairly inexpensive, but attractive, durable, and efficient graphic designs.
As with almost any trade show display tool, your most important investment is your graphics. Choosing the best images and colors for your convention banners is an important first step in planning your trade show display options. The right combination of visual representation, text, and color coordination will greet your customers with the strong and inviting first impression that you hope for when planning a successful trade show.
It is also important to consider the different styles of trade show banners and exhibition banner stands, and the different ways professional designers will create and present your graphics, to help you decide the best way to optimize and deploy your digitally printed visual elements. All banner types come with assembly instructions, but almost all are designed for easy setup and easy assembly. Most come with a free carrying case, and with proper care, the high quality materials will last for many different trade shows and events.
Our banner stand offerings include the most popular choice, which is known as a retractable banner stand. These promotional trade show banner stands can have a single popup banner design, or can have double sided retractable banners (i.e., two banners, standing back to back, facing different ways). In either case, there is a wind-up mechanism in the base of the single sided or double sided retractable banner stand.
To deploy the retractable banners pull out the graphic. And when you are finished, the banner tightly rolls up on the wind-up mechanism when stored. These custom retractable banners are also known as a pull up banner, roll up banner, pop up banner, pop up poster stand, banner display, retractable pop up banner, retractable stand, retractable banner design, booth banners, etc.).
The other option are non-retractable banner stands (the banner material is stored separately, and is placed on telescoping frames, L-stands, and X-stands). Here is a detailed description of the different types of banner stand displays: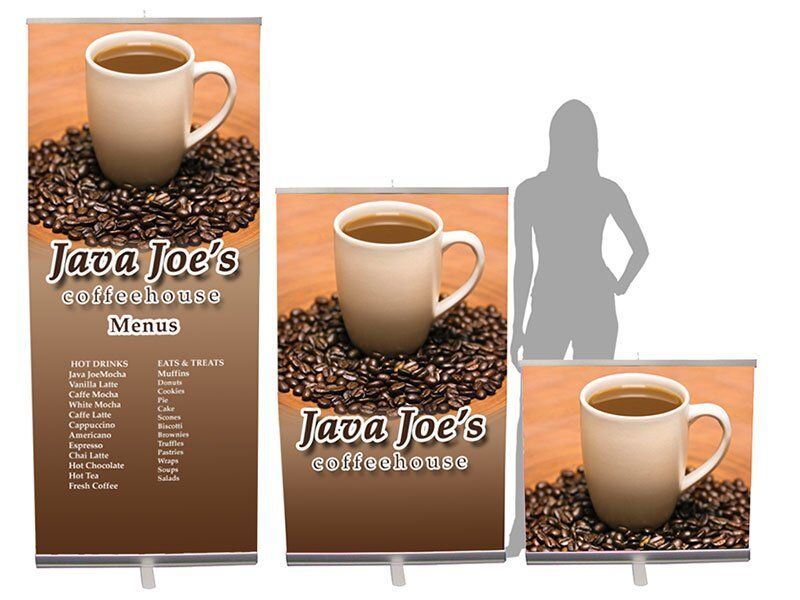 As previously mentioned, retractable banner stands are also called pull-up banners, roll-up banners, pop up banners, pop up displays, and many other creative names.
The advantages of retractable stands are multiple and manifold; they are
lightweight
easy to assemble
compact when stowed
adjustable in height when needed
economical and easy to fit to a limited budget.
Our Blade Lite banner stands are especially popular and for good reason: they offer an attractive and elegant look, with a vinyl matte finish ink-jet printed graphic, including a finished aluminum stand – but come with a very economical price; a free carrying case included. These are of great quality, with stabilizing feet, and can choose from many different retractable banner sizes, starting with a table banner for trade show and growing to 8ft tall floor standing units that provide terrific banners for conventions.
Diamond Flex banner stands are also very popular, these are our premier banner stand line, and they come with a premium dye sub print on fabric banners, attached to support poles and hardware that comes with a lifetime warranty, all stored in a padded carrying case. Other banner stand options offer different sizes and looks from an assortment of the best banner stand manufacturers.
Retractable banner stands can be combined into packs of three for an extended wall of graphic display.
They are also available as double-sided units, and there is also the option to get a retractable banner stand that includes a quick-change Cassette, to allow swapping the graphic in seconds.
Retractable banner stands are available in several different heights, black and silver finishes, and can be found in a range of widths, including very wide configurations (48" and even 60") if required.
The best feature of non-retractable or telescoping trade show booth banners and stands is that they eliminate the wind-up mechanism, eliminating weight and the mechanism that can sometimes get broken. This is also the worst feature, because the graphic banner needs to be rolled up and protected, unlike the banner in a retractable banner stand. Thus, non-retractable banners are lighter weight than retractables, but there is some assembly required prior to use. Even so, non-retractable banners still remain easy to setup and deploy. They are a perfect choice if you consider shipping weight, flexibility and maneuvering to be one of your premium considerations.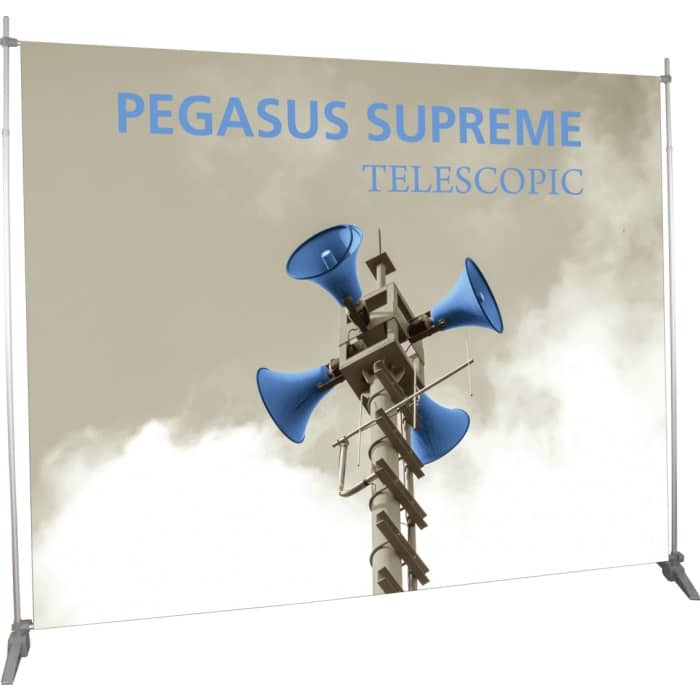 The possibility of telescoping your displays offers maximum maneuverability with examples such as the Pegasus leading the way. Vertical and horizontal adjusting means that you are prepared to meet almost any positioning challenge at a trade show, by adjusting the height and width of the banner displays.
X-stands and L-stands are two common types of non-retractable banner stands, and simply refer to the shape of the hardware. X-Stands use two long poles, positioned in – yes – an "X" shape, with each corner of the banner attached to an end of the "X". The "L" Stands use a single pole, like retractable banner stands, and a flat base, forming an "L" shape when assembled. Other non-retractable stands use tripod bases too.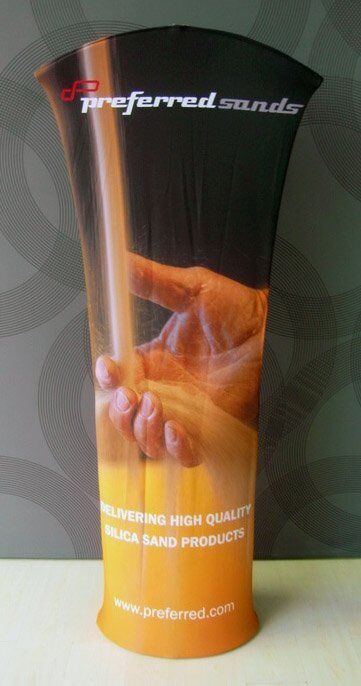 Considered to be a real workhorse, the Brandcusi double-sided banner stands give your displays maximum visibility and "popability" to the eye, with almost no visible hardware. On the outside, your trade show graphics are all that can be seen, printed on a double-sided fabric that is taut and slick to the eye. Inside and underneath your trade show graphics is a hidden support structure made of lightweight aluminum poles. Side access slots are provided to allow optional shelves and literature racks. The Brandcusi banner stands come with a variety of option designs so that yours can stick out from the pack. The colors are vivid, the design is sleek and cool, and the Brandcusi is one of the most attractive – and economical – options for banner stands.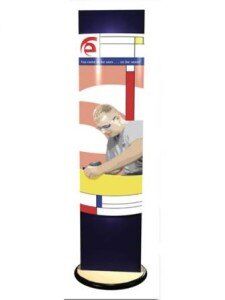 are perfect when you don't have as much space available or when you have more than one aspects to your product that you would like to display. They can show four different looks to a viewer while also catching the eye of other viewers at different locations around your display.
Standing out and getting noticed at a trade show is tricky – it's easy for trade show booths to get lost in the crowd, or blend into the background of similar looking booths. If you want to recoup your investment and generate some good business, it's critical that your exhibit gets seen and visited.
Banners that hang from the ceiling will help you accomplish that goal. We have two types of hanging signs for trade shows; one is imported and more economical, and the other is made in the US, and comes with a lifetime warranty. Both use aluminum tube frames, dye sub printed fabric graphics, and include the hanging cables for installing the hanging signs at your show.
There are many different stand up banner stand structures available in addition to the ones mentioned here, and your trade show banners and signs can be fashioned to all of the many different structures. Taking a few moments to choose the best display stands for your needs should always be part of the design process, and might just be that small step that puts your banner stand signs and graphics "over the top" – while also ensuring you a quick and easy set-up on the day of the trade show.
We also offer outdoor banners, designed to be used in the sun, wind, and rain, as well as outdoor swooper flags, feather flags, backpack banners, and several different event barrier signs and graphics.
Finally, we offer custom banner printing, both inkjet prints on vinyl and dye sub prints on fabric. Vinyl banners can be designed up to 60″ wide, and over 50 ft long. Fabric banners can be designed up to 118″ wide, without a seam, and also can be built up to 50ft long.
Some of the trade show banners and stands offered come with only one type of graphic, but many of our banners are offered with two options for banner substrates; either a super smooth banner vinyl, or a special wrinkle-resistant poly film material. For example, all of the overhead hanging banners and signs, as well as most of the outdoor banners, and most of the special 3D shaped banners are only printed with fabric graphics. Almost all of the retractable and non-retractable banners are available using either printed fabric banners or banners printed with vinyl.
Banner printing on vinyl is done with an inkjet printer, typically a 4 color process. Vinyl banner printing is less expensive than fabric printing due to the much lower cost of the equipment involved, as well as the shorter processing time involved. The trade-off is that trade show banners and stands printed with vinyl have a tendency to curl slightly on the outside edge of the banner, especially if the background and edges of the banner are a solid print (instead of white). Also, PMS color matching is not available on inkjet printers – we can get close, but can't guarantee a perfect match.
Banner printing for the fabric banners normally uses a dye sublimation printing process, which involves several stages and more expensive printing presses. The advantages are that, while more expensive, fabric banners never curl, and PMS color matching is available.
If you have a question regarding custom trade show banners and banner stands, printing choices for a particular style of banner, or any other banner printing services, please let us know; we'd be happy to show you the options.