Trade Show Counters
---
Trade Show Counters
Reception Style Counters
If you'll be dispensing information about your business to passers-by and have various flyers and printed information to hand out, a Portable Reception Desk brings real class. These give the feel of a curved reception desk you see in professional organizations. Using one of these trade show counters gives the impression you're very serious about your business. It's a perfect counter surface to talk with people about your services and to neatly organize the material you'll be handing out to those individuals.
Portable and Modular Display Counters
Stylish trade show counters like the Twist counters are just what you need when you want to inject a different look to your counter space. The reason these are so good is because they're very portable and easy to set up without losing durability. They're made out of aluminum and birch plywood so you can demonstrate any heavy-duty item. They also offer lighting, printed graphics, and built-in monitor mounts. With their unique shapes, you also create a specialized counter space depending on the shape of your product. Plus, the different design shapes can make you stand out from others around you. Many other modular demo counters can be found in our Design Search counter listing.
Tension Fabric Counters
For something lightweight and portable, yet durable, try tension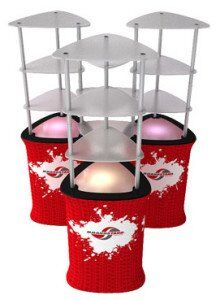 fabric counters that are built with aluminum frames. These come with their own carry bag and have a surface that easily hold ups with any product. For example, with the Waveline counters, you have a light weight counter that can embed an iPad into the surface for an immediate tech edge to product demonstrations. You can also provide an advertising banner on the front side of the counter made out of dye sublimation fabric print. The Tri-Counters, on the other hand, offer shelves and internal lighting, still with dye sub fabric prints, and can be grouped to offer extensive and stylish product displays.
Illuminated Counters
One of our more attractive counter products is the Lumaline backlit counter that allows you to turn your trade show counters into a back-lit banner display. With the right graphic design, these can be compelling to look at and provide a real aesthetic boost at your trade show. You'll be able to gain considerable attention using one of these while also having a durable surface thanks to a modular frame and a polycarbonate sheet wall. These come in several different sizes and configurations.
Interactive Multimedia Counters
The latest and greatest in demo tools, the InTouch Interactive demo counters offer a full software package with an interactive touch screen, all built into counter-tops of various sizes. The built-in software package supports almost any CRM (customer relationship management) and sales function you could imagine – in fact, if you can imagine it, our developers can probably program it for you! The InTouch Interactive counters provide the ultimate in interactive sales tools – these can be expensive, but if they fit your budget, they are incredibly extensive and powerful sales tools.
Come visit our showroom or tour the many trade show furniture options shown on our website; we'd be happy to help you find just the right demo counter for your specific requirements. Remember, a reliable counter can make all the difference whether your product becomes a hit or a lost opportunity – and the price is a very small percentage of your investment in the booth space, travel, and time for the show.