Reliable Trade Show Flooring, Carpet, & Tiles
Nothing completes a booth display like good-looking trade show flooring!
Trade show flooring is often overlooked, or a last minute choice, but it can really be used to play an important role in your trade show booth design. Trade show attendees spend 1 - 3 days wandering the trade show floors at a convention.
Most of the aisles and even the booths have minimal thin carpet provided by the show organizer - with cement floors underneath!


Not having trade show flooring means that your attendees feet – and your own staff's feet – are getting tired and sore after a few days.
You'd be surprised how much more energy your sales staff will have if you add some rolled carpet and padding, some stylish thick padded interlocking carpet tiles, or one of our other trade show booth flooring options.
Our Quick Guide To Trade Show Floor Options
One aspect of trade show booth design that probably doesn't get enough attention is directly underfoot: Trade Show Flooring.
Exhibit flooring is a bit different than anything else you're putting into your expo displays, because both aesthetics and ergonomics are important.
Like every other element in your exhibit design, your tradeshow flooring choice needs to be working to enhance your message. At the same time, it's going to be trod upon by a lot of footsore people - including your own sales staff! - so choosing a comfortable tradeshow floor option should be a consideration as well.
This may not seem like that big a deal, but if the show is 3 days long, standing and walking around all day is more tiring than most of us desk jockeys are used to! Your staff needs to be protected with great exhibit flooring, or they're going to get tired and not be at their best during the show. Also, you might be surprised at how many visitors welcome soft cushioned trade show floors and will spend more time chatting, just to take a break.
So, for those wondering which trade show floor option is right for your booth, let's do a rundown of the popular options on the market, as well as some of their pros and cons. There are a lot of different directions you can take and many different options of flooring for trade shows!
1) Plush Rolled Carpet
With a large assortment of colors, styles, and thicknesses, you can send any message you want with trade show carpeting underfoot. From tight, professional office carpet to luxurious 50 oz loops cushioning your visitors' feet, you can't beat the real thing.
Rolled Carpet is not much more expensive than trade show carpet tiles, at least in a 30 oz weight, but is more expensive to ship. The 50 oz weight is a more expensive option, which isn't a surprise. While it's easy enough to unroll, 50oz plush trade show rolled carpet tends to become quite heavy as well.
Great trade show flooring in your display is going to impress, but you'll want to do some pre-planning first to ensure that the shipping and handling expenses don't end up outweighing its extra comfort factor. At the same time, if you rent carpet at a show more than twice a year, you'll save money buying and shipping your trade show carpet with your booth.
2) Interlocking Carpet Tiles
In terms of overall comfort for cost, interlocking carpet tiles for trade shows are often your best bet.
The best trade show carpet tiles are made from thick, high density EVA foam. The construction of our interlocking trade show flooring options make them easy on the feet, but still create a pleasant and colorful environment.
And these higher quality carpet tiles use a single-cut for the entire tile, unlike the cheaper imported designs with the separate edge piece that needs to be attached - those separate edges are a lot easier to get loose and trip on - and they can't be beveled, adding another way to trip up your clients.
Interlocking carpet tiles for trade shows have come a long way. They're inexpensive, and also extremely light, relatively durable, and can be packed into a box not much bigger than a suitcase, making for simple and easy transportation.
They're a great all-around option when creating a comfortable environment is your goal. A wide range of colors and styles are available, making it easy to build a "carpet floor" that's as neutral or as flashy as you want.
They're just as light and comfortable as before, but now can look quite a bit more professional. The new tiles also offer the ability to cut channels in the bottom of the tile, for hidden wire runs. And best of all, the best interlocking carpet tiles are thick enough to be beveled, minimizing the trip hazard.
One last fact about interlocking carpet tiles is that they are eco-friendly. Both the 5/8" thick Comfort Tiles and the 1/2" thick Comfortflex tiles are 100% recyclable.
3) FlexFloor Rolled Vinyl Flooring
A popular and inexpensive choice, FlexFloor rolled vinyl is made from giant rolls of custom printed vinyl, glued to (fairly thin) foam pads. Flex floor rolls out quickly and securely lays flat on the typical cement or hard wood expo flooring surfaces. It is simple to unroll and then take up later for reuse.
For those needing a tradeshow flooring option that's light, portable, easy to handle, and inexpensive, our FlexFloor rolled vinyl makes a compelling argument. It's less expensive than some very expensive options like real stone or real wood, but yields a very similar look.
Plus, when properly cared for, it's good for plenty of trade shows before it wears out.
That said, it's not that soft. You can add a foam pad underneath to improve comfort, but if you've got the budget, there are better booth flooring options.
4) Interlocking Vinyl Tiles
Like our rolled vinyl flooring, interlocking vinyl tiles are made with custom prints on the top, simulating a wide variety of floors. These vinyl tiles are glued to thicker foam padding (as compared to rolled vinyl flooring), to provide a cushioned feel, and then the interlocking pattern is cut in. That interlocking feature allows the floors to be packed tightly and conveniently for shipping and storage, but still provides for fast and simple setup and dismantle at your event.


5) Other Event Flooring Options
There are quite a few other more esoteric trade show booth flooring options, mostly aimed at special requirements. These include metal trade show floor tiles, great for booths and industries that include very heavy machinery or heavy products.
There are raised trade show flooring systems, which allow for complicated wiring or plumbing requirements, as well as fancy back-lighting. There are also real wood and real stone floors, for those very high end booth applications.
Always Consider Your Visitors' Experience When Designing Your Expo Booths
Remember that your trade show display isn't simply a mobile advertisement. It's an interactive experience, and you should be trying to play to as many of your visitors' senses as possible. What's underfoot might not be the first thing they mention in a post-show survey, but it's going to have a real impact on how they feel as they walk out.
Also remember that, even in the smallest 10x10 booth, that's 100SF of exhibit flooring - which equates to a fair amount of branding. Don't ignore the chance to add your logo to the front of your booth space.
If you attend more than one or two shows a year, investing in your own trade show flooring and carpet will pay for itself. And with a little care, that flooring can last for years – and the care isn't difficult. See our trade show carpet page for some more tips on selecting and caring for your trade show carpet.
Choosing the Right Trade Show Flooring
Several considerations should be made before deciding on an option for tradeshow floors. Not only can they give your booth a fresh new look that is attractive to customers, but they also provide varying levels of fatigue relief -- which is both important for representatives managing the exhibit, and to visitors frequenting your booth.
Other considerations include budget, size of transport vehicle and brand cohesiveness. If budget is an issue, there are several options including trade show floor mats, and even trade show flooring rentals.
However, if you are planning on participating in multiple shows, a purchased floor with typically pay for itself after only one or two shows when compared to rental rates. If a smaller transport vehicle is involved, interlocking trade show flooring options or trade show floor mats might be a better fit. Read More About Choosing Trade Show Flooring
Why Buy Trade Show Flooring From American Image?
We are the trade show experts, providing a wide line of trade flooring products including display flooring, trade show carpet, rollable trade show flooring, trade show vinyl flooring, custom trade show flooring and more.
With over 30 years of experience in the trade show industry, we can help you find the perfect trade show flooring to represent your brand. Whether you need carpet or a system for flooring displays (like raised trade show flooring), we can help you explore the best trade show booth flooring ideas.
Speak with one of our expert designers to see what is the best option for your brand and your specific requirements. Ready to upgrade the look of your booth with amazing flooring? For a free consultation on which trade show flooring types are right for your next trade show display, just drop us a line and we'll get in touch ASAP!
Trade Show Flooring and Carpet Tips
Trade show carpeting is often overlooked, but the reality is that, even in the smallest 10×10 space, that is 100 SF of exposure – don't waste it!
At the very least, make sure it is neat and comfortable, with a nice looking tradeshow carpet that helps your display look it's best. And you'd be surprised how much more energy your sales staff will have if you add some carpet padding or padded tiles!
Worthwhile flooring options include rolled carpet, carpet tiles available with carpet and faux wood designs, and eco friendly rollable bamboo. You can also add a logo into the carpet if you like. Top end booths (and budgets) also include raised trade show flooring options, with under-lighting and special graphics.
If you attend more than one or two shows a year, investing in your own trade show carpet will pay for itself. And with a little care, that flooring can last for years – and the care isn't difficult.
Simple steps include cleaning it before shipping, shipping it carefully, and careful installation at the show.
Tips on Caring for your Trade Show Carpet
Most trade show carpet or flooring will likely arrive at your show or office rolled on a tube – keep that core and use it for shipping and storage; it will help keep the floor taut and smooth, preventing any damage. You can also ship the rolled carpet strapped to a pallet, to prevent damage (especially to the ends) while in transport.
Have you ever had your tradeshow carpet or carpet tiles taped to the floor by show services?
This happens to almost everyone – even those that try to prevent it. It is common to install the carpet yourself, without tape and come back the next day to find that the show management has decided on their own to tape down the outside edge of the carpet.
Many shows insist on doing this, in order to make sure the edge of the trade show carpeting is firmly held to the floor so that no one trips on it.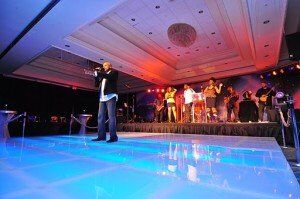 The common result, for those that haven't prepared for it, or experienced it, is that when you try to remove the carpet it is VERY easy for that double-sided tape to remove a layer of your carpet backing. It only takes a few times, and your plush carpet is ruined and needs to be replaced.
There is a simple solution; attach a 3-5 inch wide strip of clear tape to the outside edge of every piece of carpet or carpet tile. Permanently. Then the tape on the floor sticks to your tape, not the carpet, and it is simple to then remove the show carpet tape from the tape on your carpet.
Also, make sure the carpet padding doesn't extend all the way to the end of the carpet; leave about 3 inches, so that there is room to tape down the carpet – if you don't, the padding will likely get chopped up to create that space for taping, damaging your padding and creating an uneven cut that will be more difficult to work with next time.
Be sure to clean up any spills at the end of the day, or at the end of the show – you won't want to set up the flooring at your office later. Be sure to bring an approved cleaning solution with you to the show, and you'll be all set.
Last but not least, supervise the removal of the flooring, and don't allow workers to rip away the tape carelessly or yank on the interlocking tiles and damage them. See it all packed away correctly, and your trade show carpeting and flooring will last for years, providing an excellent return on your investment.
Commonly Asked Questions

We have provided a lot of useful information when it comes to choosing the right trade showing flooring, carpet, and tiles, but you may still have questions regarding your trade show flooring options.

What flooring types will work best with my exhibit?

Each booth at a trade show is going to have different exhibit accessories that need to be taken into account when choosing the right trade show flooring options. You want to make sure the overall appearance of your display is consistent and maintains a good flow. Look at your display in whole and see how everything works together in the setting.

What is better? Renting or Purchasing Flooring?

This is one of the more common questions asked by exhibitors when it comes to trade show flooring for their booth. The answer is going to depend on your unique situation. If you will only need the flooring for a short time and you are considering it temporary, then renting may be ideal.

However, if your company frequents trade shows and you exhibit more often, it makes more financial sense to purchase the flooring you will be using. It is a more cost-effective choice.

Is flooring maintenance important?

Yes. Regular maintenance is important for keeping your trade show flooring looking its best and helps ensure you don't have to spend hours right before a trade show making sure it is up to par. So, look for flooring options that are easy to maintain, are durable, and store well.

What are the most popular trade show flooring options?

Some of the more popularly used trade show flooring options include carpet, bamboo, vinyl, foam mats, rubber, green flooring, and printed floor products. However, what is popular doesn't necessarily mean it is something you have to use. Determine your needs and what you want your aesthetic to be for your trade show booth and make your selection that way.

Do you have to have padding under trade show flooring?

Most trade show locations have concrete flooring, which is why you are considering flooring for your booth. Remember, your staff and others will be spending hours standing and walking around, so you want to make your exhibit as comfortable as possible for all the foot traffic. This means having adequate padding. Keep in mind that the padding is an extra cost you will have to figure into your overall flooring budget.

How much assembly do the interlocking trade show flooring options require?

Interlocking tiles are one of the most common because it is a highly versatile choice, comes in a variety of different materials, and is quick to assemble and dismantle. It only takes one person to put these tiles together quickly. You will also find easy transport when choosing interlocking tiles.