The Many Advantages of the Pull Up Banner
There are many options to choose from in terms of marketing with the increasing adaptation of the digital economy. It can be confusing when deciding the best method to get your brand story out there to your customers.
The impact of the physical point of sale, however, cannot be ignored. We still need to set up a presentation to entice these customers, so branding material like posters and banners remains relevant. Today we shall look at one of the easiest and most popular tools, commonly known as the pull up banner.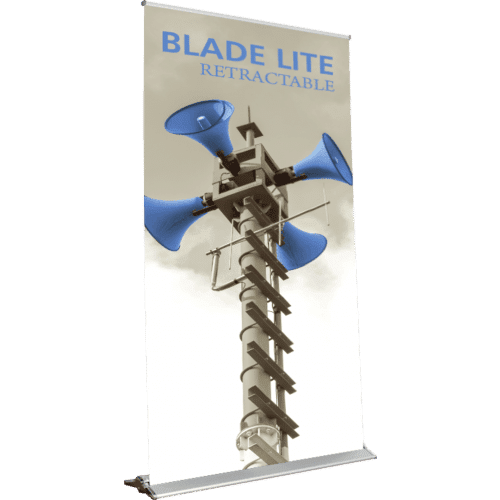 Also known as a retractable banner or a roll-up banner, a pull up banner display is very common in events because it is a great marketing tool. It is ideal for events, trade shows, and advertising both indoors and outdoors due to the convenience of setting up and portability.
It takes up very minimal space and stands alone, meaning you can set it up anywhere you want.
Maybe you want your reception area to be more robust, or you just moved into new premises and are looking to lure more foot traffic. It is ideal for presentations, conferences, and even retail stores.
They have beautiful designs and display clear messages that are very visible and engaging about your brand and the solutions you provide. It can be a one-sided or a double-sided display, depending on the customers' specifications and the target audience.
Advantages of the Pull Up Banner
Fast and Easy Assembly
You are only required to pull or roll the banner out using the retractable system and place the supporting pole in place to secure it. The setup is almost instant. They are equally easy to pull down once you are done with them.
Premium retractable banners are the ideal choice for sales teams that are constantly on the go and those who regularly visit trade shows. Every second saved from setting up the display is crucial as it will free you up to do other important things like engaging the customers and making actual sales.
Easily Portable
They are traditionally compact-sized, 3ft wide by 7ft high on average. There may be small deviations from these dimensions depending on the manufacturer and the customers' specifications.
A good example is the Blade Lite 400 retractable banner stand, which is more compact and at 15.75" width and 69.37" height (1.31×5.78ft). The 5.78ft height retracts into the base and is therefore not a space consideration when carrying the pull up banner.
The telescoping rod that holds the banner up also has a slot at the back of the base where it is stored so that the entire assembly is just one piece of luggage when moving.
Besides being easily assembled and collapsible, these banners come with soft carry cases with shoulder straps for handles, making it convenient to carry them to events, from one site to another, or even to relocate within the same site.
They are also not hefty because of their compact size and light material; their typical weight is usually less than 5kgs. In most cases, it is a one-person job to carry and set up a pull up banner.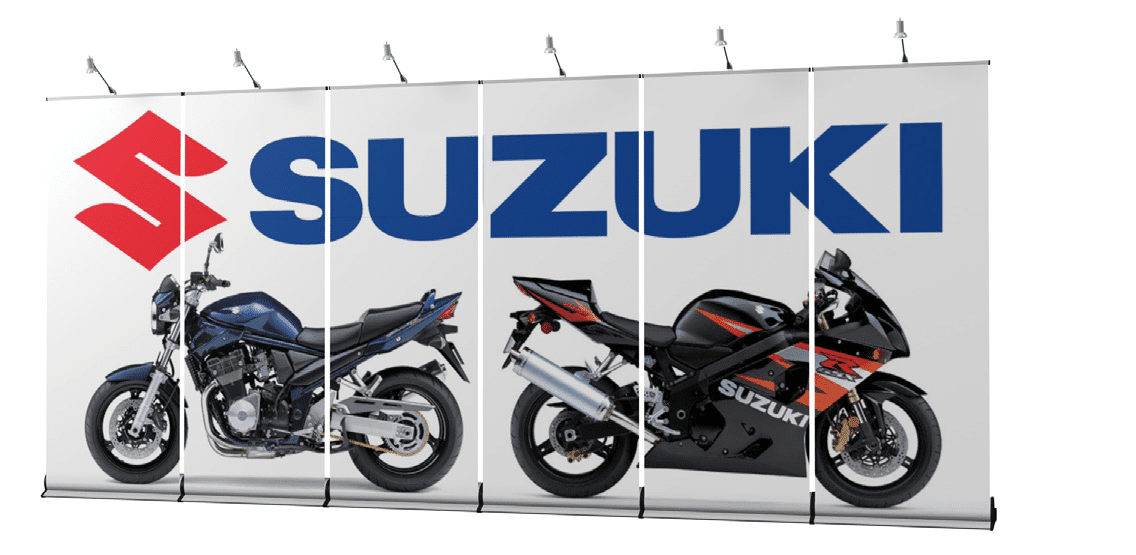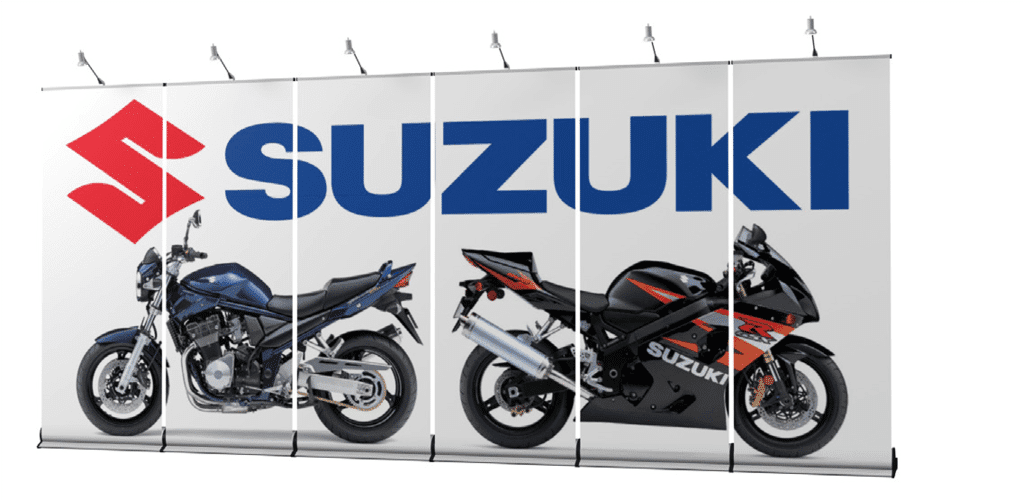 Versatility
They can be adapted easily to different functions or activities. You may opt to print on one or both sides, which gives you the option of placing the banner next to a wall or in the middle of the room to be seen from more angles. This option can be actualized using frames like the Thunder Outdoor Banner Stand, which enables the display of two banners, one on each side of the stand.
The design and placement of the display banner can also be customized to suit your current needs; for instance, you can replicate a single design on several pull up banners to fortify your brand or alternatively use different designs that depict the narrative you want the customer to follow.
This modularity is smooth because the banner is multi-functional. It doesn't matter whether you are in the office, on the road, indoors or outdoors.
Besides displaying the logo, the banner can notify customers about your existing products, products whose production you have stopped and their replacements, list benefits of your products, and attract attention generally.
Pocket Friendly
Pull up banners became increasingly popular for advertising as they facilitated more bang for the buck than other banners in their level, like the pop up banners or wall units (It is worth noting, however, that we should weigh the cost in relation to the quality of the banners both in terms of functionality and quality of the item).
There is no additional labor required to set up these banners as they can be handled by a single person, which reduces the labor bill.
The Return on Investment (ROI) is relatively high if you consider you will not be spending money advertising to a single client, but rather they will all see the message on the banner, which is available round the clock at no extra fee.
It may be one of the pocket-friendly ways to weather your business continuity or reopening after a disaster or crisis as your liquidity may be too low for any major marketing drive. This is currently the situation as businesses try to survive past the Corona Virus pandemic.
Efficiency
The pull up banner gets the job done in a very effective way. Besides the ease of assembly and portability mentioned earlier, its nature gives it an advantage over other signage solutions. They are mostly around 6ft tall, meaning most of the setup is at eye level, promoting the content's visibility. It is hard to miss while walking by.
If you can successfully combine this with eye-catching colors and crystal clear printing, which bring your display to life, you will get people talking about your product for all the right reasons.
With all these advantages, the banner still doesn't take space from your booth. Being vertically free-standing means the only space it needs is where the base is standing, which is negligible, and you can promote your brand anywhere.
Durability
The recoil system that facilitates retraction when you are not using the pull up banner also ensures the banner stays in great shape regardless of how long it is stored. Once inside the base, it is protected from direct exposure to the sun, dust, and moisture. It is, therefore, able to withstand the wear and tear of regular usage and transportation.
Its carry case also protects it from abrasion and external elements while in storage.
Ease of Storage
Once you are done with your pull up banner or have a more pressing campaign with a separate banner, it is prudent to take it down and store it well until it is next needed.
We have already established it is easy to pull down. While packaged, it takes up very little space, and it should not clutter your storage area. Put it inside the soft carry case they usually come with, and it will be safe until the next use.
They Are Reusable
A pull up banner that is well taken care of can be used for many consecutive functions, as long as you stay true to the message they are conveying so that it is not irrelevant.
If your messaging requirements change, most pull up banner stands allow for swapping out the graphics at the original printer's facility. (American Image Displays can print new graphics for almost any banner stand, and can swap them out for you at no added cost.)
Care should be taken when unfurling it so that it doesn't form permanent creases or start curling at the edges.
It should be cleaned routinely and stored in a safe place all the time. Its carry case should be sufficient to protect it from dust and other grime.
The more durable the quality of material, the longer it will last. For longevity, invest in high-quality material like vinyl.
You can change the banner while maintaining the banner stand. It is possible to print banners for all your upcoming campaigns or events and use them on the same banner stand. The banners that are not in use can be rolled up and stored safely until the next time they are needed.
Strategic Use of Pull Up Banners
When Launching New Products
Use the pull up banners to boost your brand so that it is known you are responsible for the new item, post your contacts and make a call to action for the prospects to visit your shop.
Alternatively, you may want to make it about the product by highlighting the features and attributes.
Both approaches can be used at the same time, depending on your marketing strategy.
During Promotions and Offers
When you are having a sale or giving special discounts that your regular customers may not be aware of, a pull up banner will come in handy to catch their attention.
It makes them aware that there is a gain to be made even if they had not intended to make that purchase on that date. The probability of prompting that impulse purchase is higher because they will already be in the store.
The good thing about the banner is that it is easily portable, so you can place it at a vantage point where it is visible to everyone approaching the shop and those within the shop.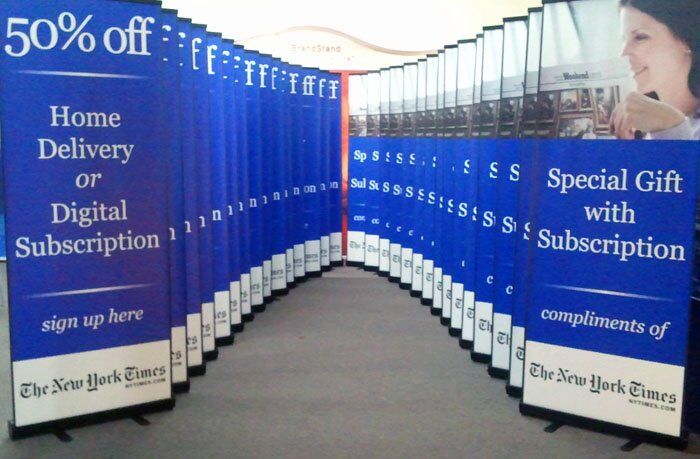 At Sponsored Events
Corporate Social Responsibility (CSR) is a common technique used by brands to remain relevant to the community while rendering a service or providing for the community within which the brand operates. It is used to gain goodwill and foster customer loyalty.
You may find yourself sponsoring a local sports tournament, a school event, or a charity run. As much as you will be the sponsor, the day's agenda does not revolve around you, and you may miss a platform to pitch your product to the attendees.
A pull up banner is a subtle way to promote your brand without seeming overbearing. Just ensure to place it in a conspicuous position according to the setup of the place.
You may have to decide between the entrances and the podiums where all the action is. Fortunately, a pull up banner is easy to move around and set up.
Local Markets
Pull up banners can make your stall outstanding in comparison to the surrounding ones, rousing curiosity among passersby. The more traffic coming into the shop, the higher the probability of conversion into sales.
For this reason, your banner should be sharp and engaging without having too much information that may make the prospects lose interest.
Trade Shows and Exhibitions
You can place the roll-up banner just outside your exhibition to attract attention from existing and potential customers. The existing customers will be drawn to a familiar brand, while the prospects are drawn by how prominent the banner is and what is offered on it.
You should try and strike a balance between promoting the brand, the product, and whatever offer or sale you have going on.
Since there are many people in a trade show, there are high chances of missing out on some prospects as you engage others. A captivating pull up banner should help pique the curiosity of the visitor just enough for you to get to them before they move to another exhibition.
Getting the Pull Up Banner
With all these advantages, it is important to get it right when you decide to go for the pull up banner so that you can maximize the returns. Here are some considerations you should have in mind.
Your Budget
This is the greatest determinant of your limitations in terms of the quality of material, the number of banners, the design, and the type of display.
Aim for the best affordable quality within the budget since we have established the banner can be kept for future use.
The Purpose of the Display
Content is determined by what you want to achieve with the current set up. Not all information about your brand and products can fit on the banner. Too much information on the banner will also reduce visibility and make it hard to drive the point home.
The better alternative is to focus on a particular promotion or product at a time or to strike a balance between one or two items to ensure the point gets home.
This will determine the kind of design you end up with and the number of banners you need.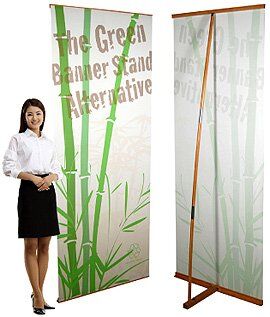 Durability
Here you consider both the banner and the banner stand it comes in.
The stand should have a sturdy construction that will enable you to move it from around as required without worrying about it coming apart. Its screws should remain intact, and the recoiling system that makes it retractable is supposed to endure multiple uses.
The banner material also needs to be mentioned here as the quality affects how the print will come out and the lengths to which you will have to go to maintain it. High-quality vinyl is recommended as it is easy to clean and maintains the glow long after you begin using the banner.
Pull up banners are critical for any brand wanting to impact exhibitions, trade shows, and retail stores. They help create awareness by being a constant reminder and promoting the brand without demanding any extra input.
It does not matter if it is a new product launch, client prospecting, or showcasing a completed project. A pull up banner is one of the best ways to build awareness. If you're shopping for pull up banner stands, check out our wide selection here.