3 Trade Show Uniform Ideas
Wearing a trade show uniform is the norm. It helps to project your brand and distinguishes your booth from others. But many exhibitors make a huge mistake by failing to get the fashion right.
If your staff find the uniforms creative and exciting, they will be proud and radiant when they deal with customers. If the uniform isn't something that fits well, it may impact their service delivery.
After spending so much on promoting the event, getting perfect exhibit displays, and getting set up for it, you shouldn't make a mistake with what could potentially ruin your image.
Trade show clothing can be used to make a significant statement for your brand, so we have highlighted some helpful trade show uniform ideas for you as you prepare for your next extensive exhibition.
But first, let's attempt a definition of trade show uniforms.
What Are Trade Show Uniforms?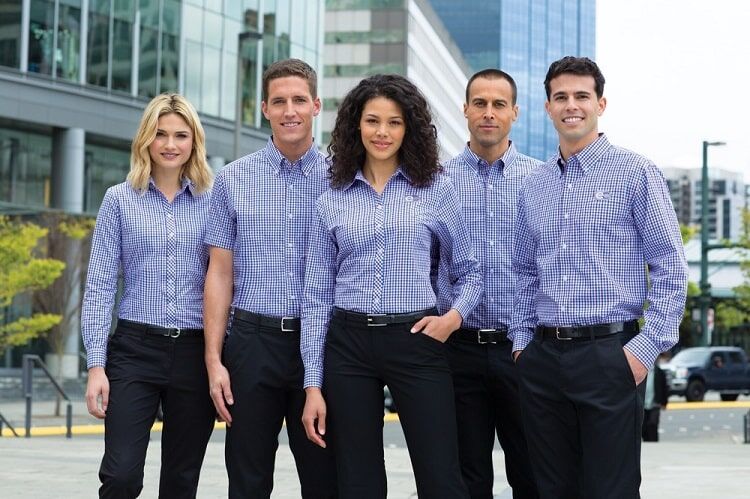 Trade show uniforms, or booth staff attire, refer to the clothing that the exhibitor's employees wear while working the booth at a trade show.
To show uniqueness, staff should wear a uniform that displays the logo and color of the business. Trade show uniforms also help protect the brand in the attendees' consciousness.
So many factors should be considered while evaluating trade show uniform ideas and before determining a trade show uniform. The mistake that many exhibitors make is to only consider the brand's color. That is not wrong, but many other things should be considered when choosing a befitting trade show uniform.
Remember, the clothes will be the first thing your customers see and should reflect your brand's quality. So, your trade show uniform ideas should all be professional, friendly, and fashionable.
Also, the attire you choose will depend on the type of image you're trying to project. Three basic attires can be projected at a trade show.
They are:
Business professional
Business formal
Business casual
What to Wear at Trade Shows
For a business casual look, you are projecting an informal look, which is not uncommon for most businesses.
When going for business casual, common trade show uniform ideas are to go for polo shirts, collared shirts, vests, jeans, khakis, dress pants, and skirts, and the shoes are primarily loafers, closed-toe flats, and low-heeled pumps.
For business formal attire, you should go for dark suits, light-colored dresses or shirts, and a conservative tie, with shoes to match.
Business professional wear involves complete suits or pants with a collared shirt and a matching blazer. Shoes should be loafers, flats, or lace-ups.
Your choice will depend on your industry and on the type of trade show it is. If you're in the corporate sector and want to project a corporate image, you will go for either business formal or business professional wear.
If you're not in the corporate sector, then it's appropriate for you to go for business casual wear.
However, because you want to project a cohesive unit, you may want to wear branded clothes, like T-shirts, baseball caps, and shoes.
But for business professional wear, it may not be easy to brand suits or shirts. Instead, you can get staff to wear shirts of the same color, and use branded badges and name tags to distinguish your team.
What Not to Wear at Trade Shows
Never wear clothes that are too tight. If you have to provide branded clothes, be sure that you pay particular attention to the different sizes of your staff. Also, your clothes should not be too revealing. You don't want to be suggestive in your appearance.
Avoid wearing a new pair of shoes for the first time at a trade show. New shoes often seem pretty uncomfortable when you wear them for the first time.
Also, don't wear high heels, excessive perfume, or colors that contrast with your brand image.
3 Trade Show Uniform Ideas
We'll now look at some smart ideas for trade show uniforms, depending on your industry. If you're in the business-to-business sector, you'll want to appear professional, while you should consider a more casual approach if you're in the business-to-customer sector.
Remember, regardless of your industry; the key trade show uniform idea is that everyone working the booth should wear matching outfits. If your outfits don't match, they won't project a coordinated image.
Here's what to wear to a trade show.
Idea 1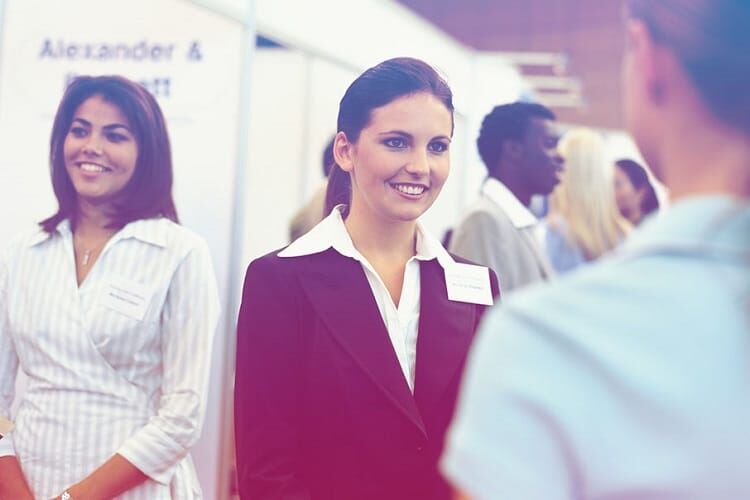 For a B2B trade show, for men, consider dark-colored suits. The shirts should be lightly colored for a nice contrast—preferably blue or white.
You may not want to go for cuff shirts, as you don't want them to be too complicated. Go for shoes that match your suits in color. It's better if you go for dress shoes.
When dressing for trade shows like this, ties are very dicey. You want to be very approachable, so you may want to ditch them. However, if you must wear one, wear simple ties like plain black or red.
For women, go for dress skirts or pantsuits and wear blazers that match the skirts. The shirts or blouses should be collared and shouldn't be too flashy. The colors should match those of the male counterparts.
To give a greater sense of cohesion, you can wear official labels or pins that bear your company's brand.
For corporate wear like this, the color should not necessarily match the company colors—you can be as creative as you want.
Idea 2
This idea is similar to the idea above—a less official uniform. However, it isn't as formal. Instead of suits, you can go for a blazer.
While you may wear neckties for the first idea, it is unnecessary here. For shoes, you can wear loafers, or anything that makes you comfortable.
For women, go for sleeveless blouses or shirts under full suits or blazers. The shoes should be complementary and comfortable to wear.
Idea 3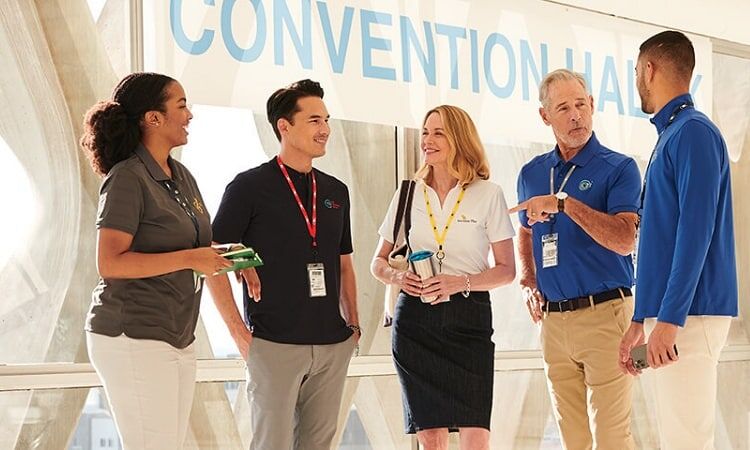 For more casual wear, which applies in many business-to-customer trade shows, you can go for branded t-shirts or polo shirts.
If your shirt is branded, the color of the shirt should contrast well with your dress pants, chinos, or khaki. Collared shirts are also appropriate.
If you're comfortable in jeans, they're good. You should go for loafers or dress shoes but ensure that you're comfortable in them.
Females can go for simple collared shirts if there are no branded polo or T-shirts. Otherwise, they should wear the same t-shirts as the males but can wear them under trendy blazers.
Remember, high heels aren't appropriate for any categories, so flats or pumps will do.
To round up, when dressing for trade shows, jewelry worn should be minimal. You shouldn't wear brand new shoes, long heels or tight shoes.
You are trying to project a brand, not just yourself. Because you'll be standing and walking a lot during trade shows, always ensure that your shoes are comfortable.
Conclusion
While many exhibitors spend so much time preparing for the trade show, they usually devote little time to considering any trade show uniform ideas or choosing the attire they'll project at the event.
The success of any trade show also depends on the personal presentation of the staff that attend to the attendees.
Besides creating a solid brand identity, trade show uniforms also help give your staff a coordinated outlook.
If you do not make the right choice for your staff's apparel at trade shows, you may risk losing potential customers who may perceive them differently, even when they are competent and professional.
Resources: