HAI Heli-Expo: The Biggest Helicopter Expo in the World
Helicopter trade shows are a fantastic way for aviation industry professionals and enthusiasts to connect with leading manufacturers, suppliers, and distributors.
Additionally, these gatherings give aviation enthusiasts a chance to learn from professionals in the field and discover new goods and services.
If you wish to attend the world's biggest helicopter trade expo, make sure you add HAI Heli-Expo to the list. If you've never heard of this trade show before, here we will delve into it in detail.
We will also discuss its history, who it is for, its benefits for attendees, the dates and venue for HAI Heli-Expo 2023, and the top hotels for your stay.
Let's dive in.
What Is the HAI Heli-Expo?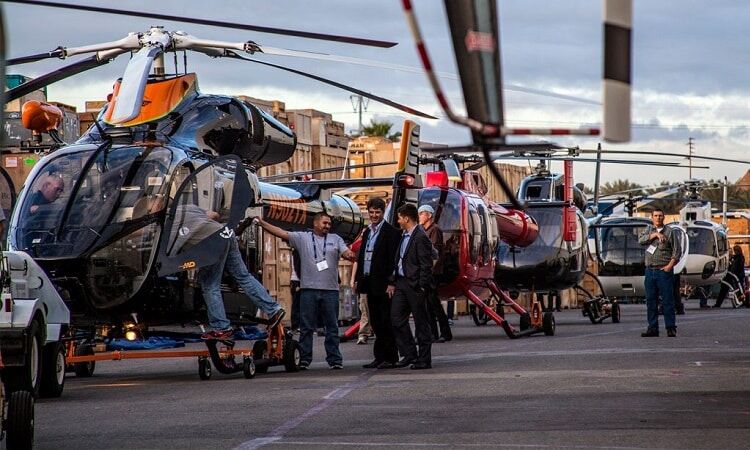 The HAI Heli-Expo is the world's biggest trade show for the international rotorcraft community. It showcases the latest innovations in the helicopter industry, including avionics, vertical-lift manufacturing, equipment, and other allied products and services.
This annual trade exhibition allows attendees and exhibitors to browse through new offerings, research, learn, and network with business leaders and professionals from the vertical aviation industry.
Tens of thousands of industry professionals and hundreds of exhibitors flock to this show to make their presence felt and harness the many benefits of the show.
The main highlights of the show include hundreds of educational courses, countless networking opportunities, working groups, and industry meetings.
History of the HAI Heli-Expo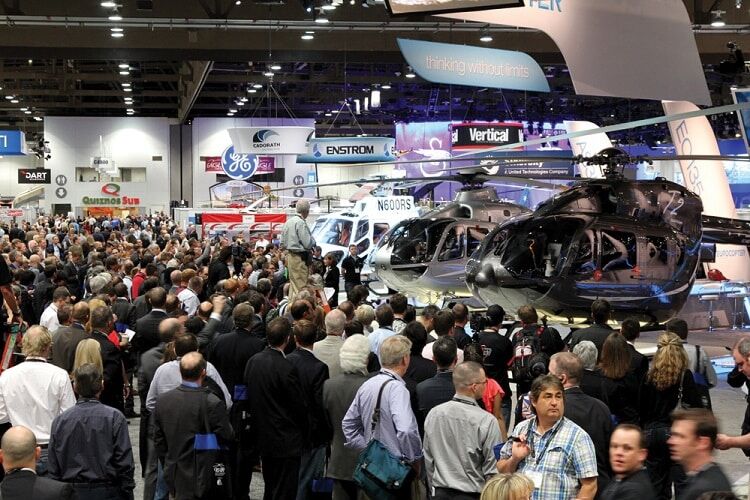 The Helicopter Association International initially started the HAI Heli-Expo with small meetings. The association's members promoted the interests of the helicopter community at these meetings.
On December 13, 1948, Art Fornoff, then one of Bell Helicopter's most experienced pilots, and a few other operators gathered at AF Helicopters' offices in Burbank, California, to establish a helicopter association.
The association's objective was to disseminate helicopter information, promote the industry, and provide mutual aid.
The association started with the name "Helicopter Council." But the following year, it renamed itself the California Helicopter Association (CHA).
Over time, the industry grew, and rapid changes were seen. The CHA's conventions began to not only address the helicopter community's challenges but also introduced helicopter flight demonstrations.
In 1951, the CHA opened the doors to its membership to all operators and manufacturers in the country. The same year, members voted to change its name to the Helicopter Association of America (HAA). But this name change was filed only in November 1954.
The 14th Annual HAA Convention was the HAA's biggest convention to date. By the 18th convention, hundreds of people from all over the country had attended the event.
In 1966, the HAA's publicity campaign helped boost its membership. The following year's 19th Annual Meeting and Helicopter Showcase saw the highest attendance in the association's history—three times higher than any previous gathering.
In 1981, in recognition of HAA's global status, members rechristened it the Helicopter Association International (HAI). The expo also got the name HAI Heli-Expo.
The trade show now draws thousands of business professionals and hundreds of exhibitors from all over the nation and the world each year. The upcoming show in March 2023 is all set to bring in around 15,000 industry professionals and more than 600 exhibitors.
Who Is the HAI Heli-Expo For?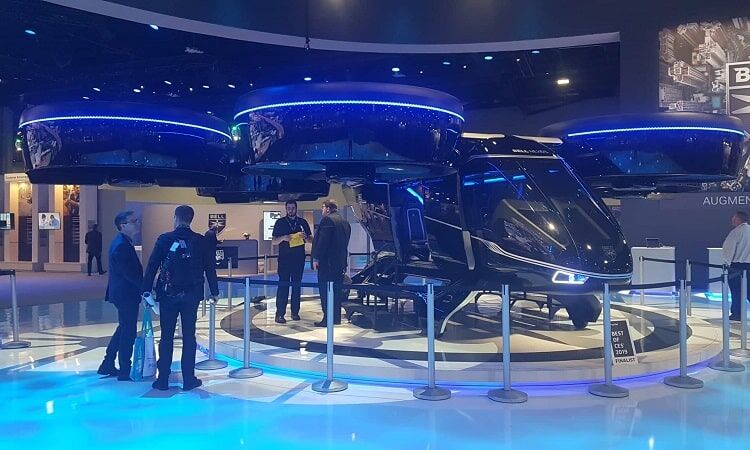 The HAI Heli-Expo is for any business or professional in the rotorcraft industry. Manufacturers, suppliers, distributors, pilots, operators, managers, mechanics, and qualified buyers from the commercial and military sectors regularly attend this show for its many benefits.
Those new to the industry can participate in this international trade event every year alongside well-known industry leaders. They can research new industry trends and innovations, network, connect, buy, sell, and learn in a high-value professional business atmosphere.
Aviation enthusiasts can also attend this show and check out the latest industry innovations.
People interested in attending the trade event can buy one-day or three-day passes. HAI members enjoy special discounted rates for the passes. Registrants' spouses, students, and active-duty military personnel can also take advantage of exclusive discounts on registration rates.
Why Should I Attend the HAI Heli-Expo?
If you're still unconvinced about the benefits of attending the HAI Heli-Expo, here are some top advantages of visiting this trade show:
A Diverse Range of Products and Services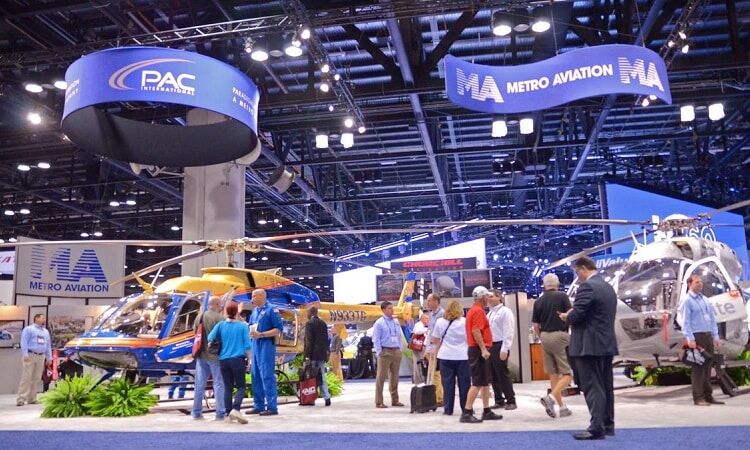 The HAI Heli-Expo is a must-attend trade event for buyers looking to get their hands on the latest products and services. They can get access to leading manufacturers, vendors, and service providers from around the world who are out to showcase their finest offerings.
Over 600 exhibitors gather under one roof and present their latest innovations at the expansive show floor in the three halls of the Georgia World Congress Center.
The exhibit space spans over one million square feet. Besides showcasing more than 60 aircraft, it also features a variety of parts, accessories, upgrade kits, and service-related information.
You can also check out product demos from top exhibitors on the exhibit floor.
Educational Sessions
The expo organizes hundreds of educational courses, workshops, seminars, and forums. These educational sessions offer attendees an excellent opportunity to learn about issues and trends that will shape the future of the industry.
They can gain relevant knowledge from reputed industry experts about a range of topics that interest them.
The expo's Professional Education Courses (PECs) are also a great way for professionals to advance their career development goals. They can master different subjects like mountain flying, aeronautical decision-making, aviation safety, and accident investigation.
Rotor Safety Challenge
The Rotor Safety Challenge (RSC) is an educational initiative from HAI that allows attendees to pick up new aviation skills and ensure on-the-job safety.
HAI Heli-Expo 2023 will have more than 50 free RSC sessions for visitors. These expert-led safety sessions will help participants learn industry best practices and work smarter.
Helicopter professionals can expand their knowledge about key safety issues and challenges in operations, safety concepts, professional skills, and tools and techniques to boost safety. They can also connect with other professionals and discuss small-business issues and industry solutions.
Moreover, these short RSC sessions offer participants a chance to earn continuing professional education credit for the FAA's WINGS and AMT courses.
Rotor Business Sessions
HAI's Rotor Business Sessions at HAI Heli-Expo 2023 will specifically cater to entrepreneurs and small-business owners. These short events are open to all show attendees and will host presentations on the following topics:
Top ways to finance helicopters for operations
General business operations
Hiring and retaining a quality workforce
How to cut down on insurance costs
Speaking to the media during a crisis
Manufacturer Technical Briefings
HAI's Technical and Maintenance Working Group will conduct Manufacturer Technical Briefings (MTBs). Manufacturers of helicopter engines, airframes, and parts and repair center owners at the expo will lead the briefings.
These technical briefings aim to enhance industry safety through technical presentations and program updates from OEMs.
During the briefings, OEMs will present the latest maintenance and technical product information. They will also cover procedures and product issues with technicians. This will help improve the product's maintenance quality.
The presentations also qualify attendees for credit toward FAA inspection authorization (IA) renewal.
Networking Opportunities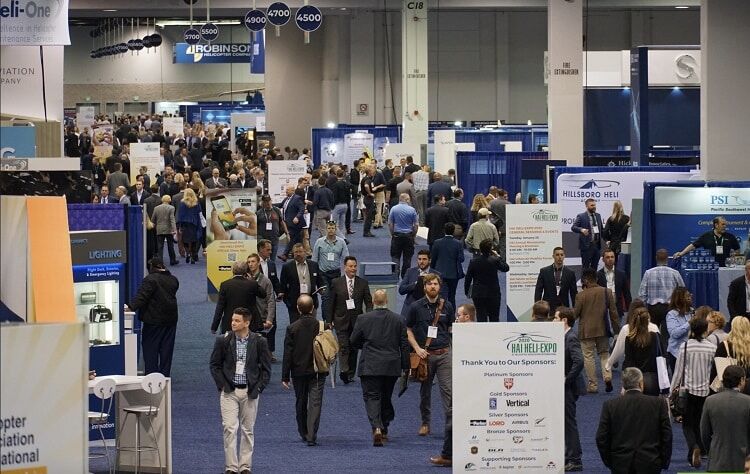 With approximately 15,000 industry professionals from around the world in attendance, attendees can form strategic partnerships.
Manufacturers, vendors, pilots, operators, managers, and maintenance and safety professionals from over 90 countries will make an appearance at the show, offering attendees an excellent forum for building connections.
HAI's 14 working group meetings and other events at the expo give participants more opportunities to network with industry peers and boost business growth.
Career Development
The expo offers attendees a fantastic platform to explore career options and find new hires at its career development events. HAI's Helicopter Industry Career Fair is one of the industry's biggest job fairs.
It allows leading recruiters and top-notch candidates to connect and find the aviation professional or organization they're looking for.
Meanwhile, the Mil2Civ Workshop provides military pilots and maintainers a great chance to learn about transitioning to the civil helicopter sector. They will receive proven advice and mentoring from industry pros about the skills and practices they need to build a successful career in civil aviation.
Civil helicopter industry professionals, many of whom are ex-military, will talk about their lessons and experiences relating to topics such as the following:
How to log flight times and Pilot-in-Command (PIC) in accordance with FAA rules
How to write an aviation resume and nail the interview
How to avoid common stumbling points for military pilots in the commercial helicopter sector
Mastering the crucial art of networking
Maintainers can also participate in special break-out sessions that will add value to their learning process.
Industry Meetings
The global vertical flight industry gathers every year at the expo's industry meetings to shed light on common challenges and find solutions.
The 2023 edition of the expo will allow participants to connect with international regulators, aerial firefighting and offshore community members, and affiliate rotorcraft association leaders.
HAI Working Groups
HAI has many working groups that come together at the show to discuss pertinent issues affecting the rotorcraft industry. Attendees can join a working group that interests them and become industry leaders.
Some of the working group meetings that HAI Heli-Expo 2023 will hold include the following:
Flight operations
Vertical flight infrastructure
Helicopter tour operators
Restricted and experimental category aircraft
Unmanned Aircraft Systems (UAS)
Industry safety
Rotorcraft technical and maintenance areas
Industry challenges
Workforce development
Aerial firefighting and natural resources
Air medical services
Aviation insurance
Fly Neighborly noise management activities
Utilities, Patrol, and Construction (UPAC)
When and Where Is the HAI Heli-Expo?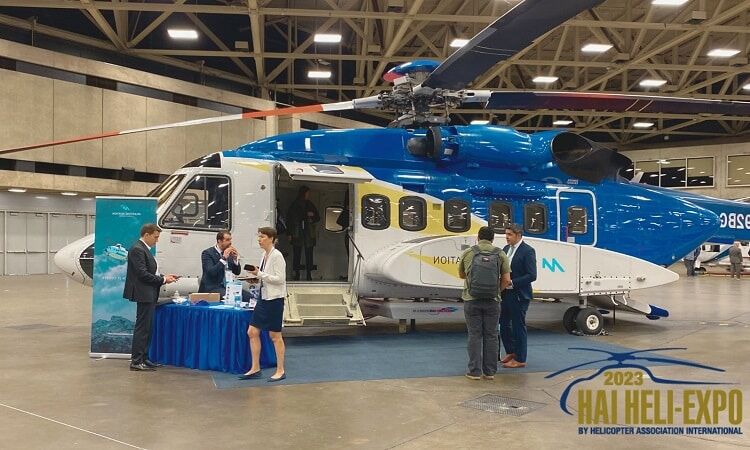 The HAI Heli-Expo is usually held in or around March every year. HAI Heli-Expo 2023 will be held from March 6 – 9, 2023, at the Georgia World Congress Center (GWCC), 285 Andrew Young International Boulevard Northwest, Atlanta, Georgia 30314.
The venue is less than a half-hour drive from the Hartsfield-Jackson Atlanta International Airport. The GWCC is also accessible via the Metropolitan Atlanta Rapid Transit Authority (MARTA) bus and rail systems, scooter rentals, and taxis.
Accommodation Guide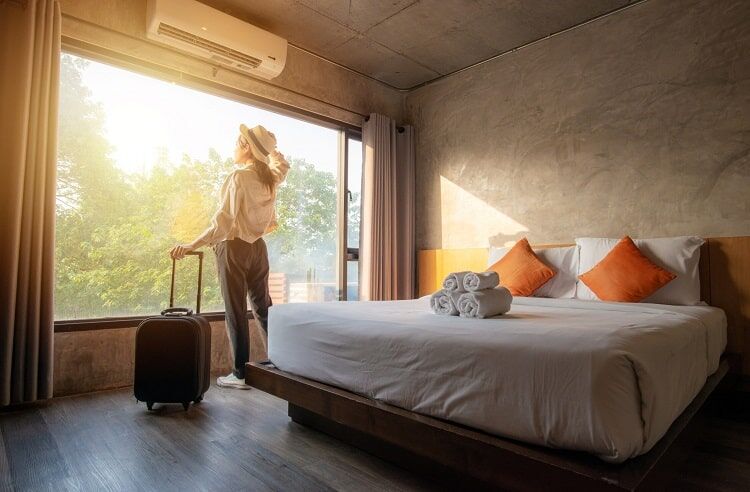 If you're planning to attend HAI Heli-Expo 2023, you'll need to find a good hotel for your stay during the expo. Fortunately, the show organizers have partnered with hotel provider onPeak to offer hotel room bookings to show visitors at discounted rates.
Attendees can choose from a selection of hotels near the venue. Booking with onPeak allows them to enjoy group reservation bookings, support, and flexible hotel change and cancellation policies.
Here are the top accommodation options you can take your pick from when booking with onPeak:
Omni Atlanta Hotel at CNN Center
AC Hotel by Marriott Atlanta Downtown
Atlanta Marriott Marquis
SpringHill Suites by Marriott Atlanta Downtown
Sheraton Atlanta Hotel
Glenn Hotel, Autograph Collection
Hilton Atlanta Downtown Hotel
Embassy Suites by Hilton Atlanta at Centennial Olympic Park
Hotel Indigo Atlanta Downtown, an IHG Hotel
Hyatt Regency Atlanta
The Westin Peachtree Plaza, Atlanta
If you need more hotel options near the Georgia World Congress Center besides those provided by onPeak, here are our top choices:
Hyatt Place Atlanta Centennial Park
Hilton Garden Inn Atlanta Downtown
The American Hotel Atlanta Downtown – DoubleTree by Hilton
The Candler Hotel Atlanta, Curio Collection by Hilton
Home2 Suites by Hilton Atlanta Downtown
Socially Savvy Atlanta
Reverb by Hard Rock Atlanta Downtown
W Atlanta Downtown
Courtyard by Marriott Atlanta Downtown
Residence Inn by Marriott Atlanta Downtown
Aloft by Marriott Atlanta Downtown
Club Wyndham Atlanta
Conclusion
HAI Heli-Expo is a leading international trade expo that serves the global helicopter industry. Industry leaders and professionals gather yearly at this event to buy, sell, connect, network, learn, research, and celebrate the industry.
If you wish to participate in this trade show and are looking for show supplies, we've got you covered. We at American Image offer a wide range of high-quality trade show materials and graphics at attractive rates to suit your budget.
Browse our vast catalog of products and services on our website or contact us to learn more.
Resources: