3 Best Free Event Budget Templates
There's a reason why many business owners don't like trade shows—they are capital intensive and require lots of planning. The best way to control event expenses is to use event budget templates.
Although the results are always positive, it's difficult to measure how impactful trade shows and events are on sales. Some businesses assume that trade shows are a necessary evil, as all the big brands are always there.
To handle your next trade show or event better and with greater efficiency, manage your costs better, and even save money, the simplest approach is to use a trade show or event budget template to help you identify and control expenses.
Remember that trade shows are unique marketing events and require different strategies. With a well-designed budget, you can navigate all the pitfalls around hosting trade shows and maximize your profit. What could be easier?
These three templates are the best event budget templates we've found. Better yet, they are free and won't add to your cost. In this article, we'll explore these event budgets and explain why they're great.
Why Do You Need a Trade Show or Event Budget Template?
A typical trade show budget spreadsheet does many things. Apart from tidying up your account, it helps you to prioritize where your money should go.
When reviewing expenses after trade shows, many exhibitors find out, too late, that they should have spent their money differently.
But with an event budget planning template, you'll see where every dime is going, and will be able to decide is that is the best use of your investment.
Of all the marketing strategies, trade shows remain the most difficult to navigate and plan for. It is easier to run TV and radio ads, or even promote a business on social media.
Several types of research explain how profitable other marketing campaigns are. However, trade shows are not that simple to plan.
For example, you may not have any idea how much a stand will cost. If you use a corporate event budget template, you will be able to set your expense budget limit, and then decide on how much of that budget to allocate to a new or larger stand, new graphics, or other booth accessories. Depending on the trade show, booth size, etc, a new booth stand may cost as little as $100 for a table top banner, or as much as $50,000 for a large island exhibit booth.
There are several other factors to consider when planning for a trade show—things like floor space, pre-event marketing, uniforms, giveaways, stand accessories, miscellaneous expenses, and much more.
Five things must be considered in every trade show when budgeting for it. They are:
Exhibit stand
Exhibit design
Exhibit movement, installation, and dismantling
Personnel expenses
Promotion
In a typical budget, it is expected that you will spend 25% to 35% of your trade show budget on the exhibition space.
You'll have to design the stand to suit your brand, which is expected to cost you, depending on your needs. The recommended amount shouldn't exceed 30% of your budget.
You'll also have to move your exhibition materials and equipment. Another significant expense is the installation and eventual dismantling of your stand.
This cost depends on the size of the event. You'll also need to spend on transport for staff, accommodation, and feeding. Then, finally, you'll have to promote the event. This is one area that many exhibitors do not pay attention to.
A budget template allows you to outline all your event line items, how much they will cost, and how to spend on them. Also, a budget ensures that you stop wastage and have enough funds required for a successful exhibition.
While planning for your exhibition, do not always go for spaces bigger than what you need, as this may eat into your budget. Sometimes, it is a lack of planning that makes the funds inadequate.
Navigating these expenses so that your ROI is not low requires proper planning. With proper planning, you can stretch your event budget. 
So, that's why you need a budget. Below, we have outlined some budget templates to help you do this easily.
The Best Free Trade Show Budget Templates
Nimlok is one of the world's largest exhibit and display manufacturers, and is also one of our key partner suppliers. Over the years, they built and then continuously edit this event budgeting template. It is free to use, and very thorough and comprehensive. Please let us know if you have any questions or need additional information or support using this specific budgeting tool.
Exhibit Space Rental is one of the most common expenses associated with trade shows. The cost of exhibit space can vary depending on the event and the location, but it typically ranges from 25-35% of the total event budget. When budgeting for exhibit space, it is important to consider the overall event budget as well as the composition of the trade show attendees. Events often offer early registration discounts, which can save on the cost per square foot. With careful planning, businesses can minimize the cost of exhibit space and maximize their return on investment.
Exhibit production costs – The second largest expense for most event budgets is production costs, which can include items like custom exhibit design, booth graphics, furniture rentals, and audio-visual equipment. Production costs typically account for 20-30% of the total event budget. To save on production costs, many businesses choose to use existing exhibits or rent existing exhibits from Exhibit Companies.
Lead retrieval systems are used to capture leads at trade shows and are typically rented from the show management or an exhibitor service company. The cost of lead retrieval systems can vary depending on the features and services included, but they typically range from $500-$2000 per event. To save on lead retrieval system costs, many businesses choose to use a lead capture app like Nimlok DNA, which is a free lead capture app that integrates with Nimlok's line of rental exhibits.
Shipping & drayage includes the cost of shipping exhibit materials to and from the event venue as well as any on-site handling fees charged by show management. Shipping & drayage typically accounts for 5-15% of the total event budget. To save on shipping & drayage costs, many businesses choose to use Exhibit Companies that offer crate-less rental exhibits that can be shipped using standard freight carriers.
Lodging & travel expenses can vary depending on the location of the event and the distance traveled. Many events offer group discounts at nearby hotels, which can save on lodging costs. To save on travel expenses, many businesses choose to fly into major airports that offer lower airfares and ground transportation options like ride sharing apps.
#2 Smartsheet Trade Show Budget Template
The Smartsheet Trade Show Budget Template is designed to help you plan and manage your trade show budget. It contains the most important line items that help you organize your exhibition.
All you need to do is add up all the items in the lines, and you can have your budget automated by the smart sheet.
Also, this template can help you to set reminders and attach invoices to each budget line item, so that your necessary payments are settled promptly. This template can help you to manage more than one trade show, allowing you to do so much at once.
Smartsheet also has an Event Registration and Tracking Template Set—which helps you easily track and manage event registrations for any trade shows or event.
The Event Planning Template Set for in-person and manual events—which allows marketers and event planners to transition to virtual events, and align, track and report on the strategy and planning that leads to successful events.
And finally, the Project Tracking and Rollup Template Set—which reports on risks and milestones of events to stakeholders.
This template is also free to download.
#3 Quadrant2Design Trade Show Budget Spreadsheet
Many exhibitors don't know how much of their total budget should go to different things during the pre-event stage. The Quadrant2Design budget spreadsheet can help you handle that effectively.
This spreadsheet is designed to break down your entire budget, so you know where to focus your money.
The amount of time spent on breaking down expenses and making reports can be saved with this spreadsheet, as it helps you manage the breakdown.
You also get to know how the analysis of your budget works and who gets what.
Designing Your Own Trade Show Budget Template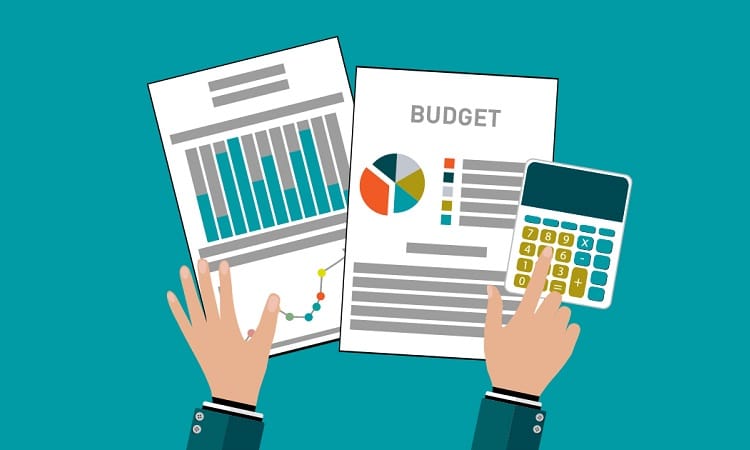 One easy way to design your own trade show budget is to multiply your booth fee by three. That way, you can arrive at a reasonably accurate total trade show budget.
For example, if your booth fee is $2,000, your entire budget should be around $6,000.
This $6,000 should then cover the essentials, which are travel expenses (20%), booth design and furnishing (15%), promotion (10%), and show services (15%). The other 10% would go on shipping and other transport services.
All you need to start with is the booth cost. This is what a typical trade show budget looks like, and you can create one with a pie chart.
This way, you will know if you are exceeding your budget or not. However, you can download any of the templates we have highlighted above to make your job easier.
Conclusion
If you plan well, a trade show is rewarding for attendees, organizers, and exhibitors. Managing a trade show budget is not as difficult as it sounds, and you can conveniently get spreadsheets downloaded for free.
Your business will become more profitable if you start budgeting for your trade shows. With an event budget template, you can track what you spend and how you spend, so your event can yield the best results. Soon, you'll be able to manage costs, minimize expenses, and maximize profit for better ROI.
Nimlok's trade show budget worksheet will guide you in creating your own event budget. In addition, consider working with an expert Nimlok partner to build an exhibit solution that will meet your trade show objectives and budgeting goals. Connect with a Nimlok partner today. 
Resources: