Outdoor Banner Stand – Everything You Need to Know
If you're looking for a loud and dynamic marketing tool that can bring customers directly to your business, the outdoor banner stand is it.
These stands can be displayed outside and grab the attention of anyone who sees them, making them the perfect fit for retail stores and shop fronts that need to attract customers.
How do you use an outdoor banner stand? A banner stand can be assembled anywhere outside of your store or even used inside as a retail display or at trade shows and conferences.
For it to work effectively outside though, the materials and construction need to suit the harsher exterior elements.
An outdoor banner stand, when done right, can be the key to attracting those customers that you've been missing.
This quick guide will show you what they're all about and how to be sure you're choosing one that suits your business goals and the unique needs of marketing in the outdoors.
What is an Outdoor Banner Stand?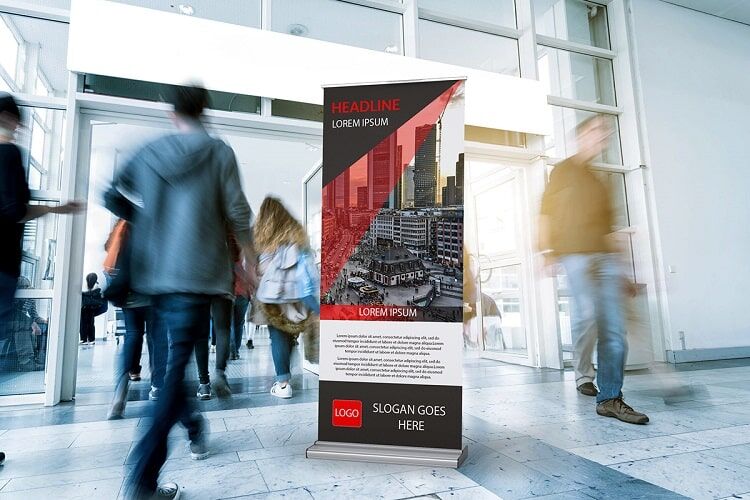 A banner stand is a general term to describe any form of advertising banner that stands upright.
Unlike other banners that are tied down or fastened to the wall, the banner stand includes a stand and all of the mechanisms to assemble it anywhere and without anything else required.
The most likely place to see these banner stands are at events like conferences and trade shows when they're standing alongside a booth.
Otherwise, you might see them set up inside stores as retail displays or when you walk into an office or storefront.
Usually, the banner stand is considered an indoor-only display, but there are lots of businesses that would benefit from using them outside as well.
The key difference between an outdoor-friendly banner stand and one used indoors is that they're made to be more durable.
The stands and their displays need to endure elements like sunlight, wind, and rain, so they go through a lot more than the average indoor banner that's only pulled out for events.
The Best Materials for Exterior Use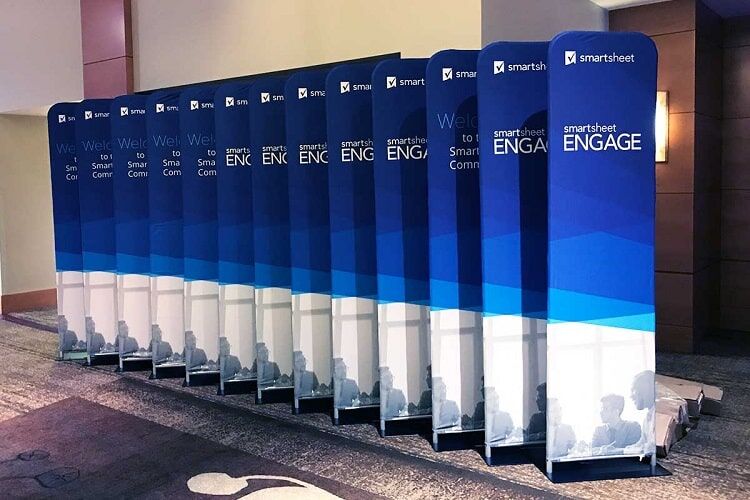 When looking at banner stand materials, the two main areas we should be concerned with are the exterior shell and the banner itself.
In most outdoor models, a hardy material like aluminum is recommended for the exterior shell but there are durable options like plastic that are most cost-effective and can still withstand outside use.
The banner materials will have the biggest impact on its longevity, price, and how the design and content appear on the banner itself.
With that in mind, here are the most popular options for materials and what impact they make:
Polyester: Materials like polyester are commonly used for marketing materials like banners and signs because of their ability to pick up color well and respond to a range of printing methods. They cost more but offer better results, and something with a UV treatment or similar coating would be ideal for an outdoor banner stand.
Vinyl: A popular choice for outdoor banners and signs, vinyl has been used in this industry for decades. The material works well outside and has a longer life than most, so even though it's costlier it's a better idea for signage that plans to be used for the long term.
Polypropylene: If you plan on switching your outdoor banners regularly, using polypropylene is a viable option. Although cheaper, it does well outside and resists fading but the thinness of the material means it's not suitable for long-term use.
Plasticized paper: A durable enough material for the outdoors but a better fit for banners that are changed regularly. If you plan on having a generic outdoor banner for your brand, this material won't stand up to the test of time.
You should also consider how the material is being printed on, with options like dye sublimation, latex printers, solvent printers, and UV printers all being popular choices.
Each of these factors will need to suit the intended use for the outdoor banner stand, so it's worth weighing each of them up.
Types of Outdoor Banner Stands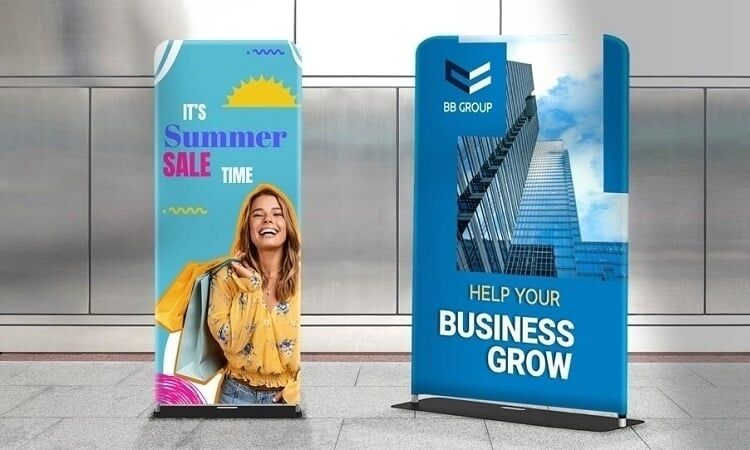 As well as choosing the right material for a banner stand, you should also consider the mechanisms it uses. To stand upright and be displayed.
Some of these might be more suitable for outdoor use or the specific purpose you want them for, so think about each of these types:
Retractable: A pull-up or pop-up banner stand features a retractable frame so that it can be disassembled in seconds by tugging on the bottom of the banner.
The benefit of this is its ease of use and how quickly they can be set up. However, they're more prone to flying away when kept outdoors and in windy conditions, unless being held by a weighted bottom.
Telescopic: A telescopic banner stand, also known as a feather banner, features one telescopic pole with the banner flying from the side of it. They can be double or single-sided to display whatever content you choose to and the way that they flap in the wind can make them even more attractive. These banners usually have a weighted bottom or metal ground stake for keeping them secure.
Tension: A tension banner uses the tension of the material that the banner is made of to give them strength and keep them straight, which can be helpful when they live outdoors and in the wind. They're portable and come with lightweight poles that can be easily assembled and disassembled when you want to move them but may be prone to flying away.
Tips for Ongoing Care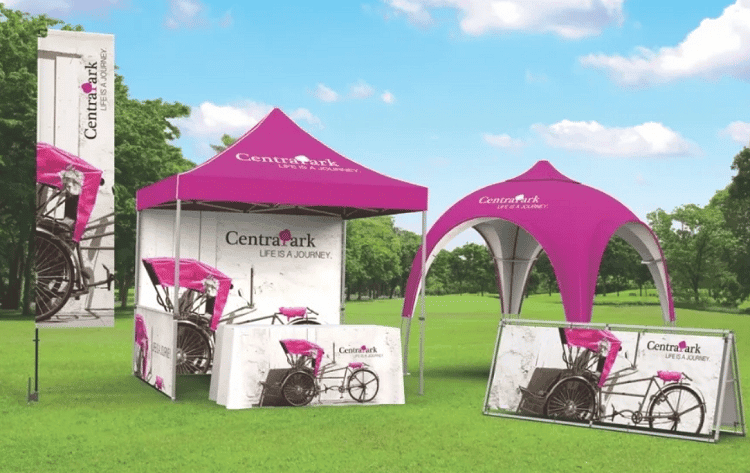 As a major investment in your marketing budget, you want to have your outdoor banner stand in the best shape for as long as possible.
Check out these tips to get the longest life out of your banner, even when kept outdoors:
Always use the transport or carry case that came with the banner to move it around or store it. These have been designed for the specific shape and size of the banner and will do the best job of protecting it.
During wet weather, it's best to bring the banner stand inside and out of the rain. While they can withstand some moisture, leaving them under heavy showers for hours will likely do permanent damage.
Check the warranty and care instructions of the banner you purchase as they each have specific requirements that will keep them in the best shape.
If temperatures are going to be hotter than normal, keep the banner inside and in the air conditioning for that day. Materials like vinyl and plastic can become damaged by heat and may even melt when exposed to direct sunlight in these conditions.
Avoid bending or folding the banner, even when it's being stored away. Although durable, the creases left in these will be permanent and ruin the look of the display.
Wipe down the banner with warm soapy water once a week to remove any debris. This keeps the graphics looking vibrant and helps to avoid permanent stains and damage.
How Long Will They Last?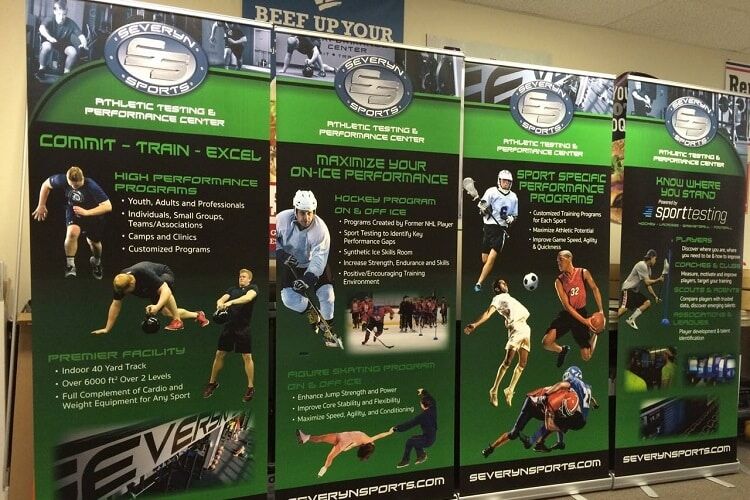 The lifespan of an outdoor banner stand can vary dramatically based on a few factors, so it depends on how much life you're hoping to get out of yours.
Some businesses will be turning over these types of displays quickly and only using them for certain promotions and others will want an outdoor banner to be generic and on display for as many years as possible.
The factors that can impact how long a banner stand last include the materials they're made of, whether they feature any protective coating against moisture and UV, the climate and conditions they're set up in, and if they receive ongoing care and maintenance.
How you store the banner when it's not in use will also impact its lifespan, and we don't recommend simply leaving them outside forever.
With all of the factors on your side, you can expect a quality PVC banner kept in average weather conditions to last upwards of five years.
The cheaper materials like plasticized paper will usually last two to three years, but not every business will be using these banners as a permanent form of advertising, so that might be suitable.
The Best Way to Market Outdoors
The outdoor banner stand is a smart way to attract people inside to your business, and it'll give you even more visibility than before.
As long as you buy a banner stand made specifically for the outdoors, you'll ensure that it's delivering your message and looking great while it's doing it for years to come.
Resources: