Everything You Need To Know About Literature Racks
A literature rack is a common item you're likely to see in many places, such as trade shows. It's ideal for storing and featuring a large number of printed materials that people can access easily.
Literature racks come in different styles and sizes to suit your trade show booth and accommodate the promotional materials you want people to read, such as brochures and catalogs.
What's a popular type of literature rack used at trade shows? A portable literature rack is ideal for use at trade shows because it folds up and is lightweight in design.
These features make it portable, so it's easy to set up and carry.
Literature racks come in a variety of materials, such as metal and acrylic. Let's explore why you need to have a literature rack at your trade show booth.
We'll also look at the different types of literature racks on the market.
Why Are Literature Racks Essential?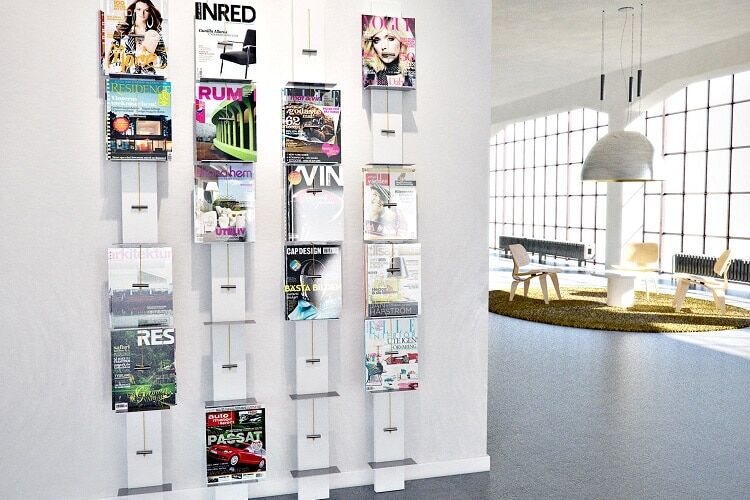 If you're setting up a booth at a trade show and you have promotional materials, you need to invest in a literature rack. Here are some reasons why.

It does the marketing for you. Instead of having to hand out your brochures and other promotional materials to people in person, you can let them help themselves to the material from your literature rack. This ensures that you won't potentially miss a sale if you're talking to someone else while people are looking around your booth.
It creates a professional impression. If you don't have promotional materials, this lacks the professionalism you want to achieve with people who are visiting your booth. Having a literature rack for your company's literature goes one step further by ensuring that it can be organized properly to make a good first impression on potential customers.
It keeps your trade show booth clean and tidy. No one wants to visit a booth that's haphazard and looks messy! Having a literature rack will help you to provide a neater setup so that more people will be attracted to your booth.
It protects your printed materials. You don't want the marketing materials that you've worked hard on, and spent money on, designing and having printed to get damaged. Storing them in a literature rack is a good way to keep them safe.
It's versatile. Some people have used literature racks for more than promotional materials, such as tile and paint samples. So, think out of the box as these racks are quite versatile!
Common Types Of Literature Racks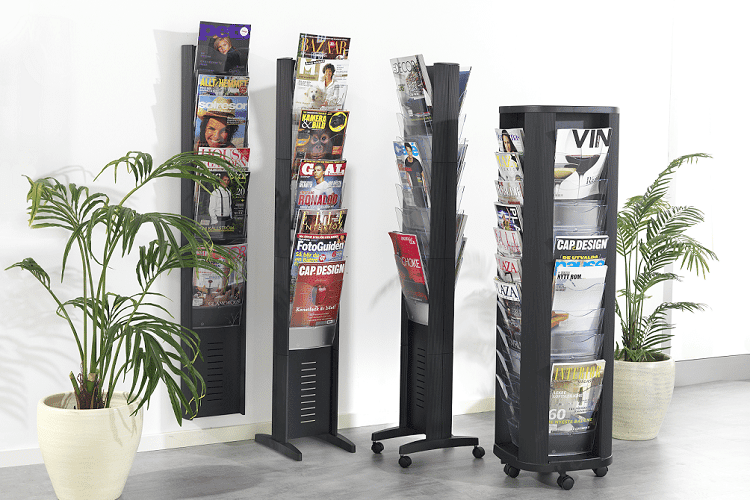 The great thing about literature racks is that they come in a variety of styles so you can choose the ones that work best in your booth and take its style into account.
Some literature rack styles include the following:

Literature rack with poster. This is a brochure holder stand that has a poster frame included in its design. It, therefore, ensures custom branding for your booth.
Wall-mounted literature rack. This rack gets installed on the wall to save space in your booth. You can also find leaflet dispensers that can be mounted onto the wall.
Portable folding literature rack. This type of rack is collapsible for easy transportation so it's ideal for use at trade shows. Its folding shelves are ideal for storing magazines and other promotional materials.
Freestanding literature display stand. This type of rack is a stand on which you can display one magazine or other promotional material so you don't overwhelm people with too much to see or read.
Rolling stands. These are stands that are on wheels, which makes them even easier to move around your booth and transport.
Tabletop stands. These racks are small and conveniently get set up on tables. They're great for attracting people who have come to talk to you and find out about your company as well as your products. Since they contain a few compartments, tabletop literature stands are ideal for promoting your company's featured products.
Tips For Choosing The Best Literature Rack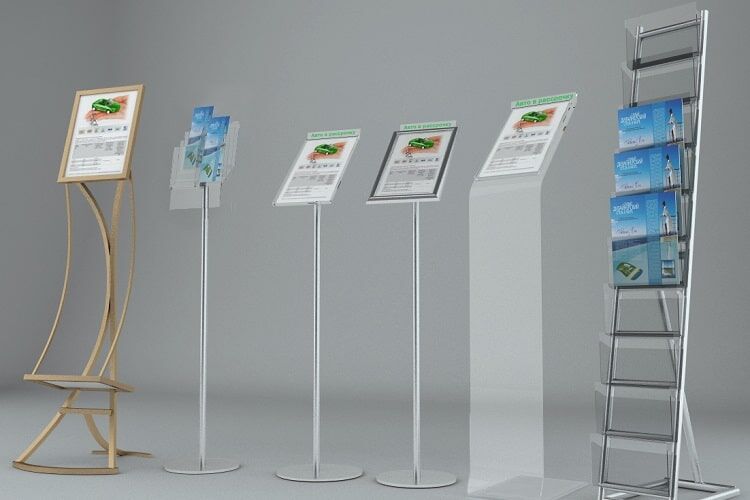 When purchasing a literature rack, look for some essential features.
Portability. Choose a literature rack that's easy to carry so that you can move it into and out of the trade show booth easily. You don't want the process of transporting the rack to be difficult. A feature to look for when purchasing literature racks is a carry bag. This increases your convenience of using literature racks.
Easy setup. Choose a literature rack that's easy to set up as this will save you time. It will also reduce your stress on trade show days!
Number of pockets. Literature racks come in a variety of pocket variations, such as two, three, or more pockets. These are convenient for keeping different types of promotional materials separate and organized.
Skid resistance. This feature is especially important when buying tabletop literature racks. It's a feature that includes rubber on the bottom corners of the rack so that it won't move around when placed on a table or counter.
Where To Set Up Your Literature Rack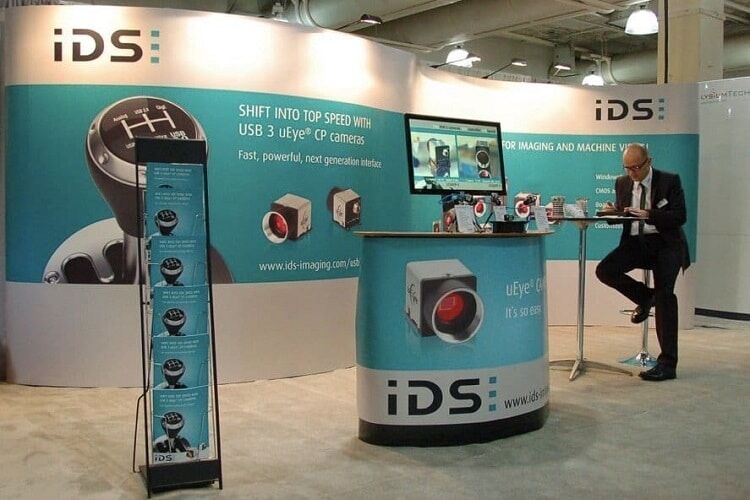 When setting up your trade show booth, you should try to make the most impact with where and how you place your literature rack.
You will have to think about whether you put your literature rack up front so that it's the first thing people see, or you place it further back.
Why you should put your literature rack at the opening of your booth: By putting your literature rack front and center so that it's the first thing people see when they approach your booth, this will gain attention. If you have a small booth, you should avoid a literature rack that's too large as you don't want it to block the flow of traffic into your booth.
Why you should place your literature rack further back: If you want to have more control over your literature, consider putting the literature rack at the back of the booth. This is a good way of engaging with people instead of being in a situation where they just grab a pamphlet or brochure and keep moving on. You can hand them the materials during the conversation. However, note that this could prevent potential customers from having easier access to your materials, so think about this design option before choosing it.
Buying vs Renting Literature Racks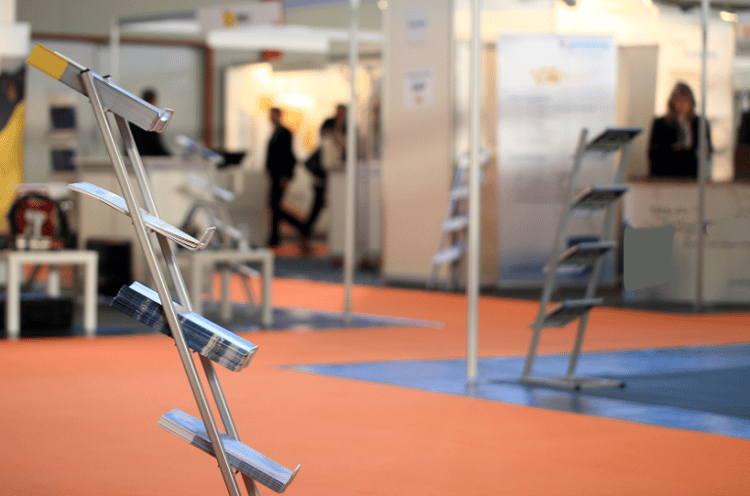 You might wonder if it makes more sense for you to buy or rent literature racks for your trade show. Here are some pros and cons of both.
Pros Of Buying Literature Racks
Once you purchase a literature rack, it's yours to use in whatever way you choose.
If you attend many trade shows, purchasing literature racks prevents you from having to rent them out on a regular basis.
Purchasing a literature rack helps you to get all the features you want, such as the number of pockets it includes and whether it's acrylic or metal.
Pros Of Renting Literature Racks
If you don't use literature racks regularly but just need them once in a while for an event, renting them is useful and makes more sense than purchasing one that's going to go to waste.
You don't have to worry about where to store your literature rack when it's not in use.
By renting a literature rack, you won't have to buy additional accessories to transport it, such as carry bags.
How To Make Your Own DIY Literature Rack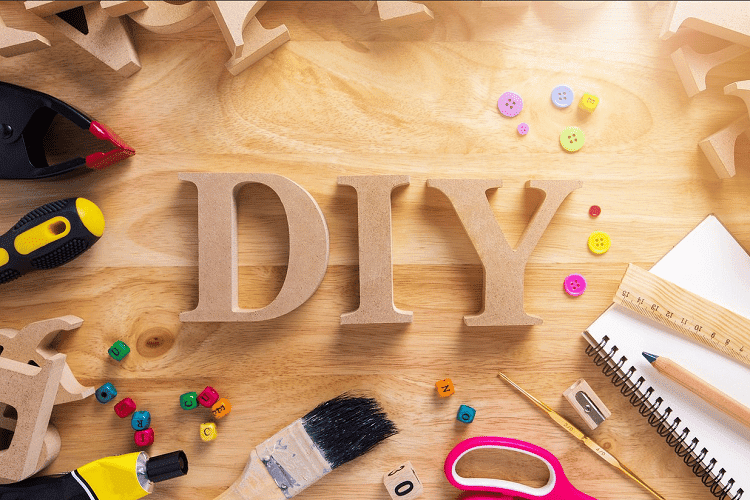 If you want to save some money, you can make your own literature rack from materials you might already have at home.
Here's an easy tutorial for a wall-mounted magazine holder that can also be used for other materials.
What you'll need:
Small piece of plywood
1×2 board
Circular saw
Miter saw
Sanding sponge
Acrylic sheet
Painter's tape
Permanent marker
Gorilla glue
Hand clamps
Instructions:
With a circular saw, cut the piece of plywood according to how large you want the rack to be.
With the miter saw, cut the 1×2 piece to make the bottom, divider, and side pieces.
Use the sanding sponge to gently sand the edges and front of the plywood and 1×2 pieces.
Put some painter's tape on the middle of the acrylic sheet.
Use a permanent marker to make a line down the middle of the tape.
Use a miter saw to cut the acrylic so that it will fit into both parts of the magazine holder.
Place the 1×2 wooden boards so that they rest on the plywood. The bottom 1×2 board should be put between the sides, and place the dividing piece in the middle of the rack.
Put the acrylic pieces across the sides and the divider – place them around two inches from the bottom edge of the wood.
Apply some of the glue underneath the bottom board. Note that if you're using Gorilla Glue you need to first wet the wood before applying it. Repeat this step with the other pieces so that you can attach them to the plywood.
Use hand clamps to keep the board attached to the plywood.
Remove the painter's tape.
Remove the protective coating that's located on both sides of the acrylic.
With a damp cloth, wet the sides and divider, then apply glue onto the edges of the acrylic pieces.
Place the acrylic pieces onto the rack. Their top edges need to be flush with the 1×2 divider's height.
Leave the pieces clamped for a few hours so the glue will dry.
Mount your rack. You will need two nails to fasten the rack to the wall.
Related Questions
Is a rotating literature rack worth it?
A rotating literature rack is ideal for your trade show booth if you have lots of items you want to display at once so that people can go through different materials in one spot.
What materials do literature racks come in?
You can get literature racks that are made out of acrylic, metal, wood, and plastic.
Conclusion
If you have catalogs, brochures, or other promotional materials, don't stack them on a table at your trade show booth where they'll be ignored! Instead, use a literature rack.
This will highlight the materials you want people to pick up and take with them so that they can learn more about your company and the products/services you're promoting.
Resources: