What Types of Trade Show Carpets Are There?
If you're looking for a professional type of flooring for your trade show booth, a carpet is a good idea.
While it might seem like a high-maintenance option, there are many advantages of using a carpet as your chosen flooring.

What types of trade show carpets are there? You can use different carpets at trade shows, such as roll-up carpets and carpet tiles, both of which are user-friendly.

With the above in mind, let's explore everything you need to know about trade show carpets and how to choose the best one for your booth.
We'll also look at the different types of carpeted flooring that are available.
Why You Should Use Carpets At Trade Shows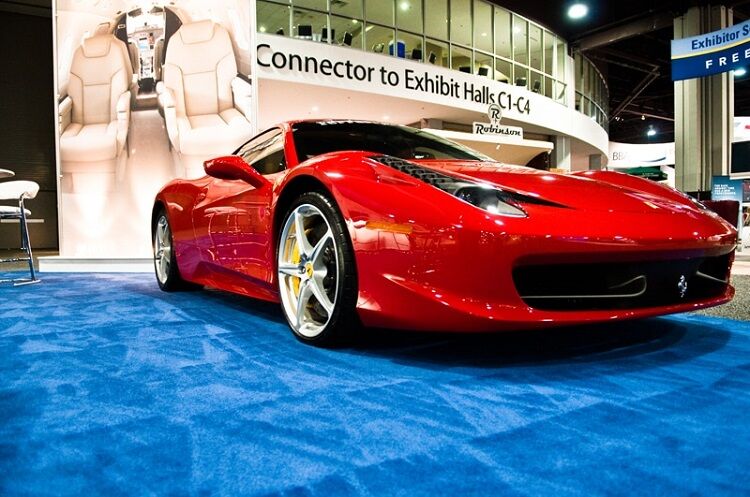 There are many good reasons why you should make use of carpets for your trade show booth floor.
These include the following:
Carpets provide thermal insulation. Choosing to cover the existing flooring with carpets can decrease your energy consumption. This will ensure that your trade show floor is warm during the winter while staying cool during the summer.
Carpets can display your company branding. When choosing branding elements for your trade show booth, don't forget about the floor! Branded carpets provide you with an easy way to showcase your company's branding. If you don't choose a carpet that's been branded specifically for you, you can make use of a more convenient option: stick-on graphics.
Carpets come in a variety of colors. There are many colorful options at your disposal when choosing carpets for your trade booth as compared to other types of flooring. This variety helps you to customize your booth much more than your competitors and get more people's attention.
Carpets come in a variety of thicknesses. You can choose thicker, plusher carpets to make them more comfortable to walk on. This isn't just comfortable for people visiting your booth but ensures that you can prevent fatigue after long hours of standing and work in your booth.
Carpets are affordable. A carpet for your trade show booth can be more cost-effective than other types of flooring, therefore saving money on your initial costs.
Types Of Trade Show Carpets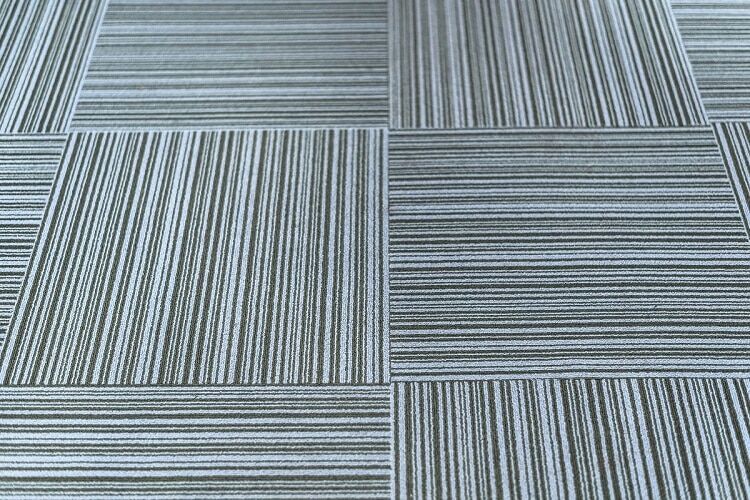 There are three main types of carpets that you can use for your trade show.
Carpet Tiles
Carpet tiles are one of the easiest and most convenient trade show flooring options to consider. They come in a variety of colors, patterns, and textures, so they're highly customizable.
You can also save money when purchasing carpet tiles because you can buy the exact amount of tiles you need to cover your booth floor.
You won't be in a situation of having to cut carpeting to size, which can be time-consuming and stressful.
When purchasing carpet tiles, consider their thickness. You want high-density foam backing underneath the tiles as this will provide padding which will stand up to high traffic.
And, check that the tiles have a coating on them, such as Scotchguard polyester material, that enables you to easily clean up spills and stains so that your carpet always looks good.
There are two types of carpet tiles:
Carpet tiles with foam backing. This foam backing is great for increasing insulation. It's a good choice to consider if your trade show is taking place in the colder months.
Raised modular carpet tiles. These tiles are ideal for high-traffic areas and can tolerate heavy weight. If you have heavy furniture in your booth, they're a good choice.
Rolled Carpets
Instead of carpet tiles, you can also find rolled carpets for your booth. These come in various colors, styles, and thicknesses, so you can customize them to suit your brand and trade show booth design.
Rolled carpets are popular because of how they're very convenient to roll out and set up before the show.
Printed Carpet
Another option you have at your disposal if you want to use carpeting for your trade show is to choose a carpet that's been printed with your brand logo.
As mentioned earlier, this can set you apart from the crowd and make your booth more memorable to people visiting it.
How To Choose The Best Color For Your Trade Show Carpet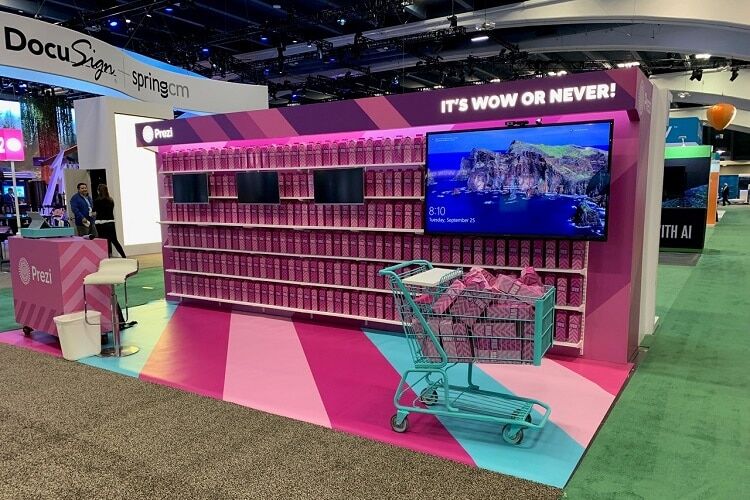 Choosing the right color for your trade show carpet is important as it should have the effect you want it to have on potential customers.
Here are some guidelines to bear in mind so you choose the best color for your carpet.
Think about your company's branding
What colors do you use in your company branding? It makes sense to match your carpet to your overall branding so that your company is more memorable.
If you choose a carpet, or other trade show display elements, in colors that don't match your company branding, this will cause confusion for people visiting your booth.
Think about the emotion you want to evoke
Do you want people to feel calm when they visit your booth or energized? Do you want your carpeting to be classy and sophisticated, or fun?
Here's a guide to popular colors and the emotions they evoke:
Red. This is a powerful, attention-grabbing color. It works well to bring attention to certain elements or areas of your booth. However, it can also be associated with danger, so use it sparingly.
Orange. Orange is playful and energetic. Just be careful when using a very bright orange shade as this can come across as harsh or low-budget.
Yellow. This color is positive and cheerful. However, be careful when using it in a branded carpet as you want to ensure that the graphics will be easy to see against the yellow background.
Green. This is a color that's usually associated with eco-friendly and/or health companies and products. It works well with many other colors, so it's a versatile choice.
Blue. This is a color known for representing serenity. It's gentle on the eyes and works well if you want to represent stability and trust. Just be careful when pairing it with strong colors like orange. This can sometimes produce too much visual noise that can be distracting or confusing to people.
Black. This is usually seen as a classic color that represents sophistication. It works well with a variety of other colors, but it can also be too dark so that it disappears in the crowd instead of catching people's attention.
How To Keep Your Trade Show Carpet Clean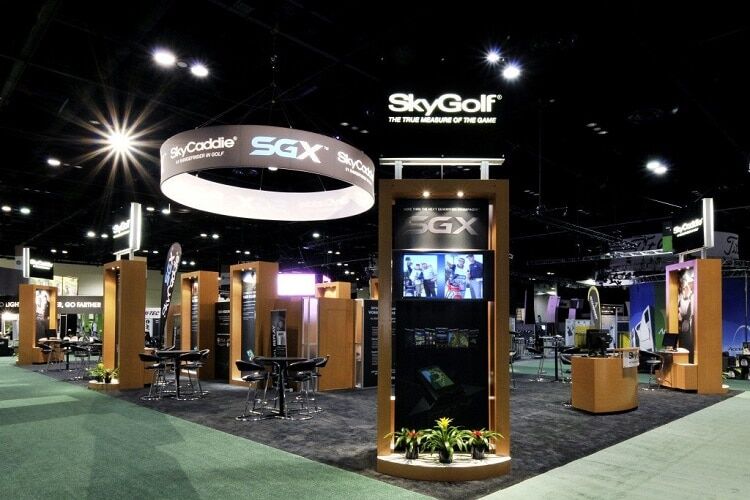 You have to keep your carpet looking clean and hygienic, otherwise, this will give potential customers a bad impression of your booth and business.
Here are some easy tips to keep your trade show carpet in excellent condition.
Vacuum the carpet before a show. This will remove dust and debris from the carpet's fibers. Although a lint roller can be useful for removing dirt and debris from small areas of the carpet, you should vacuum the carpet every day there's a show to give it a deeper clean. This removes pollutants in the air so that your booth remains clean and hygienic.
Stock up on industrial stain remover. You never know when you'll need to mop up your carpet in the middle of a trade show, like if someone spills their juice on it. Tackling spills and stains immediately will prevent hassles at a later stage.
Store the carpet in a carpet bag. This is essential to protect your trade show carpet from spills and stains when you're transporting it to and from the event. If you're using carpet tiles instead of a rolled carpet, you should stack the tiles and store them in carpet bags, too.
Related Questions
What's a good tip when purchasing a rolled carpet for a trade show?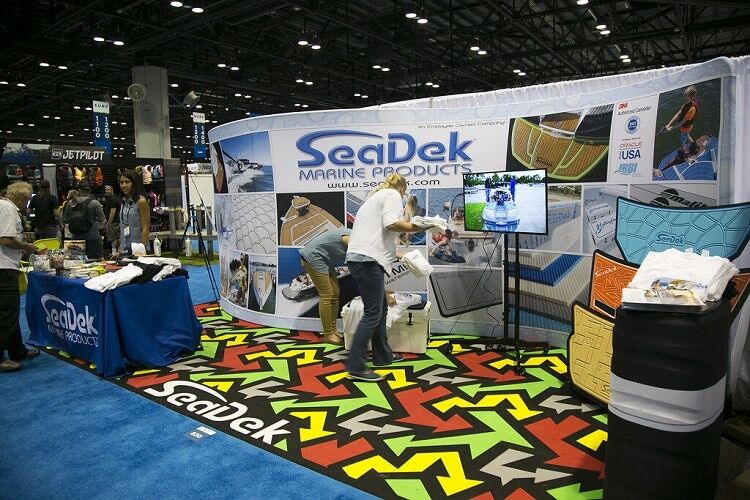 Make sure that if you're choosing a rolled carpet you get the perfect size. If the carpet doesn't lie flat and smoothly on the floor, it will become wrinkled.
This will make it look cheap and unattractive. It can also be an injury risk for people, so you want to ensure you avoid the wrong size.
Where can you buy carpet storage bags?
If the trade show carpet you purchased didn't come with a bag included, you can find quality storage bags online at sites such as Amazon.
Conclusion
When choosing a trade show flooring option, you should consider a carpet.
It's strong, durable, and can be customized to match your booth and branding while ensuring your booth has a professional appearance.
In this article, we've looked at how to choose the best type of carpet for your booth, what colors you should choose for your carpet, and how to keep your carpet in good condition.
Resources: