Best Trade Show Exhibit Companies: Top 11 Picks for Your Brand
The last couple of years have been tough for the global trade show industry. Tradeshow booths got packed up as trade shows all over the world were postponed indefinitely or canceled outright, from the smallest events to the biggest trade shows in the world – all closed up tight.
This affected swathes of people in the industry, from trade show decorators, trade show organizers, exhibition install and dismantle contractors, to exhibit design companies and exhibitors themselves.
Fortunately, trade shows are now back on track, once again giving brands the opportunity to showcase their products and services. But there are also sweeping changes afoot. Exhibitors at these shows have become more innovative in terms of choosing exhibit space size and placement, and implementing creative booth design and custom trade show platforms.
Walk into any trade fair in 2022, and in every hall and aisle, you will see spectacular displays beckoning visitors to check out the offered goods.
There's no doubt that exhibit design has become bigger and better than before. The combination of exceptional aesthetics with high-value brand promotion and innovative tradeshow exhibit design is doing wonders to attract customers and pull crowds.
To achieve this high-level marketing endeavor, exhibitors do well to partner with the best trade show exhibit builders, trade show decorators and trade show exhibit companies that provide exceptional branding services.
Top 11 Trade Show Exhibit Companies
We have rounded up the top 11 trade show exhibit companies that will help you make your next live event a roaring success.
#1 American Image Displays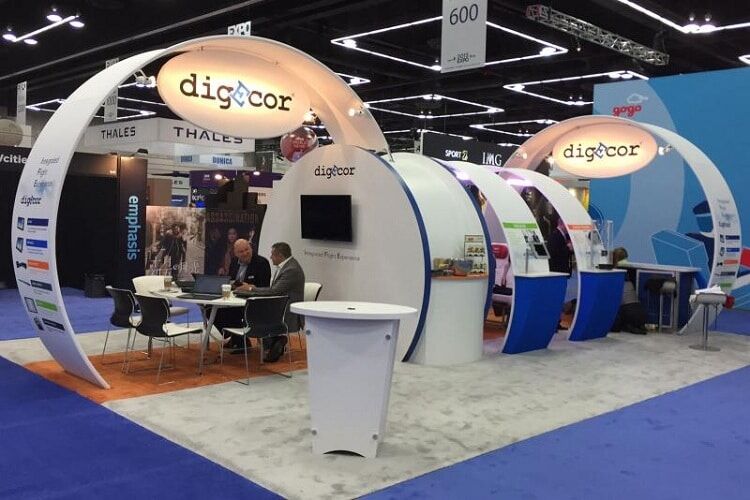 American Image Displays is one of the best exhibit design firms and a leading provider of custom trade show exhibits. Established in 1983, this independent trade show booth and graphics dealer provides state-of-the-art event solutions, including trade show booths, graphics, and supplies.
Their clients participate in primarily in domestic USA trade shows, but many also attend international trade shows. Clients work in industrial trade show booths, custom trade show platforms for consumer technology associations, and market to domestic and international buyers for aerospace, computer and electronics, medical, and even for seafood trade and the global seafood marketplace.
They design and sell the full range of trade show displays, starting from small portable pop-ups and banner stands, including corporate exhibits and museum exhibits, all the way up to large custom displays, and islands.
They provide full display systems, interactive exhibits, graphics and accessories, trade show booth rentals, storage management, shipping, repair, and installation and dismantle (I&D) services.
All American Image products are tried and tested to ensure effectiveness, safety, and high-quality services at fair industry prices.
They have serviced some of the finest manufacturers in the industry, including ExpoDisplays, ExpoGo, Classic Exhibits, Abex, Brandstand, Brumark, Featherlite, Globotech, K&S, Laarhoven, LITE, TrussWorks, Nimlok, Orbus, and Radius, among others.
#2 ExpoMarketing
Established in 1991, ExpoMarketing is an award-winning of trade show exhibit companies that provides high-value brand experiences for trade show exhibitors.
This Southern California-based exhibition projects and fabrication house is an industry leader that promises first-rate project management services so clients can enjoy a seamless trade show planning experience.
ExpoMarketing's exhibit designers and innovative style offer clients a unique and creative edge. Their service team collaborates closely with clients at every stage of the design and fabrication process to ensure that the exhibit reflects the brand's image.
ExpoMarketing provides all types of stand projects such as custom display purchases and rentals, custom inline booths, island booths, double-deck booths, and so on.
ExpoMarketing has provided exhibit booth designs in the following trade shows:
CES – Consumer Electronics Show
Natural Products Expo West
PMA Fresh Summit Convention & Expo
Vision Expo East & West Global
#3 Metro Exhibits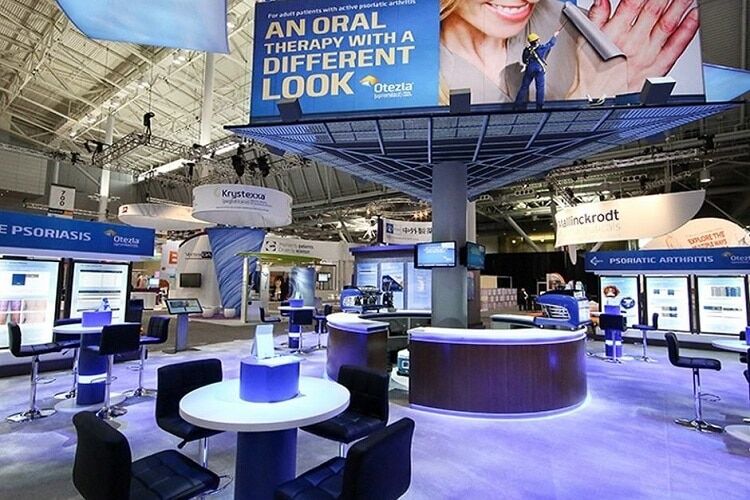 Metro Exhibits is one of the world's leading trade show exhibit companies that provides full-service trade show booths and other top-notch event solutions.
Launched in 2008, the company now has four locations across the US. They serve thousands of clients across the US, Europe, Asia, Australia, and the Middle East.
They have worked with many of the world's top-ranking companies, including Google, Amazon, Coca-Cola, Century 21, KPMG, and Burlington, among others.
One of their best achievements includes an award for the "Best of Show – Best Overall Booth" at the 2018 Kitchen & Bath Industry Show (KBIS) for a large-scale custom exhibit designed for Fabuwood Cabinetry.
Metro Exhibits provides a wide range of trade show services: exhibit design and fabrication, interior design, graphic design, graphic printing, storage and warehousing, and more. They have partnered with customers for the following shows:
CES – Consumer Electronics Show
North American International Toy Fair
The National Hardware Show
#4 Freeman
Freeman began as a decorating company in 1927, and they have since grown into one of the largest trade show booth builders in the USA, providing exhibition contractors that service trade shows, conferences, and events across the US.
They provide integrated event services for in-person, virtual, and hybrid events.
Freeman delivers high-quality custom trade show displays, exhibit booth rentals, and virtual booths.
Their services and solutions range from design solutions, program management, sponsorship, strategy and business intelligence, technology and software, and health and safety consulting for all types of events.
#5 Nimlok NYC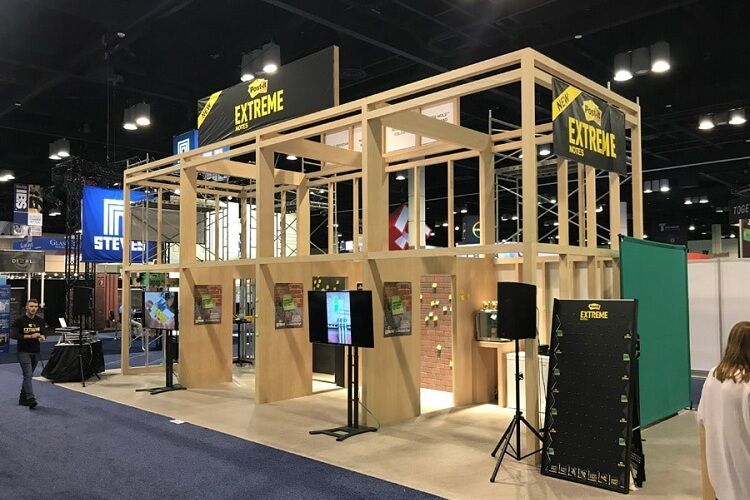 Nimlok NYC is a leading full-service exhibit solutions provider that offers quality, custom trade show booths, event spaces, and other event solutions to the trade show exhibit companies that belong to their list of authorized distributors. Recognized among the Top 40 Exhibit Producers by Exhibitor Magazine, the company has more than 45 years of event marketing experience.
Nimlok NYC is comprised of designers, strategists, and managers that deliver innovative and inspirational brand experiences with a competitive edge.
They have worked with clients across industries to deliver one-of-a-kind exhibits of all sizes, scales, and budgets.
Nimlok NYC is also part of the largest network of exhibit and display manufacturers with connections in more than 50 countries. This enables the company to offer full-service event management, including fabrication, storage, shipping, and logistics, irrespective of the location.
Nimlok NYC has worked in the following conventions and trade fairs:
North American International Toy Fair
#6 Rockway Exhibits + Events
Rockway Exhibits + Events is one of the top trade show exhibit companies known for their custom exhibits and booths tailored to clients' very specific needs.
Their team of experienced designers delivers unique, innovative solutions for exhibitors, including display development, design strategy, and logistical support.
Rockway Exhibits works with clients through every phase of the design and building process to create a fully customized experience. They prioritize producing high-quality exhibits without compromising on exceptional customer service.
Rockway Exhibits + Events has worked with clients in the following shows:
National Restaurant Association
#7 Classic Exhibits Inc.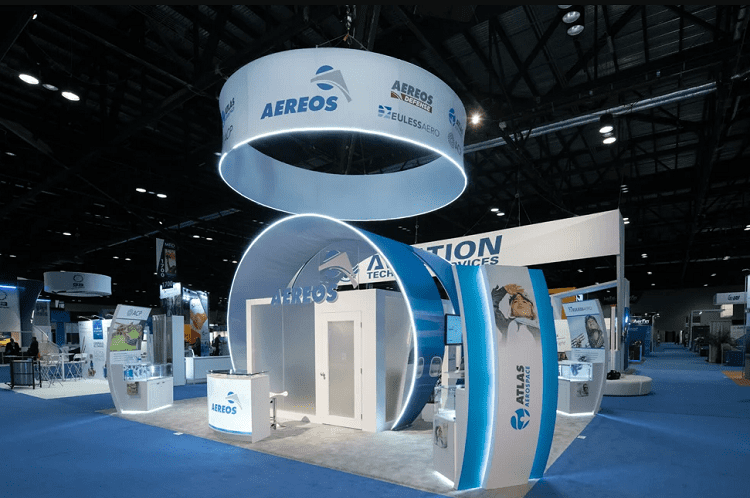 Classic Exhibits Inc. began as an exhibit designer and manufacturer in 1993. Over the years, the company has expanded their design and manufacturing capabilities to add modular, portable, custom displays, custom hybrid designs, tablet stands, lightboxes, and trade show charging solutions. Similar to Nimlok, Classic offers their booth design services and kits to their list of authorized trade show exhibit companies.
Classic Exhibits Inc. specializes in designing and building exhibits to show off their clients' products, services, and branding using stunning graphics and impressive 3D displays.
Their product line includes cutting-edge solutions for the exhibit, retail, and event industry. Clients can explore the long history of their top-notch work in their Exhibit Design Search.
This comprehensible database contains more than 1,400 designs of all kinds, including island exhibits, inline designs, portable displays, kiosks, and more.
Their designs can easily be customized to suit the client's specific branding and marketing goals. Classic Exhibits Inc. also provides design services for booths of all sizes and budgets.
Their most popular offerings include custom exhibits, hybrid and modular displays, portable displays, and rental displays. They also provide smaller retail solutions such as product displays, custom store fixtures, backlit graphic structures, and engineered aluminum extrusions.
Classic Exhibits Inc. has partnered with Eco-Systems Sustainable Exhibits, a company that designs eco-friendly trade show displays. They are the best choice for environmentally-conscious brands taking steps to ensure that all of their business processes are sustainable and ethical.
#8 Marketing Genome
Marketing Genome is an award-winning trade show exhibit company and experiential marketing agency that delivers high-value brand experiences that connect with audiences.
With more than 30 years of experience, the company is known for their innovative ideas, quality service, and proven results.
This top designer and manufacturer of trade show exhibits, events, and experiential marketing campaigns provides unique full-service options for clients.
Services include unlimited preliminary designs, 3D renders, custom fabrication, trade show paperwork, secure booth storage, pre-show quality check builds, shipping, on-site installation and dismantle, show time management, and return shipping.
Marketing Genome has participated in the following shows and conventions:
CES – Consumer Electronics Show
New York Comic Con (NYCC)
San Diego Comic-Con International (SDCC)
#9 Flatworks Displays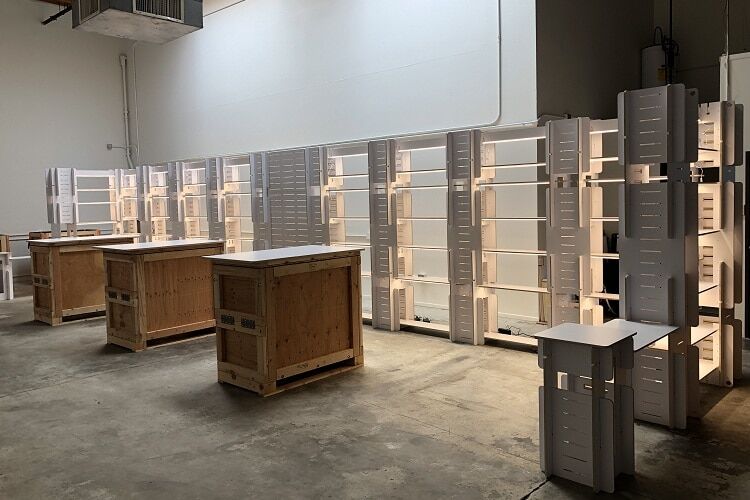 Flatworks Displays is a pioneer in the trade show industry—they offer customizable booths that can be set up in minutes without using a single tool. The booths can also be packed down to a compact crate that converts into a kiosk, thereby removing the need for pallets.
The company created a no-tool assembly trade show system that disrupted and transformed the industry and put the control back in the hands of the trade show exhibitors. Anyone from the exhibitor's staff can set up and take down these one-of-a-kind displays.
This system significantly cuts down on expenses related to shipping and transporting heavy displays, which means huge savings for clients in freight, drayage, warehousing, and storage.
The system is durable and reusable, making it a sustainable, environmentally friendly solution for brands.
Flatworks Displays has worked as an exhibition stand design partner for the following trade expos and shows:
International Home + Housewares Show
North American International Toy Fair
#10 APG Exhibits
APG Exhibits has more than 30 years of experience creating high-quality trade show displays, exhibits, and marketing products. They have been an Inc. 5000 company for three years running, which means they are one of the 5,000 fastest-growing companies in the US.
APG Exhibits works hard to make its clients' trade show booth strategies a complete success by providing marketing expertise that will bring footfall to the exhibits.
Their team of experts strives to deliver the latest and best trade show displays and exhibits at the lowest prices, along with top-notch customer service each step of the way.
Clients get high-value branding with huge cost savings through in-stock exhibits that look custom-made. APG Exhibits specializes in maximizing creativity and personalization while keeping costs manageable.
APG Exhibits develops and designs attractive, eye-catching conference booths, pull-up banners, 10×10 show displays, and entirely custom-made exhibits that make clients stand out from the crowd and attract a broad audience.
Clients have partnered with APG Exhibits for stock and custom booth exhibits in the following trade shows:
CES – Consumer Electronics Show
Internet Retailer Conference & Expo (IRCE)
#11 Woodpeckers
Woodpeckers is an international creative powerhouse that delivers high-value exhibition stand experiences.
They offer bespoke event services with a full turnkey solution, including high-quality exhibition stalls, German hangar tents, interiors, metal fabrication, installation, dismantling, and customer support.
The company has more than 16 years of experience in the industry and has won over 125 awards for their innovative stall designs.
Woodpeckers has served clients as a trade show booth design partner in the following leading trade shows:
International Home + Housewares Show
Conclusion
In 2022, many trade show exhibitors leveled up their game by showcasing their brands in unique, innovative ways. If you want to take your branding and marketing efforts to the next level, partnering with the best trade show exhibit company can help you get there. If you don't know a good trade show contractor or any industry professionals, a quick internet search for "trade show exhibit companies near me" should help. Or just start with the top of our list; we're admittedly biased, but really do work to provide the best experience for all of our clients.
With this comprehensive list of the leading trade show exhibit companies in the country, you too can show off your products and services in spectacular style, whether you're heading for the Las Vegas Convention Center or an international trade show.
We hope this guide can help you find a trade show exhibit company that will deliver high-quality displays that will suit your specific needs and draw a large audience at your event.
If you want to read more articles to help you in your trade show journey, check out other blog posts.
Resources: