Vinyl Floor Vs Laminate For A Trade Show Flooring
Trade show flooring is essential to get right at trade shows. It's a portable element for events that's more than just ensuring people have a floor to walk on.
It provides a professional appearance for your booth that will encourage more people to come check out what products you have to offer.
What are the most popular types of trade show flooring? You can find a variety of flooring types, such as foam mats, carpets, vinyl, and laminate, to mention just a few.

Since vinyl and laminate are both durable and have many quality features, we're going to explore both of them in this guide.
We'll feature their pros and cons so that you can choose the best trade show flooring option for your booth to make the most positive impact.
What Is Laminate Flooring?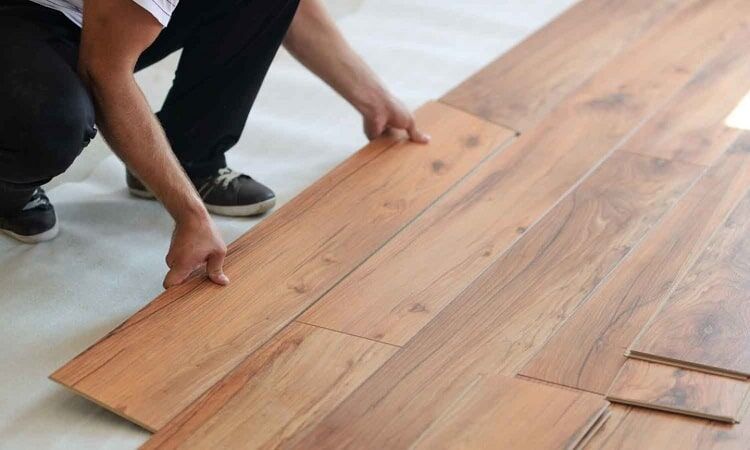 Laminate is a composite flooring material that's made up of multiple layers. It usually contains three layers, which are:
A base layer. This is a dense core of plywood, or high-density fiberboard, that provides durability and strength to the laminate flooring.
An image layer. This is the photo-realistic image layer that looks like wood. You can also find laminate flooring that looks like other materials, such as stone or metal.
A wear layer. This is the protective layer of the laminate flooring that ensures it remains as durable as possible.
Pros
Laminate flooring can take the form of softwood floor tiles. This is a popular type of flooring for trade shows. The tiles have a foam base and wood grain laminate on top. They connect to each other like pieces in a puzzle, which makes them convenient to install during your booth setup.
Laminate is a solid type of flooring that can resemble authentic wood. This provides an elegant, professional floor for your trade show booth without costing as much as authentic wood products.
Laminate flooring is easy to maintain. You can remove spills easily – just wipe them away with a soft microfiber cloth. You can also easily sweep away any dust and dirt so your trade booth always looks impeccable.
Laminate resists stains because of its durable protective layer that isn't highly permeable. This helps you to maintain the flooring much easier.
Laminate is easy to install. You will need to spend about five hours installing a 20×20 laminate booth.
Cons
Although it's resistant to stains, laminate is not appropriate for areas of high moisture. This is why it's best not used for outdoor applications. So, if you're going to be attending an outdoor trade show, consider a different flooring material, such as vinyl.
What Is Vinyl Flooring?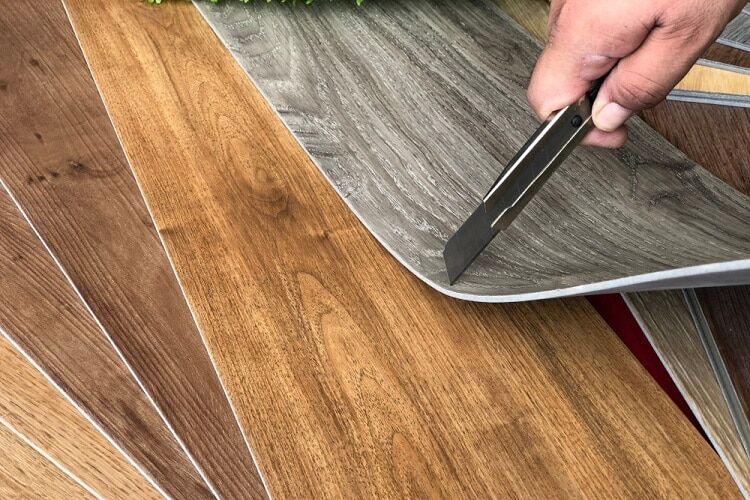 Vinyl flooring is made out of composite materials. It contains a thin PVC plastic core that gets bonded to fiberglass or felt backing layer.
A printed design layer and a clear wear layer get added to the materials. Sheet, or rolled, vinyl comes in six-foot or 12-foot rolls.
Pros
Rollable trade show vinyl flooring is easy to set up so you can save time on installation at trade shows. The vinyl rolls come in various sizes and can conveniently be cut off to the size you need. This makes them easy to install. Vinyl tiles are especially easy to put together during installation. They come in a variety of styles, such as interlocking tiles that offer a variety of thicknesses to suit your needs.
Vinyl floors come in a variety of styles and can mimic wood. You can also find rolled vinyl that looks like stone or tile.
Vinyl floors come with protective coatings that protect the material against scuffs, scratches, and stains.
Vinyl is water-resistant. Vinyl flooring contains waterproof materials, like PVC, so it's suitable for any water-prone areas. This also makes it low-maintenance when used as a trade show floor.
Rolled vinyl is easy to care for and maintain. You should sweep it with a broom daily to keep it free of dust and debris, but every now and then damp mopping is also suitable to give it a bit of a deeper clean. What's great about vinyl products is that they have a shiny wear layer so you don't need to worry about waxing them.
Cons
Vinyl flooring can be damaged by heat, so you have to be careful that its surface doesn't become melted when exposed to sources of heat.
Although built to be strong, vinyl is soft. This makes it more comfortable but it also makes it more vulnerable to damage. For example, if you drop something heavy on the rolled vinyl, this can leave it with tears or scars that can be difficult to repair.
Vinyl Floor vs Laminate: Similarities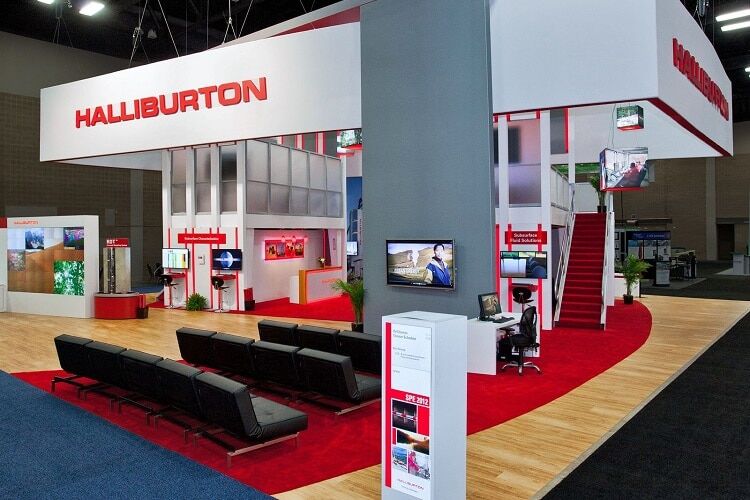 It's clear to see from our pros and cons section that vinyl and laminate share some similarities. For example, they can both mimic wood.
In a trade show setting, both floor types are tough and durable so they can handle the high traffic you might experience in your booth.
When choosing the best floor for your trade show booth, one of the most important things to consider is how easy it is to install.
Let's see how vinyl and laminate flooring compare when it comes to installation – the good news is that both are user-friendly for anyone to set up, even if you've never done it before.
Installing a vinyl floor is very easy. If you choose a rolled vinyl product, all you have to do is roll it across the existing floor. You will then have to use an adhesive so that it stays in place securely and doesn't wrinkle. This process shouldn't take you a long time, which is beneficial. As for vinyl interlocking tiles, these are even easier to install on your trade show floor. These tiles look a bit like puzzle pieces with uneven edges so that they easily fit into each other when placed.
Laminate wood, which also comes in tile form, is also very easy to install. Just like with vinyl, you can find rolled laminate that contains high-resolution images to mimic the appearance of stone, wood, or other surfaces. Rolled laminate is a user-friendly option for your trade show booth as you just have to roll it out. Laminate tiles, on the other hand, slot into each other like puzzle pieces.
It's clear to see that laminate and vinyl flooring options for your trade show booth are similar in how they're installed, while not being time-consuming to set them up before a trade show.

When it comes to their cost, both vinyl and laminate are within the same price range. They're both less costly than other types of flooring, such as hardwood or stone.
This will save you money when setting up your trade show booth.
Vinyl Floor vs Laminate: Differences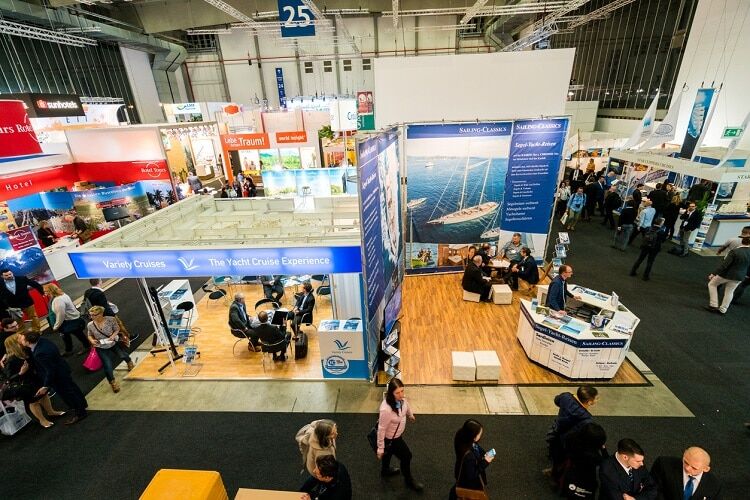 Although vinyl and laminate flooring share a few similarities, they do have some important differences.
Maintenance
While both types of flooring can be easy to maintain, vinyl does have a benefit over laminate when it comes to giving the floor a deeper clean with the use of a wet mop.
You shouldn't do this with laminate as it's not entirely waterproof.
Durability
Laminate is more scratch-resistant than vinyl. That said, both types of flooring will tolerate scratches and scuffs in the short term, which is why they're solid choices for use as trade show flooring.
Comfort
One of the most important anti-fatigue characteristics that your trade show floor should offer is comfort. You can achieve this with rolled vinyl flooring.
While you can purchase it with separate padding, you can also find vinyl flooring that comes with padding included.
This helps to make it feel more comfortable to walk on and for you to stand on all day at your trade show booth.
When it comes to laminate, it also needs foam underlayment padding to make it more comfortable. Some products come with this padding included or you can purchase it separately.
Padding is important for laminate flooring as it gives it a bit of a cushiony feeling. It's said that laminate achieves this cushiony feeling a bit more than vinyl.
Appearance
How your trade show booth floor looks is important. It should give potential customers the right impression.
Although both laminate and vinyl look good and can mimic wood or stone, laminate has a more realistic appearance.
Sound
You should also consider how the flooring will sound when walked on. You don't want your trade show flooring to be noisy, especially on busy days at trade shows.
While laminate can feel a bit hollow, when it contains underlayment it becomes soft and quiet. This prevents noise pollution.
Environmental Impact
If you're worried about the environmental impact of your trade show floor, you'll want to look for laminate that's made with recycled materials.
However, laminate is usually made with resin that contains formaldehyde. This chemical is a known indoor pollutant and a probable human carcinogen.
You should check the laminate's VOC emissions before purchasing it.
By comparison, vinyl floors can release phthalate toxins and chlorine gas. The manufacturing of vinyl produces ethylene dichloride, dioxin, and vinyl chloride, all of which affect the environment.
However, vinyl can be recycled as long as it doesn't contain asbestos or PVC.
The best floor to choose if you're interested in being as eco-friendly as possible is laminate. It has natural wood in its fiberboard core.
Vinyl Floor vs Laminate: Which One You Should Choose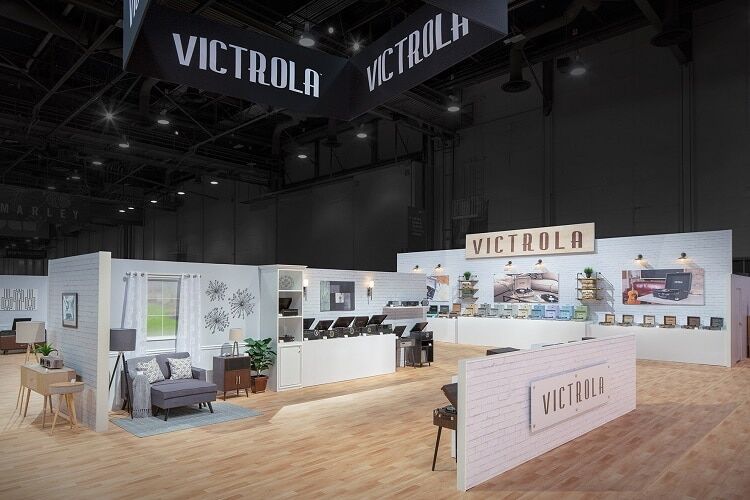 Now that we've looked at some of the most important similarities and differences between vinyl and laminate flooring, you might wonder which one is the better choice for your trade show booth.

There are some good reasons why you should choose laminate.
If you want to achieve a professional-looking floor that mimics wood or stone, laminate will provide this.
Laminate is the flooring product to choose if you want a comfortable, cushiony experience. So, it's great for when you're spending several hours at a time in your booth as it will resist fatigue.
Laminate is also a good choice when you want to ensure your trade show flooring isn't too noisy, as this can be off-putting for people visiting your booth. Since trade shows can be very noisy, you don't want to have too much noise in your booth. Making it a place of calm for visitors will make it a more appealing place for them to spend some time.
However, there are also some important reasons why you should instead choose vinyl flooring for your trade show booth.
Vinyl flooring is much more resistant to water than laminate. This is something to consider if you're going to be exposing your floor to moisture.
Vinyl is also much easier to clean. You can damp mop it, which ensures you can keep it looking beautiful for longer.
When choosing between laminate and vinyl flooring, consider where you're setting up your trade show booth and what products you're going to be demonstrating in your booth.
Finally, consider the overall appearance and image you're trying to sell to potential customers.
Related Questions
How thick should trade show flooring be?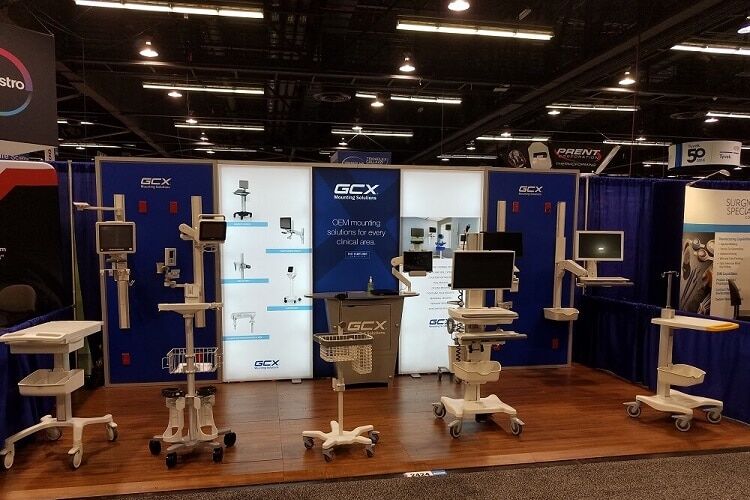 Trade show flooring should be around half an inch in thickness, although other thickness types that are popular include ⅝-inches and 9/16-inches.
Can you print graphics on laminate and vinyl flooring?
Whether you want to make use of a laminate or vinyl flooring for your trade show booth, you'll be pleased to know that both can accommodate floor graphics and floor stickers to promote your company.
Can you put temporary floor decals on laminate and vinyl flooring?
With the advent of Covid, temporary floor decals are sometimes needed to control people spacing at events. These decals can also serve to guide people to different floor stations, as well as just provide added branding. And yes, floor decals are fine to use on either laminate or viny flooring.
Conclusion
When considering the best flooring for your trade show booth, two popular types that come up quite a lot are vinyl and laminate floors.
In this article, we've featured the pros and cons of both types of trade show flooring.
We've also looked at some of the similarities and differences between vinyl and laminate so you can choose the best one for your booth.
Resources: