Trade Show Counter Displays – Which Type is Right for You?
If your booth is your temporary office at an exhibition, then your trade show counter displays are your reception area. Therefore, this counter display is a critical component for making a pleasant impression on your potential customers. It is where you engage with your clients and can be used to serve refreshments.
It can also be used for product display, either physical products or to support various display materials such as tablets. Your trade show counter displays can also serve as your lead generation point where you have a guest book or contact form for attendees to provide their contact information.
To make a good first impression with your counter display, it should be well branded, clean, and sizeable to suit the purpose you intend to use them for while increasing your exhibition booth's visibility at the trade show.
This article aims to offer you key information to help you decide which type of trade show counter is right for you. It also provides an overview of the different types of trade show counters and the right trade show counter's key characteristics.
Types of Trade Show Counter Displays
There is a wide range of trade show counters available on the market. They can be categorized broadly according to their shape, size, and materials used to make them, whether they are collapsible, and whether they are custom branded.
The most common trade show display counter shapes include oval, rectangular, tube, symphony, circular, and curved. While some counters have a solid body throughout, others have a solid top and fabric all-round the sides.
Other materials used to make trade show counter displays include tension fabric, tubing, wood, and different metal types such as collapsible aluminum. There is also the option for the sophisticated backlit counters that offer enhanced graphic visibility.
Characteristics of the Ideal Trade Show Counter:
With so many trade show counters to choose from, it can be confusing to decide on which one is right for you. However, when you know what to look out for, it gets easier. Below are some of the characteristics of the ideal trade show counter to look out for:
Space Efficiency
When deciding on the right trade show counter for your exhibition, consider your exhibition floor space and the purpose of using the counter. For instance, if the counter's primary purpose is to support display material, consider the size of your display equipment or material. For instance, you will need a smaller countertop to place a display tablet, while you will need a bigger one to support a display LED screen. If you have a limited exhibition floor, a smaller counter will be better suited than a bigger one.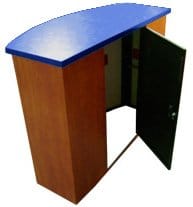 The other aspect to consider when it comes to space efficiency is whether you need additional hidden storage space. In which case, it would be best to go for a counter displays that have internal storage and possibly shelves.
Ease of Assembly and Portability
While some counters come as a single unit that is transported and set up as is, others come in disjointed parts that have to be put together. If you are transporting your trade show counter over a long distance to the trade show venue, go for one made from lightweight materials, preferably with the option to easily assemble and dismantle. Portable display counters are ideal in this case.
The easy to assemble counters do not need professional expertise or the use of sophisticated tools. Some counters are foldable and come with a carrier bag or case and can be easily packed into a van or track or even transported using courier services.
Durable and Sturdy
This characteristic is especially crucial if you often exhibit throughout the year. You want counter displays that are sturdy enough to hold heavier display materials. It should also be durable enough to serve you for a number of years, even when being used for several events within the year, without getting damaged.
Versatile
While you might be purchasing a trade show counter to primarily use at your exhibition booth at an upcoming trade show, keep in mind that you may need to use it for other purposes such as at company events or as a presentation podium in your board room.
Serves as a Branding and Marketing Tool
Your trade show counter should also help you to achieve your marketing and branding goals at the exhibition. Most trade show counters manufacturers offer companies the option for customized trade show counters with the company's branding graphics imprinted on either the front, sides, or top of the counter, depending on the shape of the podium and your preference.
Alternatively, you can purchase a standard design counter and cover it with branded table throws, covers, or imprinted fit and hook fabric. Either way, full-printed graphics congruent with your company's brand help improve your exhibition's visibility and promote brand awareness among attendees who walk into your exhibition booth.
Complement the Setup of Your Exhibition Booth
The size, shape, and branding of the trade show counter you choose should complement your entire exhibition booth setup, both in terms of functionality and marketing.
Tips for Getting the Right Trade Show Counter for Your Exhibition Booth
A key determining factor when deciding which trade show counter to buy is your budget. With a wide range of trade show counters available at different price points, you will surely be able to find one that is right for you.
Determine the main purpose for which it will be used, establish the ideal size that will fit well in your available exhibition space, and your preferred size and shape. Then, do window shopping to see what is available on the market and at what price. Purchase the counter that has the specifications you require and fits well within your budget.
No matter the trade show counter you choose, ensure it fits well with the rest of your exhibition setup, offers you space efficiency, serves its intent effectively, and is within your budget.
American Image Displays offers a wide range of trade show counters. Contact Us for your trade show counter whether you need a standard or customized one.