Seven Steps To Acing Your Trade Show Booth Design
We all want to do our best on the trade show floor. After all, our jobs depend on it. And not just ours—trade show leads are the lifeblood of your company, bringing in new prospects that can contribute to the company's bottom line, which keeps everyone employed.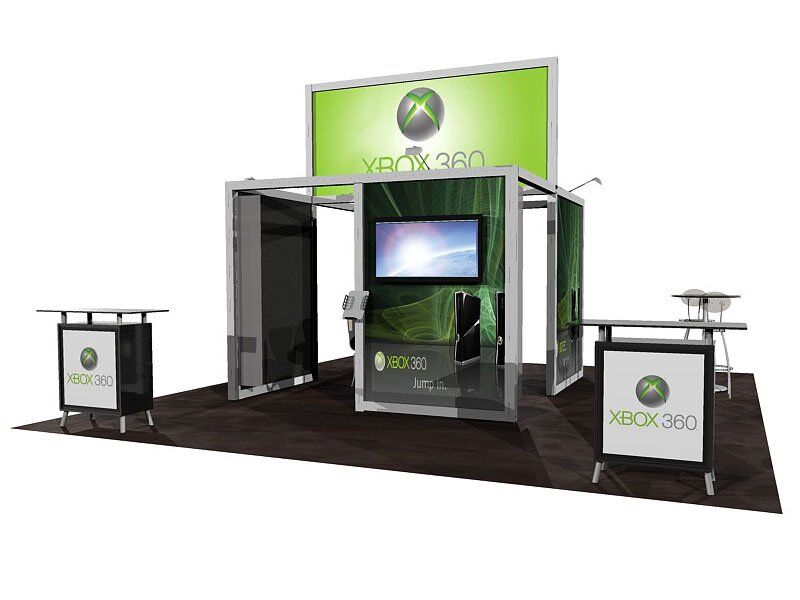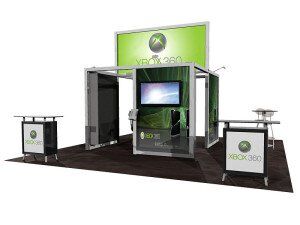 I'll assume you're devoted to giving your company's trade show booth design and trade show participation your best effort, but perhaps there are a few things you can do to put the icing on the cake. See if you've got room to grow in any of these areas:
1) Plan Ahead:
It can take up to a year to make your participation in a trade show successful, so don't shortchange your chances by rushing your schedule. Think through all the elements that go into pulling off a show successfully, and make a list. Then, transfer that list to a calendar. Next, back-time to give yourself the necessary time to accomplish each item. Designing the trade show booth is obvious; don't forget important details like calendaring the deadlines for ordering the space, warehouse delivery due dates, electrical, floral and other services. Waiting until the last minute only costs you more money and creates more headaches.
2) Know Your Audience:
Here's a great way to decide which shows are the best places for you to exhibit: talk to your best customers to find out which shows they attend. You may be surprised to find there's one you hadn't considered where your customers show up in droves. Then, research those shows to determine which are the best fits for you and your prospective clientele. Can you actually get space on the show floor? Does the show conflict with other important events? Is floor space for your trade show reasonable, in comparison to what you expect to accomplish in terms of leads?
3) Get Buy-In From The C-Suite:
Management can bless or curse your tradeshow plans, and that attitude will percolate down to everyone involved in the project. As a first step, be sure to get them on your side. Don't assume that, just because you've always gone to a certain show, that's reason enough to continue doing so. Be ready to justify the cost of participating, so you can convince yourself – and then your executives – that it's worth doing.
4) Prepare Your Staff:
Make sure your staffers know what the company's objectives and goals will be for the show. You can't hold them responsible for accomplishing them if they don't know what they are. Your staffers need to meet your expectations on friendliness, manners and body language that says, "I want to be engaged with you." Make sure they know what that means. And send people you'd want to spend time with: outgoing, friendly types who'll represent your company effectively. Enthusiasm is more important that elder statesman status.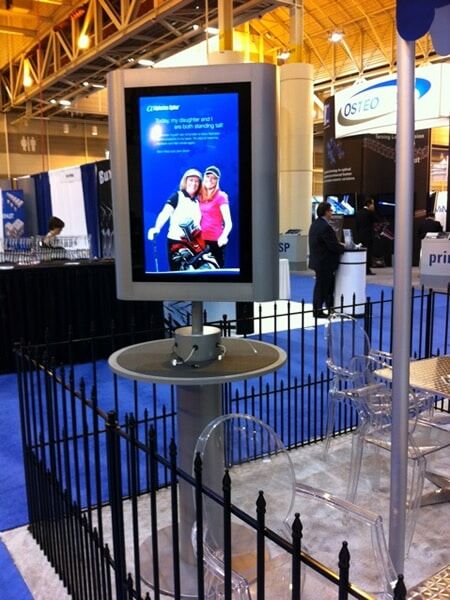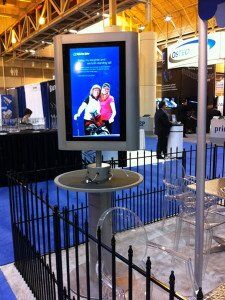 Additionally, set clear expectations about dress codes, from head to toe: clothes, shoes, jewelry and hair. Don't forget to put rules in place against eating in the booth, talking to each other when prospects are nearby and using their cellphones while on booth duty.
That 3 second drive-by that you get is legendary; in only brief brief seconds, potential leads will assess not only your convention displays and graphics, but the approachability and apparent professionalism of your staff, and make a decision whether to approach or just keep on walking.
5) Put On A Show:
"Spin and Win" wheels and cash grab booths can attract attention, but you need to translate that attention into actual interest in your product or service. Think through how you're going to separate people who just want to play (or win a prize) from those who may be real prospects. Product demonstrations or live presentations are much better ways to get your message out to a larger percentage of show attendees. Consider getting professional help to create that presentation or demonstration. A professionally written script and a presenter who's a pro at gathering and holding an audience will pay for themselves in a more successful outreach.
6) Prep Your People:
If you've never done so, consider bringing in a pro for booth staff training before the show begins. And bring the right people to the show! Selling on the show floor is a much different animal than selling in other situations. It requires enthusiasm and a more straightforward approach than selling across a customer's desk. Your people have to be able to separate the "tire kickers" from the real prospects, communicate your product message clearly and persuasively, and then take that extra step to actually ask for the sale. If they can't (or won't) do that, why are you at the show in the first place?
7) Give Your People A Check-Up:
Don't leave your team adrift during the show. Check in regularly, letting them know how they're doing. Have a quick meeting at the beginning and end of each day to let your staff know how things are going (which requires that you know where your lead count and other metrics stand each day). Reward positive behavior and nip negativity in the bud. Consider bonuses or prizes for the best-performing members of your show staff, to motivate them to go the extra mile.
That's my take on seven of the most important things you can do to improve the success of your trade show program. Have another tip you'd add to the list? Please share! Add it in the comments, or give me a call at (425) 556-9511, or email me at [email protected].
Whether it's a trade show tip or a question you have relating to your trade show booth design, we look forward to speaking with you personally.