How to Set Up a Trade Show Booth – 8 Pro Tips
Monotonous booth backdrops and unexciting table throws are the hallmarks of unproductive expos, and you want to avoid this by all means. In addition, your show booth better be ready and all set up when the expo hall doors come open, or else your campaign might take a nosedive, even before it gets started.
Fortunately, it doesn't take rocket science to learn how to set up a trade show booth. Even if you are completely new to the process, you can blow attendee's socks off if you are willing to let your creative juices flow, in addition to a little patience and a decent budget.
Here's something to address right off the bat. The cheapest booth may not necessarily reduce your trade show expenses. It might even end up costing you several times more than a reasonably priced option in some cases.
Instead of focusing on getting the most inexpensive trade show booth, concentrate on good quality and cost-effectiveness.
This post outlines the most important tips and tricks to follow in setting up an exhibit booth that will hold passerby's attention within the first few seconds.
Why Should You Care?
If you have a top-notch product or service, it should speak for itself, right?
Not quite.
Maybe your reputation could help your brand in everyday business outside the show floor. But once you are in the exhibition hall, things are completely different.
Consider this for a minute. Why do you think giants such as Samsung, Facebook, and Apple take the pain to set up impressive booths at a trade show? It definitely is not because they have too much money to throw around.
Even easily-recognized brand names put a lot of effort into setting up attention-grabbing trade show booths. That's because each industry's crème de la crème is competing for attention at the convention center, and relying on reputation alone may be a huge mistake.
If you hit the ground running with what you are about to learn here, it can significantly increase client interaction and engagement. Of course, if your booth generates a lot of buzz, more people will want to know what the noise is all about.
If people think your trade show booth is innovative, they will share it on social media and increase your online presence without you paying a dime for a social media campaign.
Now, let's get into the details of how to set up a trade show booth to grab people's attention in the first few seconds.
Tips and Trick on How to Set Up a Trade Show Booth
1. Choose the Right Installation and Dismantling (I&D) Partner
Research an I&D partner with lots of experience at trade shows. You may have to pay more to hire a qualified team, but you don't want to risk ruining everything you've worked so hard to achieve because you want to pinch pennies.
It is important to communicate early enough with the I&D team. Schedule a meeting at least a month before the show to work through the details of your show booth. Early communication will minimize the chances of things going wrong and incurring additional costs.
2. Invest in Portable Displays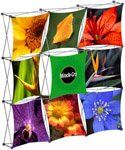 If you want to cut down installation and dismantling costs, consider using ready-made portable displays. Most of these models are pretty straightforward to assemble and tear down at the end of the show. Plus, they are not time-consuming to set up, and some options require no special tool or installation hardware.
Remember that you may still need to hire expert service providers if your booth requires electrical wiring or any union-only labor.
3. See the Booth Location
If you forget everything about how to set up a trade show booth, never forget this one. Before entering for a show, always ask to see the layout of the exhibit area.
The show promoter should be able to show you who is exhibiting at each location. This information can help you pick a spot where your booth won't be located near a competitor.
You will also be able to figure out the most advantageous locations by identifying major traffic routes. For example, choosing a spot along a route that leads to a seminar location will potentially bring higher traffic to your booth.
Plus, if your booth is set up to grab attention very quickly (see tip number 6), people who are passing in a hurry will likely make a mental note to return and see what you have in your booth.
Of course, you will have to ask for this information (the layout of the exhibition area) well ahead of time to enable you to reserve the best spots for your trade show booth.
4. Get to the Venue Early
You want to arrive and set up your booth early  before the show opens. Even if you are using a portable display that is quick and painless to install, it is crucial to be ready before people start arriving at the exhibition.
The last thing you want is for attendees to pass by your booth while you or your I&D team are still trying to figure out what cable or wire connects to what.
If your exhibiting space requires internet cables or electrical wiring and outlets, ensure they are all in good working condition before the show starts.
5. Meet Other Exhibitors
6. Make Your Booth Stand Out
Whether you use a premade or custom-made show booth, the most effective way to get attendees' attention is to have a booth that breaks out of the norm.
You can use a video wall instead of boring displays or provide a cell phone charging station. You can also give willing attendees a chance to experience virtual reality or create a game show with winners getting attractive prizes (it is great if the prize connects to your business).
Take some time to brainstorm with your team and come up with ideas that can set you apart from the crowd and create buzz.
Also, consider investing in trade show items to give your booth a different look and feel. Here are some eye-catching items to include in your exhibit booth space to attract potential customers:
7. Bring Your Computer If Required
If your exhibit required you to use computers, here is something you should never do: don't rent one. It is simply not worth the headaches. Always bring yours to the show.
A rented computer can start to malfunction at the most ill-opportune moment, perhaps in the middle of a presentation. A hardware driver might be missing, the system might have a virus, or some programs might be missing important extensions.
Bottom line: you might waste a lot of money and still not be able to do a product demo if you bring a computer that is not yours.
If you are lucky, things may go smoothly, but what's the point of going through the hassles of learning how to set up a trade show booth and investing in an exhibition if you will end up depending on luck?
8. Dismantling Your Trade Show Booth
At the end of the show, your booth needs to be taken apart in the most effective and efficient manner for safe storage.
If an I&D team sets up a custom booth, consider making all the necessary assembly and teardown arrangements simultaneously. This way, you are less likely to leave out any dismantling requirements.
Also, remember to double-check the dismantling date and time with your I&D partner to avoid possible overtime rates or fines that may apply if the team misses the dismantle deadline.
On the other hand, a portable display is a lot easier to dismantle and may not require professional services. However, be sure to have the dismantling instructions handy in case you run into problems.
Get Vital Trade Show Information
Before you invest in a custom or pre-built booth for your exhibition, it is crucial to collect information about what is allowed during the show.
Find out from the show promoters if vendors can share materials from anywhere on the show floor. It is necessary to know this because if anyone can distribute handouts or brochures about their business both from their booth and any other location on the show floor, it can potentially hurt your investment.
Your competition may take advantage of this and hang around your booth during peak periods to hand out information.
It is also possible for someone to invest in a very cheap booth to get into the show. Once the floor is open, they can walk up to people around more expensive booths and distribute their materials.
In other words, you spent the time to learn how to set up a trade show booth, paid more for an expensive booth, and also invested in a better spot on the floor, only for someone outside your company to ride on the momentum you've created.
This is simply not fair, and you should avoid such exhibitions. Ensure that the contract for the show explicitly prohibits such actions before entering the expo.