Brand Building At Trade Shows
Do you think of your trade show displays as a place to build your brand? If you don't, you should. And if you do, you're not alone. According to a study by the Center for Exhibition Industry Research, 83 percent of exhibitors agreed that the top priority marketing objective for companies is building or expanding brand awareness.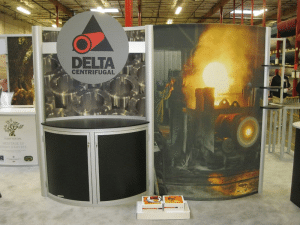 However, ask some trade show managers how they build brand awareness for their companies and they'll show you their give-away: it's likely a bag. The thought is, an attendee will take one of these bags, carry it around the show floor all day (where it will be seen by thousands of people—think of all the exposure right there!). That bag will be filled with literature from other exhibitors and, once the show is over, taken home to be sorted through. The attendee might even use that bag every time he shops at his or her local grocery store, thus reinforcing the brand message every time. Forgive me for being blunt, but that's a bunch of hooey!
If all you needed was eyeballs on your logo to build brand awareness, then your exhibit displays would do the job nicely all by themselves. After all, your logo is probably positioned fairly prominently in your trade show booth design, where people can easily see it. Presto! Eyeballs galore—even without the bags. But it doesn't work that way.
Exhibiting at trade shows does give you the opportunity to take your brand directly to your target audience. But once you're there on the show floor, you've got to do something to separate your presence from every other exhibitor, while leaving attendees with a memory of your company that helps build awareness of your brand.
Almost all exhibitors really have the same three primary goals when participating in a trade show: (1) lead generation, (2) relationship building and (3) brand awareness. There have been scores of articles written on how to generate leads and build relationships. But a lot of what's been written about how to build brand awareness is just a front for vendors selling promotional items.
While there's a place for promotional items in trade show booths, there's more to branding than giving away stuff with your logo on it. You probably know it's important that all your marketing materials should be designed to create a consistent image for your brand.
That's done through the look of your logo, the colors you choose for your corporate artwork, and even the typeface used for your company name and slogan. When your brochure, sales sheets, business cards, pre-show mailers and other printed items all project a harmonious image, it supports your brand.
But building brand awareness goes beyond literature. Whether you realize it or not, your trade show exhibits are also making a strong statement about your brand. And you'd be well advised to take that into consideration when choosing your booth design.
For starters, size matters. The larger your trade show display, the more successful your company is perceived to be. Secondly, exhibit design is immensely important to the perception your audience creates about your company when looking at your displays.
Gone are the days when a draped table and a simple back wall booth with images and graphics are the norm for exhibitors. In the same way interior design changes over time, booth design also reflects changing tastes and styles.
An out of date exhibit sends a subtle message that your company is behind the times. The look and feel of a trade show booth — even the colors and finish choices—also make statements that attendees will generalize as reflections of your brand.
Imagine a slickly-produced TV cooking show that featured a professional chef, using appliances that were finished in avocado or harvest gold. In an era where stainless steel and darkened glass are the current trends, those colors are extremely dated. Even though the show had all the necessary elements, it would be sending a mixed message.
Your trade show exhibit may have the same problem. If you want your audience to perceive your company as being on the leading edge of your industry, you can't be exhibiting with yesterday's booth design.
You need a trade show display that's as large as your space warrants, with a booth design that harmonizes with your existing brand image (your logo, the color choices in your brochure and other printed materials, etc.). You want your signs and graphics to do the same harmonizing job, while being easy to read, instantly recognizable and easily memorable.
In order to choose a display that works for you, you need to do more than look through a catalog of trade show booth designs. You need to work with a supplier, like American Image Displays, that provides complimentary design service, so you can see what your trade show exhibits will look like before you buy. That way, you can be sure you're creating a cohesive image that supports your brand through everything that you bring to the trade show floor.
We enjoy being able to help companies create trade show exhibits that capture the essence of their brand. If you're looking for help, allow us to show you what your exhibit could look like, whether we start from scratch or augment your current booth design with new modular elements.
American Image Displays represents all the major display manufacturers, and we can get you just what you need to make your best impression. Call us at (425) 556-9511 or email [email protected].
For more, check out our article on trade show networking events or how to use showmanship to make sales.