Trade Show Booth Scheduling: Tips for Success
Tradeshow exhibiting costs money. Organizing your trade show display program can be a complicated and stressful process. This trade show booth scheduling checklist is designed to help you plan effectively without overlooking any of the tasks that could make things more complicated or expensive down the road.
You can spend anywhere from a couple thousand to tens of thousands on your physical trade show display. Often, that's a small part of the total cost. The real costs appear when you factor in your booth space rental costs, shipping and drayage costs, install and dismantle costs, advertising costs, plus the daily costs per staffer, which industry experts figure at roughly $500-1,000 per day (which covers travel costs, hotel, car rental and other ancillary expenses) – pretty soon you're spending some real money! How to spend it wisely? Clearly, planning is extremely important.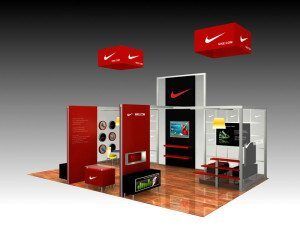 Here are some guidelines for putting together a comprehensive trade show booth schedule for your next show.
Twelve Months Prior To Show:
Determine which trade shows your company will participate in

Determine exhibiting objectives:

Make __ (number of) sales on the show floor,

Obtain __ solid prospects,

Talk with __ industry thought leaders,

Find __ investors,

Recruit __ potential employees

Other objectives: ____________

Examine your current trade show booth properties and supplies; decide whether you'll need any new, refurbished, or upgraded trade show exhibits

Prepare your annual budget
Determine the size of exhibit spaces for specific shows

Select spaces for specific shows (determine how spaces are allocated: by seniority, association membership, etc., and plan accordingly)

Read contracts and exhibitor manuals carefully

Schedule payment and paperwork due dates (note "early bird" discounts)

Submit space applications and initial payments
Nine Months Prior To Show:
Develop (or refine) your marketing message

Determine how messaging will affect your trade show booth design ideas and your signs and graphics

Create plans for:
Pre-show marketing

Sales support materials

Lead management

Staffing
Six Months Prior To Show:
Select trade show booth related vendors:
trade show exhibit builder

Transportation company

Installation/dismantle provider or internal team
Produce or refurbish exhibit properties

Plan for in-booth product demonstrations

Plan for participation in vendor presentations and/or educational track

Finalize exhibit design

Plan for show-related advertising (attendee guidebook, trade show banners inside/outside exhibit hall or other locations)

Make preliminary hotel arrangements
Four Months Prior To Show:
Produce sales literature

Recruit booth staff
Get staffer's sizes for polo shirts or other clothing to be worn in the exhibit

Recruit staffers who will participate in educational track presentations
Produce signs and graphics

Finalize exhibit floor plan

Identify promotional concepts:
Audio-visual programs

Premium items

Prizes (trip, TV, iPad, etc.

Tip: relate prize(s) to show messaging, whenever possible

)
Choose a hotel for show staff

Make preliminary reservations

(Tip: overbook by 10%)

Make reservations for airlines and rental cars

Finalize plans for show-related advertising

Order shirts/other clothing for staffers

Order premium items

Submit company promotional material to event producer for exhibitors guide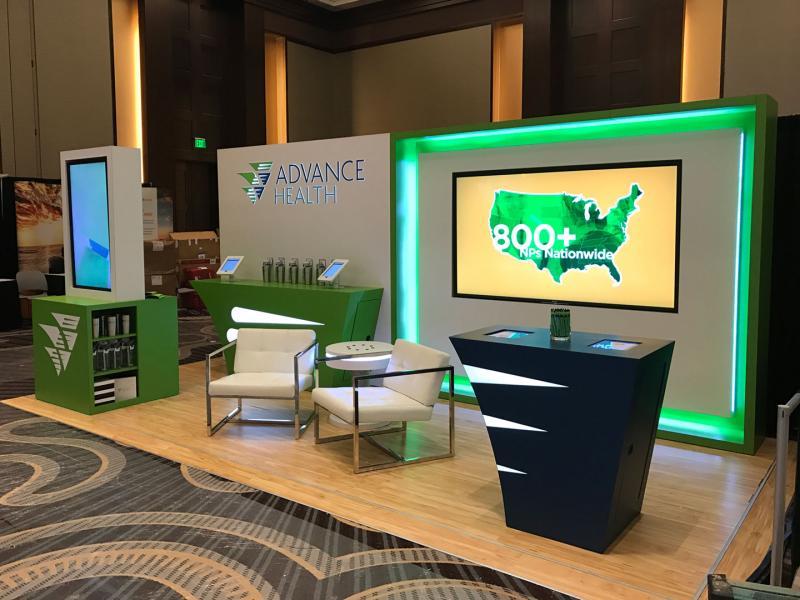 Two Months Prior To Show:
Re-read exhibitor manual

Take advantage of any pre-paid discounts

Finalize and confirm booth staff

Reserve any additional meeting rooms at the convention center and/or hotel for hospitality events, press conferences, etc.

Choose hotel or convention center catering menus for the hospitality suite, meetings, etc.

Coordinate with any other departments also exhibiting in booth

Confirm contracts with transportation and I/D companies

Contact convention center or show city's visitors bureau for local information (to be included in booth staff briefing kit)

Plan pre-show (in office) staff meeting

Plan for shipping of product samples and equipment

Prepare press kits

Order credentials for booth staff and vendors

Submit orders for:
Trade Show Booth carpets

or flooring

Trade Show Furniture (tables, chairs, drapes, etc.)

Electrical

Plumbing

Drayage

Audio-visual equipment (and tech support, if necessary)

Security

Phones and Internet

Booth cleaning

Plants and floral
Develop briefing kit for booth staff (include agenda for on-site meetings, exposition data, hotel information, visitors' bureau information, etc.)

Send printed or email reminders to upper management re: briefing meetings (include agenda)

Review budget with current information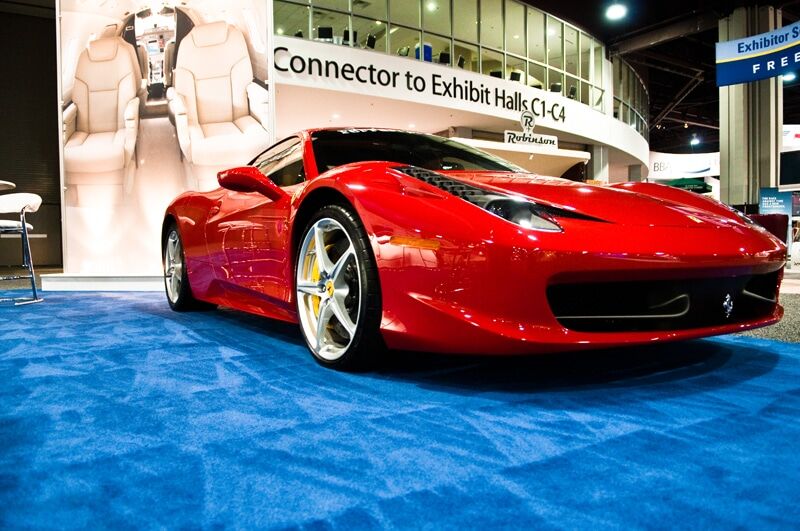 One Month Prior To Show:
Review final trade show booth design

Check on production for signs and graphics, booth displays, and printed materials

Confirm that pre-show promotion is in place

Finalize plans for any VIP requirements (hotel suites, limos, credentials, etc.)

Review hotel, airline, and car rental reservations, making any needed changes

Send briefing kit to booth staff

Email reminders to booth staff each week until the show date

Finalize shipping information and confirm with vendors, ship trade show booth and supplies on schedule to minimize shipping costs

Create an agenda for set-up/pre-show day
Staff training session

Staff's involvement in setting up products and one-on-one demo stations
Review plans for post-show sales follow-up

Prepare your show binder with:
Copies of all orders and checks for pre-paid services

Contact information (including cell numbers) for all vendors

Contact information (including cell numbers) for all booth staff

Insurance documents

Engineering certificate for trade show exhibits

Shipping manifest

Return shipping labels

Fed-Ex (or other delivery service) forms addressed to your office

Additional credential forms
Check out a few online reviews for local restaurants in the show city, and plan to have a night out on your own, with your staff, or with other trade show managers you might know. You might want to take in a little local entertainment, too.
One Week Prior To Show:
Gather supplies, credentials, travel documents, sales literature, and related show materials, as well as checks for any payments due at the show

Ship last-minute product samples, sales literature, premiums, and anything remaining that can arrive ahead of time

Confirm final details with booth staff and home office

Confirm hospitality events and all pre-show orders

Hold in-office pre-show briefing for staff. Include agenda for on-site pre-show meeting (staff training, set-up of products and demos, etc.)

Send printed or email reminders to upper management about pre-show (on-site) briefing
Upon Arrival:
Check into the hotel

Inspect hospitality suites, catering plans, VIP arrangements

Review room assignments for accuracy

Check on the arrival of freight (product samples, sales literature, premiums, etc.)

Check with an exhibit company rep to be sure all exhibit properties have arrived

Set-Up Day:
Locate exhibitor's service area

Meet with on-site contractors and confirm plans for I&D, electrical, phone, and other installations

Supervise trade show booth set-up

Don't do any more heavy lifting than you have to (or you'll regret it throughout the show). That's why you hire I&D people

Double-check that all suppliers, staffers, and action steps are in place

Hold pre-show briefing and staff training with staff

Encourage staff members to use the show as an opportunity to meet other exhibitors that may lead to strategic partnerships

Plan for some personal time to re-charge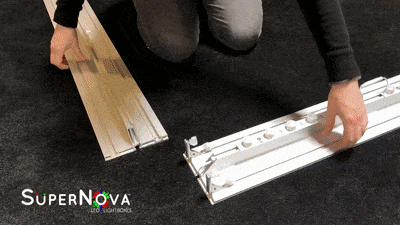 During Show
Visit the show manager's office and reserve space for next year's show (look for spaces near the entrance, close to food service or restrooms, or adjacent to any entertainment areas or attractions—all places where crowds tend to gather)

Conduct daily meetings with booth staff

Encourage staff to take advantage of show-related functions and special events to network with potential customers or strategic partners

Arrange for booth photography

Walk the hall with your camera, taking pictures of

great looking trade show booths

(for reference when considering future booth designs) or other things that will help you in planning for shows down the road (include photos of areas you might want to reserve for next year's show)

Confirm arrangements for exhibit dismantling and shipping

Confirm plans for returning products or equipment samples to the office

Block out time (during or after show hours) in your personal schedule for "me time"

Enjoy that "night on the town" you planned a month ago

Do some networking of your own with other trade show managers. You'll make new friends, strengthen industry contacts, and maybe even find a new job prospect somewhere

Photocopy original lead forms and

hand-carry the copies back to your office

(no one wants to hear—or be the one to say—"We lost our lead forms")

Supervise trade show booth dismantle (again, no heavy lifting) and finalize details for return shipping
After Show:
Analyze leads, distribute to sales force for follow-up

Evaluate this show's success, compared to your pre-show plans

Review budget related to actual expenses

Determine this show's return on investment

Write thank you notes to upper management and VIPs who attended

Plan recommendations to management regarding participation in this show next year. Include evaluations of staff, along with suggested changes and any additional ideas

Start planning for your next show
Live Trade Show Checklist
If you have a live trade show presentation, you have the opportunity to attract even more qualified leads. You are also more likely to increase awareness that is up to ten times greater than if you chose not to do a live demonstration.
Plan and rehearse the demonstration before the show

Seek feedback

Make sure the presentation is simple and straightforward

Focus on only a few message points rather than several

Keep the presentation short and to the point

Always make sure to appeal to your target audience

Stick to your brand message

Have a specific and measurable goal in place for your presentation
Bonus: Trade Show Marketing Ideas to Drive Traffic
Now that you have your checklist to better prepare for your next trade show, here are some tips to help you maximize your efforts and drive more traffic to your booth.
Market BEFORE the Show: In advance of the trade show event, grab the attention of your target audience to alert them to the upcoming show. You can use social media to promote your brand and develop buzz before the show.
Make it Memorable: collaborate with other vendors at the show to make the event even more memorable. You can use stamp cards to enter booth visitors into a drawing to win a prize, for example. You should also think carefully about the marketing materials you use and make them memorable as well.
Don't Forget the Kids: If your trade show booth is kid and family-friendly, make sure you have something to appeal to the kids as well as your target audience. Bright colored balloons, toys, and candy will definitely get you noticed and will have the kids tugging on the parents arms to visit.
A Sense of Appeal: To create a memorable experience, you need to stimulate every sense. This kind of engagement interests people. Use lighting effects that go along with your booth's theme or even a scent machine with attractive scents to pull booth visitors into your exhibit space.
In addition to the above trade show marketing ideas, you should also make sure that your booth is visible and you drive traffic to your exhibit space with details. Even having a simple, reflective surface can catch the eye of a visitor and draw them in. The more interesting the display, the more booth visitors you will see.
With a little trade show planning, you will find success in your future trade show event. You should never "wing it" or wait until right before the event to make sure you have all your marketing materials nailed down along with your promotional strategies, promotional items, travel arrangements, and booth design.
I hope this checklist will help get you better prepared for the upcoming shows on your calendar. I also hope that by being better prepared, you can save time, money, and hassles that come with the job. If we can be of any further help, get in touch with us at (425) 556-9511 or email [email protected].
For more, check out other easy ways to boost success or how to solve the mystery of a successful trade show.