Seven Ways To Turn Any Expo Visit Into A Research Opportunity
Today, let's look at things from a slightly different perspective. While the main focus of this blog is on how you can make your own trade show exhibitions better, some of the needed research can be done when you're attending a show and not exhibiting.


It's important to remember that every time you attend a trade show, whether it's in your industry or not, you've got an amazing opportunity to research your competitors, different industry trade show trends, and of course, network, and then use those observations to come up with new ideas for your next trade show display.
So, let's talk a bit about all the things you can do the next time you're at a trade show to pick up ideas, network, and generally make your next convention display a huge success. And don't forget, you should also be doing these same things every time you exhibit – take the time to see the show!
Turning A Trade Show Visit Into Research Gold
1 – Keep Your Head
Trade shows, in some ways, are like the traveling carnivals of years past: There are a lot of sharks, and there are a lot of marks.
Everything about a trade show is designed to be distracting, overwhelming visitors with sights and sounds to the point that their brains shut down. While this may work on everyday visitors, you need to stay focused if you're going to actually learn anything useful.
Try to view the show with a clinical eye, rather than getting caught up in the hoopla and spectacle. If something causes you to get caught up despite yourself, that's probably something worth taking to your next trade show development meeting.
2 – Take Plenty Of Notes
Your cell phone or tablet should be your best friend, when you're looking to research trade shows. Take notes on everything, from trends to visitor interactions you notice.
Even if, after the show, some of the notes might seem irrelevant, don't delete them. Bring the list of observations into your planning meetings and talk about them. Which ideas would work for your business? There's no telling, until you show people the interesting new things you saw.
3 – Look At Colors
In the business world, like in any area of commercial design, trends and fads come and go. While the cycle isn't quite as fast (or cynically deliberate) as the changing styles in fashion, the use of colors in industrial design is one of the biggest indicators of whether a company has its finger on the proverbial pulse of culture.
Generally speaking, the trade show industry seems to be at a crossroads at the moment. With futuristic all-white or black-with-neon designs losing steam, there's a lot of room right now to introduce more interesting color usage into your trade show designs.
Pastels and earthtones seem to be making a comeback, but you'll get much more up-to-the-minute ideas simply by seeing what sort of color schemes everyone else is using.
(Did I mention to take lots of notes?)
4 – Get Interactive!
If you're at a trade show and you see a booth with any sort of interactive exhibits at all, such as those set up on iPad kiosks or large interactive touchscreens, go get hands-on! These sorts of exhibits are where a lot of the trade show innovation is happening, and you'll want to keep up with what everyone else is doing to get visitors playing with their exhibits.
Generally, this is an area where you want to try to stay ahead of the curve. If you see someone doing something particularly cool with technology in their trade show booths, you should be immediately thinking about how to apply it to your own products.
The future of marketing seems to be increasingly personalized and hands-on. Trade shows are where these new ideas often get their start.
5 – Chat Up The Staff
Especially if you're talking to businesses outside your own area of interest, the booth staff are often happy to discuss their plans and how it's working out. Find a particularly chatty (or bored) staff member, and you can pick up a lot of tips on how they view their trade show investments.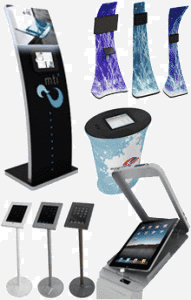 Our advice? Wait until the last day of a multi-day show. By that point, attendance will be down, the staff will be tired, and they'll likely welcome any distraction that doesn't involve repeating the same sales pitch for the 100th time.
(Just remember to be a polite visitor, and not take up their time when other potential leads want attention from the booth staff.)
6 – Network, Network, Network
Just because you're not displaying at a trade show, it doesn't mean you can't spread your name around a bit. Sometimes, going to a show that's outside your field is perfect for this, especially if you're providing a B2B service.
Whenever you're chatting with booth staff about their products, toss your own business card into the mix. You never know when you might pick up a new lead.
Similarly, as more trade shows introduce greenspace and other common meeting areas, you'll have even more chances to make new connections. These common grounds may end up being more productive than the booth itself, in terms of creating new networks of interested or like-minded business people.
7 – Talk To Other Visitors
Finally, don't forget about your fellow attendees. Whether they're "in the biz" or not, they're almost certain to have strong opinions on what they do or don't like in a trade show.
Informally polling attendees when you're not hosting an expo booth of your own often produces very different answers than when you poll consumers in an official capacity. There's a real and unavoidable problem with people telling businesses what they think they want to hear, when it's an "official" interaction.
Talking to attendees in a more equitable one-on-one setting will usually get you more honest insights into their thoughts on trade show trends. These can, of course, be converted directly into ideas on how to appeal to the public in your next appearance.
Remember Both Sides Of The Trade Show Equation
Once upon a time, trade shows displays were little more than glorified soapboxes, for businesses to sell themselves to passers-by. However, the marketing landscape has changed radically in the last few years, and there's an ever-increasing focus on consumer-friendly outreach methods.
And there's really no better way to evaluate their effectiveness than by embracing your own role as a consumer and seeing how well you think they work.
So, the next time you attend an exposition or convention, keep your eyes open, ask lots of questions, and take even more notes. That's how you'll keep on top of trade show trends and increase attendance at your next display!
Or, for more advice, please don't hesitate to contact American Image Trade Show Displays today to make your trade show dreams a reality!
For more, check out how to take advantage of the current business world or how to separate what everyone else is doing.