Guide To Trade Show Production
Trade show production is something that involves a significant amount of planning, strategizing, and all-around methodical thinking.
Discover the step by step process of trade show production, from budget, to logistics, accommodations and more.
How Long Does It Take to Produce a Trade Show?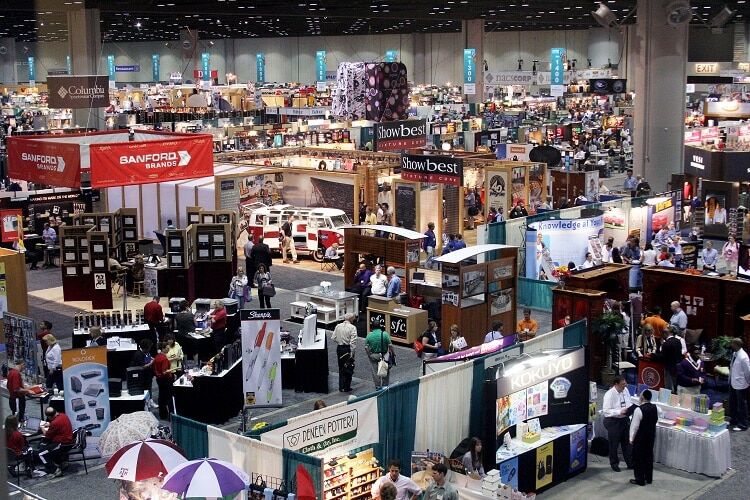 The amount of time required to plan a tradeshow varies based on the audience sizes, venue, budget, and other factors. Done properly, even the smallest scale size trade show should require at least six months of time in advance to plan.
This is due to the fact that far more goes into planning and executing a trade show than just setting up booths. It is important to sort out all legal permits required, make sure you have done enough marketing beforehand that you can ensure your event will be profitable, and also be sure to organize all of the different vendors and staff needed.
An ideal amount of time to plan a trade show is nine to twelve months in advance. This should give you and all of the different contractors and parties involved plenty of time to prepare and execute a successful trade show.
The larger the budget available when going into planning a trade show the easier it is to plan on a limited time frame since you will be able to pay premiums on anything needed. If you're looking to be more budget conscious give yourself plenty of time to prepare and plan in advance.
Planning A Trade Show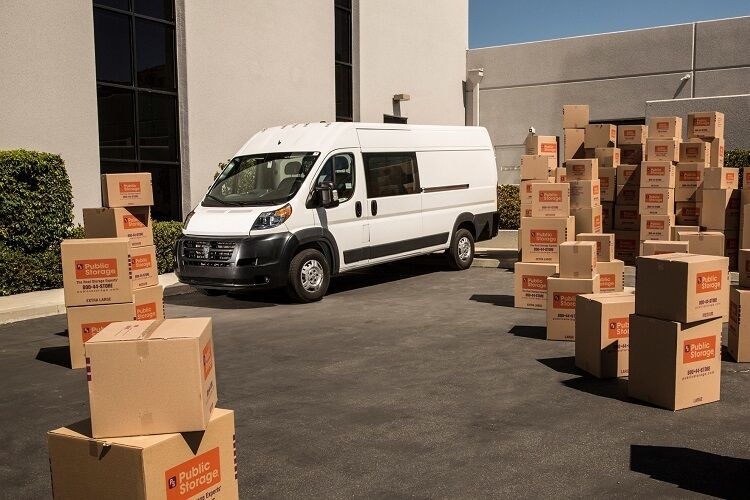 Since there are so many different elements that go into planning and executing a successful tradeshow it is best to follow a rough timeline of objectives to have achieved at each phase.
Trade show production: Setting Objectives
Here is a rough overview of milestone objectives to stay on track with.
Twelve (or more) months prior to the trade show
The first step to a successful tradeshow is to be mission driven, niched, and organized. Start with your main goal or mission statement behind bringing consumers in front of the exhibits.
This will help keep your marketing and sales strategy cohesive. It is also important to have a detailed trade show budget at this time along with your projected return on investment.
Nine to Twelve months prior to the trade show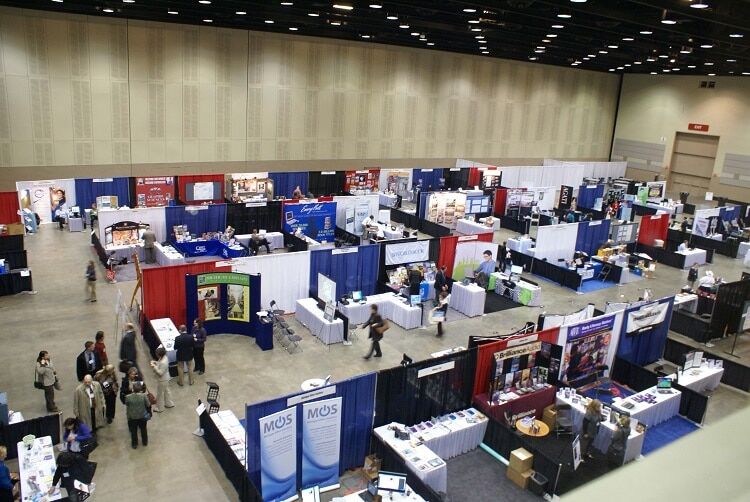 You will then want to break down your mission statement into obtainable goals. You want to be clear on the number of attendees you plan to host, what and how many vendors and staff need to be coordinated, product sales you intend to generate, goals for securing leads, public relations plan, securing your venue etc.
Along with this you will now be in a much better position to identify your exhibition needs from actual venue, to booth sizes, banners, equipment etc.
This is also when your marketing campaign should be activated. It should include a variety of promotional methods to reach your target audience.
As the exhibition coordinator it is a great idea to maximize your marketing by providing all vendors with the best marketing practices and best trade show practices. This will ensure you are maximizing your marketing efforts.
Six to Nine months prior to the trade show
Coordinate your staff by making sure everyone is aligned on their individual roles and goals, as well as the best way to speak to the mission and efforts of the trade show.
It is now time to start planning the overall aesthetic of your trade show. You can hire an external company to handle the entire layout, design, and lighting of your trade show or handle it yourself. This is also when all print needs should be handled.
All marketing materials needed during and after the trade show should be determined and planned now.
Three to six months prior to the trade show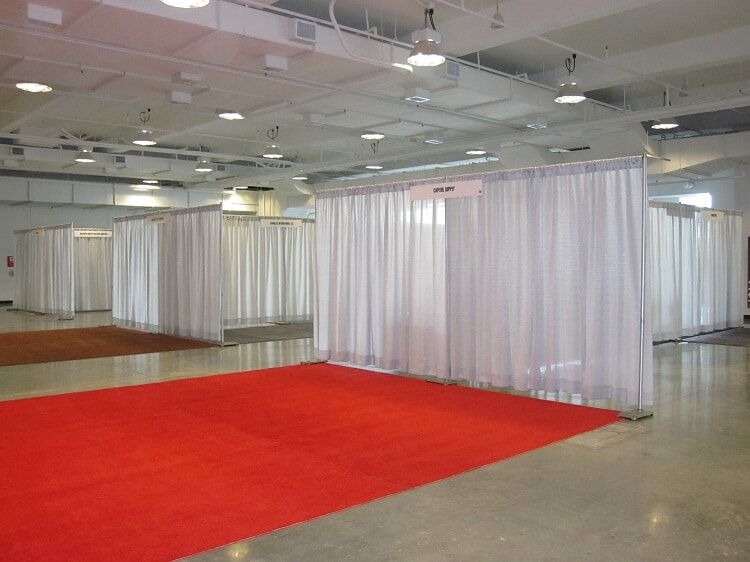 Have all promotional materials and giveaway items ordered. Continue to coordinate with all of the contractors and vendors involved on display needs, security needs, confirm delivery dates, vendors, and marketing materials. Pre-show marketing initiatives should all be well under way.
If any travel is required it is also a good idea to start making travel accommodations. Start booking hotels, cars, and airfare if it is necessary.
One to three months before the show
Make sure you have follow up materials immediately ready for leads, and thank you notes ready for vendors immediately following the trade show. Travel arrangements should be confirmed, your attendee list should be confirmed, and staff training for the actual event should be underway. This is also a good time to send out any calendar invites to book dinners with special prospects, distributors, and vendors attending the show.
One week prior to the trade show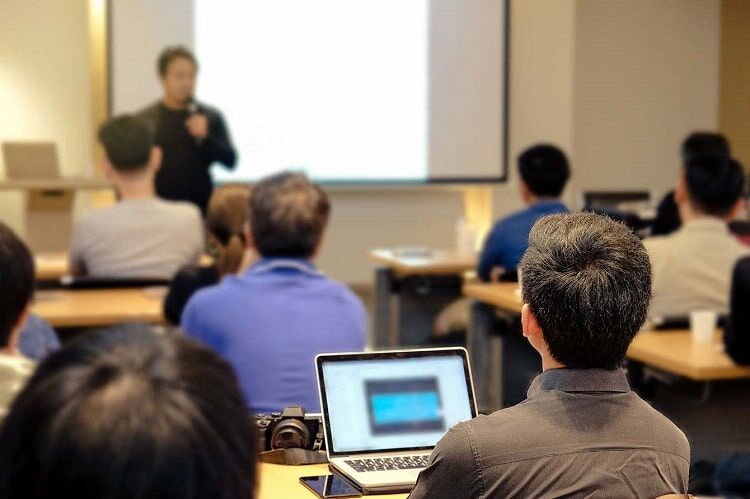 All staff training should be completed, all products and materials ordered should be arriving, and double check that your entire plan has been executed. Make sure all of your post event materials are ready to be activated and sent.
Post trade show
Send your thank you cards to vendors and distributors. It is also an appropriate time to look over any leads you generated for your follow up contact. Refer back to the objectives set in your first phase of planning to evaluate the success of your profits and attendance. Take feedback from staff on what went well and what could be improved upon next year.
Budget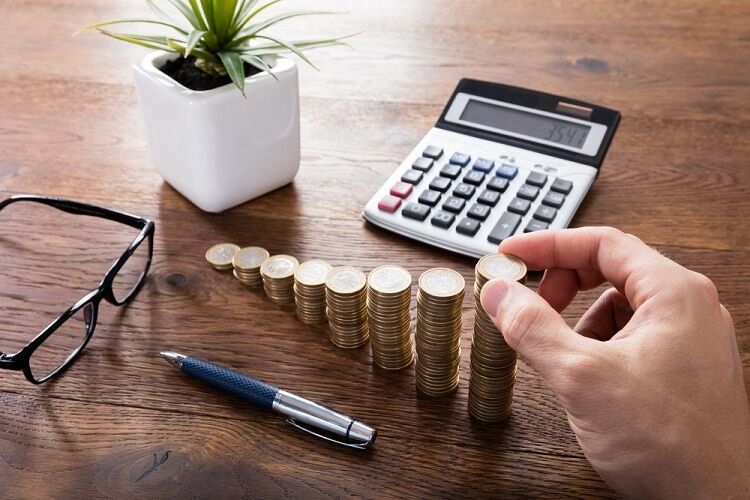 As with any successful event, it is important to work with a predetermined budget. There are two formulas to work with to predict your trade show budget.
The first way to calculate a rough budget is to multiply whatever you plan on spending for your exhibiting space by three. For example, if you plan on spending $25,000 for exhibiting space your budget should be approximately 75,000.
The second way to calculate your budget is to calculate your cost per national square foot ($138- $154.50), and multiply it by three. For example, for a 10'x10' booth (100 square feet), your cost is $138 x 3 = $41,400
Once you have determined your actual budget the easiest way to then allocate your budget is by separating it into different spending categories.
Exhibiting Space (30% of your overall trade show budget)
The standard exhibit space is 10' x 10' or in other words 100 square feet but you want to check your specific budget needs and plan accordingly.
Show Services (19% of your overall trade show budget)
Oftentimes the logistics and services needed to put on a trade show are overlooked in the budgeting process. There are several extra factors to budget for such as; exhibit installation and dismantling services, warehouse storage, forklift services, carpenters, electricians, and rigging.
Exhibit Design & Purchase (10% of your overall trade show budget)
Your actual aesthetic of the booth is considered the centrepiece of the event. Make sure to calculate all of the unique features you want at your exhibit as well as the overall lifetime cost of your booth (how many years you intend to reuse it)
Shipping and Drayage (10% of your overall trade show budget)
It is important to get in contact with shipping and freight companies early on by determining the overall weight of your exhibit. Drayage (the process of moving your exhibit to and from your exhibit space), plan for drayage to cost more than shipping.
Promotions (5% of your overall trade show budget)
There are several different types of promotions that need to be accounted for when making your trade show budget. You'll need to account for preshow promotions consisting of online advertising, literature (catalogs, brochures, white papers, etc), product demos, and giveaways.
Booth Staffing and Travel (20% of your overall trade show budget)
Staffing is your most important and effective cost at ensuring this event is profitable. Your staff will be the face, voice, and personality of your brand and event so it is important that you account for this. Taking into account all accommodations such as travel, food and lodging is highly recommended.
Safety Net/ Miscellaneous (5% of your overall trade show budge)
It is important to remember that not everything goes according to plan in the world of events. It is for this reason that you need to create a safety net for last minute expenses as well as being able to go over budget if needed. Some examples of spontaneous costs to watch out for include; maintenance/ cleaning fees, wifi costs, sales, security, and more.
Picking a theme
Regardless if it is creating your own trade show or exhibiting at an event you need to consider the target consumers you're looking to attract. This will be the foundation for all of your sales and marketing. You want to make sure your theme is going to stand out to and attract your target audience so you will remain memorable post events.
The most important factor to remember when identifying your theme is the overall feeling you want to leave your audience with. The impression your theme leaves will determine the success of your overall sales.
Some examples of event themes might be ADHD in adults, home and garden exhibits, wellness and yoga shows etc. Some examples of booth themes are cafe shops, game show/ interactive styles, throwback themes and any other creative way to showcase your product or service.
Start with marketing campaigns

Your marketing campaign will consist of many different elements, from printed literature, online ads, a public relations campaign and email lists. Now in the digital age there are a variety of different ways to get in touch with and attract your ideal audience.
Referring back to your theme and identified target market it is a good idea to do some research as to what marketing tactics work best with this demographic. For example, a health and wellness exhibit might excel by running a grass roots or guerilla style marketing campaign by partnering with local yoga studios and health centres to promote your event.
If you are putting on an event for a home and garden show, head of female household shoppers might be better off targeted through online advertising and partnerships with local influencers.
Furnishing the venue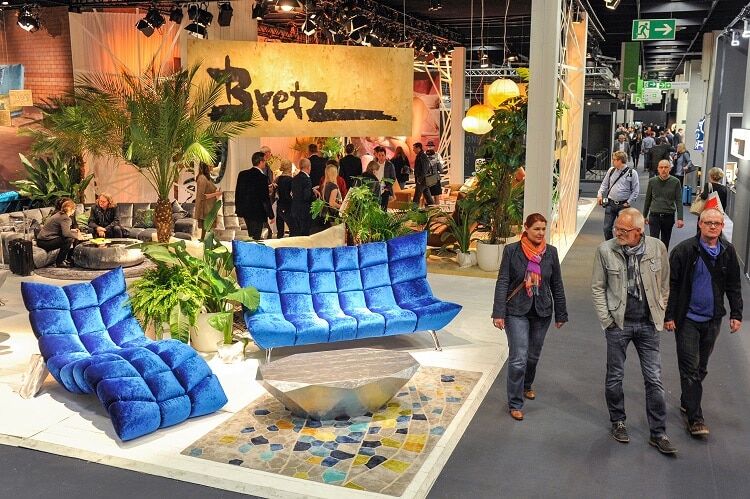 Whatever design and decorations you go with needs to be an extension of your messaging and marketing campaign. Since there are already so many elements required to coordinate a successful event it is a good idea to consider hiring an external company or event planner to handle this.
If you do choose to handle the decorations and furnishings yourself there are a few important things you will need to consider. The most important is safety and comfortability. For example, securing seating, tables, water stations, and sanitization stations are all non-negotiables.
Further than this you also don't need to dish out an arm and a leg to buy all new furniture, decorations, and lighting. There are plenty of furniture and decoration rental companies that will not only provide you with the supplies you need but also handle setup and takedown of the event.
Decorations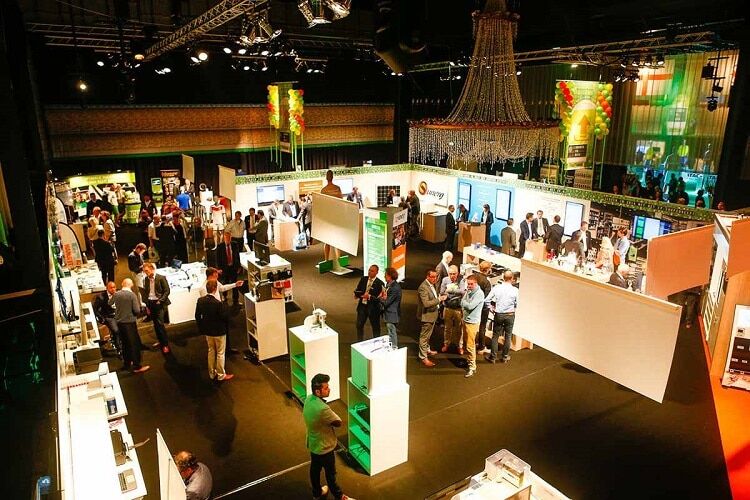 Decorations are the cherry on top to the furniture and will complete the overall aesthetic of your event, it is for this reason that it is important to not overlook decorating for your event.
A highschool gymnasium can be transformed into an exotic, calming, meditation show with the right ambience and decorations.
Decorations go further than just greenery and tablecloths. It is important to consider other methods of decoration such as lighting, music, smell, and flow of the space. Don't overspend on decorations that will only be used once a year, make sure to look up local furniture and decoration rental company options.
Product samples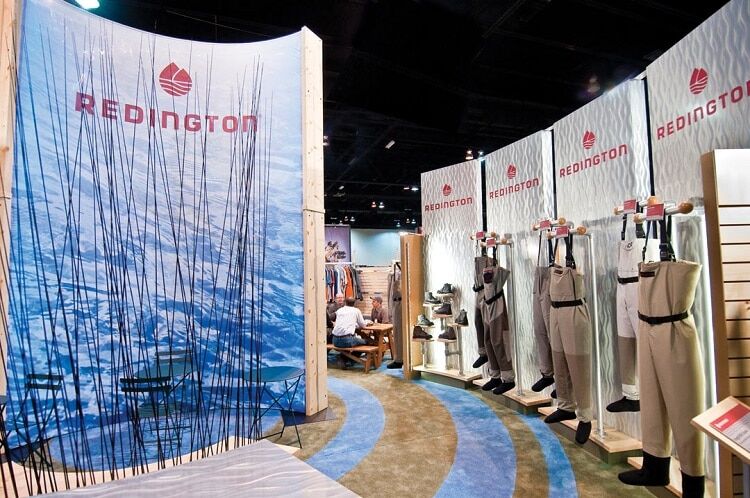 To go really above and beyond for your consumers you want to focus on the experience they have. Trade shows are a highly competitive space especially when competing against big brands with massive budgets to dazzle consumers with their displays.
This means it's on you to get creative with how you will be remembered, and there is no better way than to show them the proof is in the pudding with a sample of what you offer.
Make sure everyone getting a sample is a lead you have tracked to either follow up with or leave them with your brands contact info as a way to get more.
This is a great opportunity to collect live data such as what target demographic is naturally attracted to your booth, who is buying more, and who has the most questions.
Shipping products
There are many different shipping elements to consider when planning your exhibition. Here is a list of shipping items you need to consider:
How to market a trade show
Market a tradeshow by getting in touch with your target market. There is plentiful free data available online to help guide you in where your marketing efforts should be best spent.
There are several companies that specialize in event marketing and will handle everything from your social media presence, event sponsorship, print marketing, and lead generation. It is best to hire a company to handle this for you as your marketing efforts will determine your overall event profitability.
Trade show logistics
There are so many different elements in preparing for a tradeshow, so it's necessary to follow a timeline of goals and objectives while planning your event to ensure no stone goes unturned.
There will be many different contractors and staff members you will need to coordinate in order to help you handle the logistics of event planning. Here are some different key hires in making sure your event logistics run smoothly:
Event planner
Marketing company
Security
Sales members
Shipping companies
Cleaners
Set up and take down crew
Accomodations for participants
Going above and beyond for your event requires you to think about your customer even before and after the event. All of the event participants from brands attending, media, to event attendees need to feel supported in their experience.
It is important to communicate key logistics clearly with everyone far in advance, and have literature available on site so everyone can plan and coordinate. Here is what you need to let participants know prior to arrival:
Hotels in the area
Transportation to and from the conference
Free and paid parking
Local attractions
Restaurants in the area
How to deal with media
Media will be a key part of your trade shows success starting months before the event. It is important the media receives a consistent and cohesive message so that there isn't any consumer confusion.
Equip your staff members with the knowledge required to positively speak to your event from the event mission to the perks of coming and everything in between.
Conclusion
Overall trade show productions and logistics can seem overwhelming at first glance. Once breaking it down into obtainable goals, hiring the right support, and budgeting properly the return on investment is worth the hassle of production.
By having a schedule of goals and budget expenses there won't be any unexpected surprises along the way and your event should run seamlessly.
It is important to remember that other experts' help will be required in the production of a successful event from making sure your permits are set up to attracting the right audience.
There are several companies and people to handle this with previous experience to guarantee your event is following all of the best practices.