5 Basic Questions Answered About Sneeze Guard Requirements
Not too long ago, mounting sneeze guards in community-based organizations would have been deemed out of place. But the reverse seems to be the case now, as any business that does not have these preventive barriers is seen as not taking the health and safety of its clients and staff seriously.
Social distancing is the order of the day as the world battles the coronavirus pandemic. As more businesses are gradually opening their doors to the public, sneeze guards are becoming commonplace as defensive mechanisms to reinforce the practice of social distancing.
With sneeze guards coming in different shapes and sizes, it is normal for businesses and individuals to have questions about the general requirements and even established government regulations regarding the gear. This article answers 5 of the common questions to help you provide adequate protection for your staff and clients in different settings.
Q1: Are There Any Government Sneeze Guard Regulations?
Several considerations and recommendations have been put forth by various government organizations, including the Center for Disease Control and Prevention (CDC), the Occupational Safety and Health Administration (OSHA), the US Food and Drug Administration (FDA), and the World Health Organization (WHO).
The recommendations are guiding principles to keep in mind and ways in which individuals and organizations can prevent the spread of the novel coronavirus. However, there are currently no government-established regulations regarding sneeze guards, particularly as it has to do with COVID-19.
In fact, the CDC clearly states that recommendations for community-based organizations do not replace existing state or local health laws but are meant to supplement them. The FDA and OSHA offer advisory guidance but not regulations. In a nutshell, there are plenty of highly recommended personal and environmental prevention practices, but these are not obligatory standards, at least for now.
Q2: What Are The Height and Width Requirements for Sneeze Guards?
This is one of those questions that come with the not-so-satisfying "it depends" response. Yet, the fact remains that it depends on the different settings of business environments. How high a sneeze guard should be is determined by whether you are getting a floor-standing option or one that will sit on a desk or counter.
We all have different heights, so it is practically impossible to make floor-standing sneeze guards that are perfect for everyone coming into your business premises. Generally, the dimensions of floor-standing models are constructed using the height of the average person.
Therefore, consider choosing floor-standing options that are around 5 to 6-feet tall, as these are the most effective for providing complete protection for people when they are standing.
On the other hand, the height and width of a sneeze guard placed on a counter or desk should protect a sitting person. It is crucial to provide adequate cover between individuals who share a common space, whether it is a workstation, public dining booths, or a classroom.
You may also want to consider your existing décor when choosing the most appropriate height and width of sneeze guards. Although this consideration is secondary, it can boost your business environment's overall aesthetic appeal and encourage more hygienic practices among employees, customers, and clients.
If you need help deciding the most ideal height, width, and design that suits your environment without compromising your existing décor, we can work with you to figure out what will be most suitable for your space.
Q3: How Thick Should Sneeze Guard Glass Be?
It is common to have concerns about the thickness of any protective gear. Although this is largely due to the many uncertainties surrounding the issue of safety, it is still a valid concern. However, the glass thickness of a sneeze guard is purely a matter of preference.
There are no regulations regarding an approved glass thickness; any thickness is fine as long as it is practical. The most important consideration is that the glass should shield people from splashes and droplets – and all sneeze guards are generally designed to do this, regardless of size, shape, and thickness.
A good recommendation is to use a glass of about 10mm. This thickness should be suitable for most applications. If you need help in this regard, our professionals can offer custom dimensions and even add your brand logo to your sneeze guard.
Here's something else to keep in mind when choosing your preferred glass thickness. The product's overall weight is largely determined by the thickness of the glass (or plastic) used in constructing the preventive barrier. While a lightweight material is great, you want to choose sturdy products.
If the guard is too light that it frequently falls off your desktop or counter at the slightest disturbance, it will leave you exposed in those brief moments. A very lightweight preventive gear might be impenetrable and offer great transparency, but it might be less effective if it is not thick enough.
Q4: What Is The Ideal Gapping On A Surface For Sneeze Guards?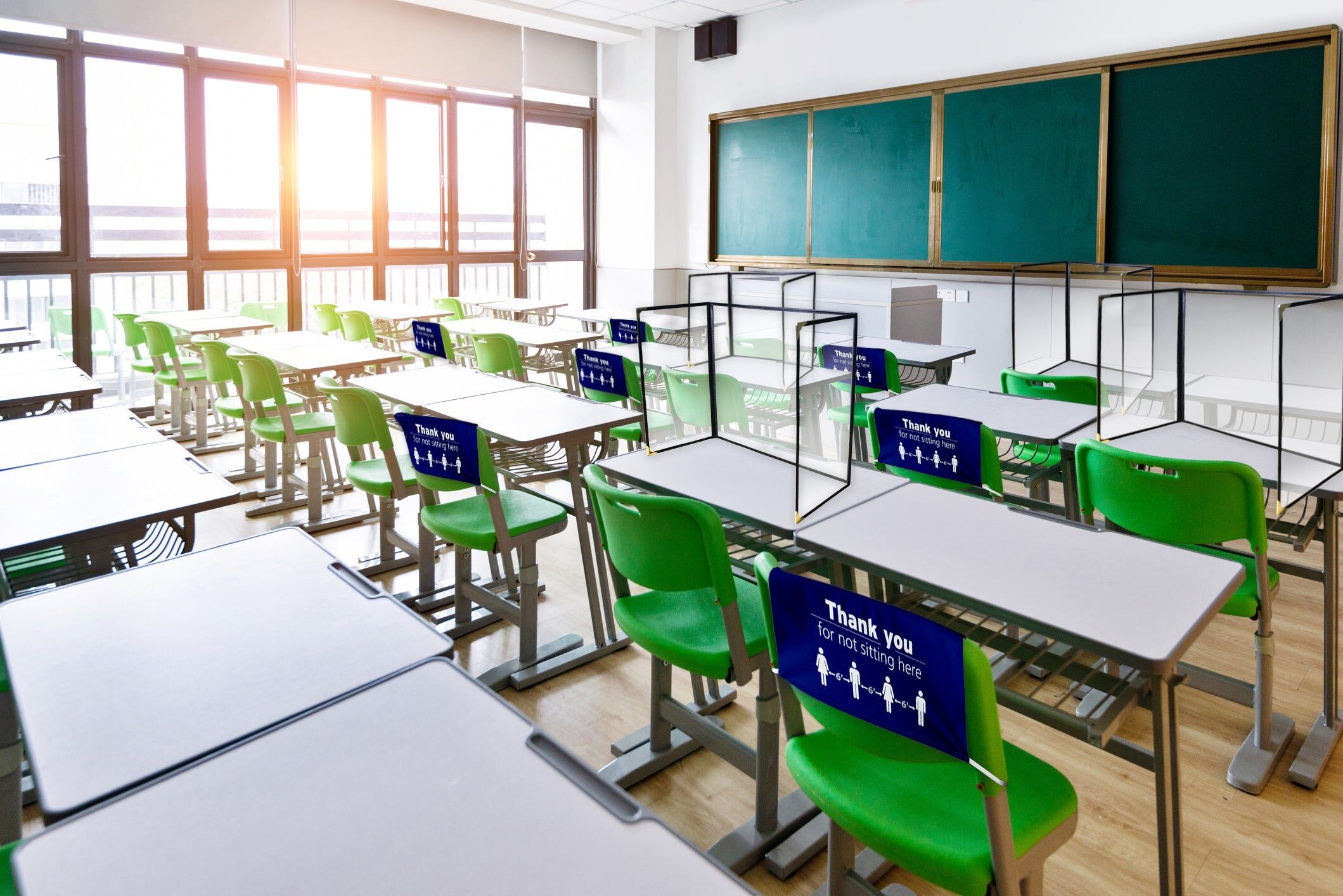 How far above a surface your sneeze guard should depend on the setting where the defensive tool is used. For example, school desktop sneeze guards in learning environments are typically placed directly on desks leaving no gaps. They are typically lightweight, freestanding, and transparent dividers that help students maintain physical distance.
The requirement is slightly different in business settings, especially when items need to be exchanged between employees and customers. It is crucial for the guards to complexly shield the workstation, yet it should not get in the way of efficient operation. Therefore, functionality is a huge consideration when installing sneeze guards in a business setting.
If your business requires exchanging money or physical documents, consider allowing a gap of four inches or thereabout from the top of a counter or any surface where the guard is placed. This will make for optimal performance while providing adequate prevention from respiratory contaminants. However, more gapping may be required if you need to transfer larger items.
Q5: What Materials Are Best For Sneeze Guards?
Sneeze guards are constructed from a few different materials, including plastic, tempered glass, vinyl, and acrylic (plexiglass). The final product may offer effective prevention against respiratory droplets and other contaminants, but how long it can withstand wear and tear is crucial.
Of course, these defensive gears are usually stationary and not frequently touched, so they are expected to last for a long time. But that may not be the case if you choose a product constructed from a less durable material. While many people may not touch a sneeze guard, it is cleaned on a rather regular basis, and that is where durability comes to play.
Many disinfectants contain harsh chemicals, and not all types of materials can withstand the substances in these cleaning agents, especially when used frequently on sneeze guards. For this reason, it is best to buy highly durable acrylic models that can withstand potentially harsh substances that may be present in disinfectants.
Another advantage of acrylic material is its lightness which allows for easy customization into different shapes, sizes, and thicknesses.
In Closing
Hopefully, some of your questions have been answered in this article. We also hope you are now better informed to choose the most appropriate sneeze guard dimensions to ensure your employees' and customers' safety and wellness.
If you want to take things a step further, consider installing wall-mounted hand sanitizers in different locations in your place of business. Want to learn more? Check out this article to find out the best spots in your work environment to install wall-mounted hand sanitizers or floor spacing and safety decals.