Must Have Trade Show Furniture
Investing in a booth is great, but there's more to a successful event experience than owning the most expensive booth. Most exhibitors already know that an unattractive booth won't cut the deal when it comes to attracting visitors. Furniture is subtly important too. While we might not all agree on the "must have trade show furniture", all of these components listed below will help make your trade show investment a success.
The right pieces of furniture can make attendees spend more time in your exhibition space and that's good for business.
Check out this list of trade show furniture that can lead to a successful outing.
1. Display Counters & Kiosks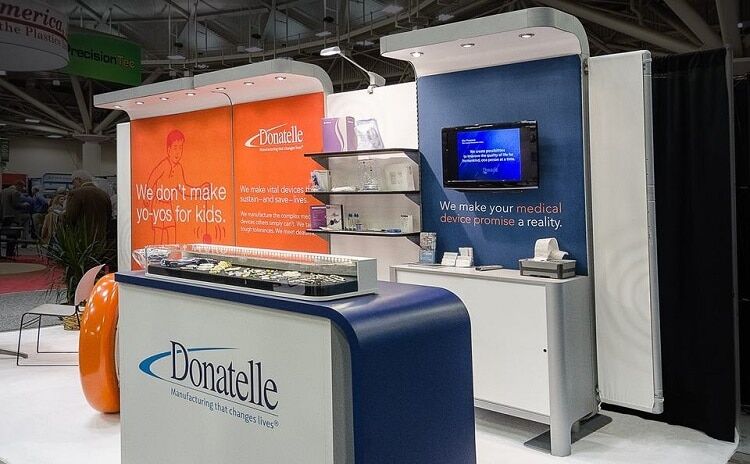 Display counters and kiosks are central to your entire operation during an exhibition.
For your booth to make an impact on passersby, you need to create a center of attention in your exhibition stand.
That's where a display counter or kiosk comes into play.
Used correctly, this piece of furniture will provide a place where potential clients and event attendees can gather around your booth.
In a nutshell, your display kiosk or counter is a valuable piece and should occupy a central space in your exhibition area.
How to Use Display Counters & Kiosks
Consider using a prominent counter, as long as it fits nicely into your exhibition area. The more outstanding the center of attention is, the more effective it will be at grabbing attention.
But don't leave your counter blank, though.
Go for counters and kiosks with customization options that suit your brand.
Types of Counters & Kiosks
Trade show counters and kiosks come in a wide variety of shapes, sizes, and styles. The most common options include:
Reception Style Counters: Add a curved reception counter to your booth and let attendees know how serious you are about your business. It is an excellent countertop to hold short conversations with visitors about your brand. You can keep all your flyers on this surface so it is easy to reach and hand them to passersby.
Illuminated Counters: This option serves a dual purpose. First, they provide a platform to display your products. Secondly, they turn act as back-light banner displays. Plus, they give your booth a more attractive and compelling appeal.
Tension Fabric Counters: These are portable and lightweight counters, so you can easily move them around the exhibition area. To make the most of this furniture, opt for beautiful tension fabric counters with customization options.
Modular Display Counters: Modular display counters are a fantastic choice if you are looking to save space. While they come in a few different size options, they generally don't take up a lot of your exhibit area. Also, you can easily move them around because they are portable.
Interactive Multimedia Counters: For software demos, consider buying or renting an interactive multimedia counter. Some of these options come complete with a built-in interactive touch screen to allow your booth visitors to have a more immersive digital demo experience.
2. Display Cases & Towers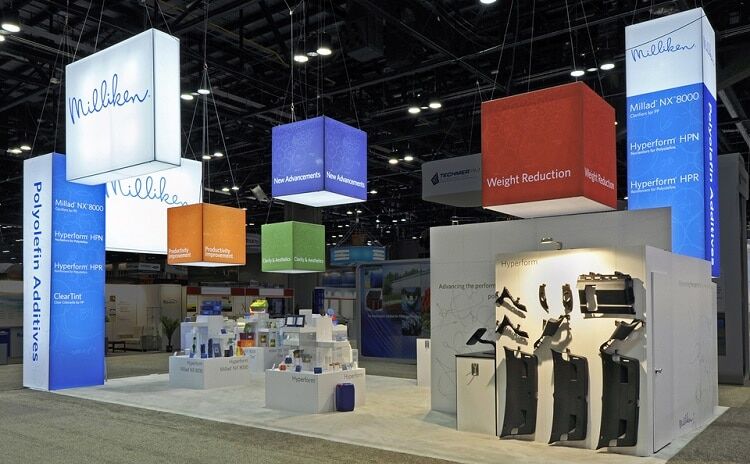 Bringing great products or merchandise to a trade show is one thing. Getting enough people to see what you have on display is a different ball game entirely.
Display cases and towers make this possible. And when used correctly, it will draw event attendees' attention to your merchandise from across the hall.
How to Use Display Cases & Towers
Passersby in a crowded trade show floor hardly have plenty of time to scan through everything in your booth. For this reason, you want to make it easier for them to see what you are displaying.
A good way to do this is to use display cases and towers to bring the products up to eye level. This way, people can quickly and easily notice them without having to search your booth.
Types of Cases & Towers
Cases and towers are available in a few different designs. Some of the more popular options include:
Solo towers
Cube towers
Square display cases
Popup displays
Consider choosing options that are easy to assemble and take apart.
Remember that setting up your display in the shortest possible time is one way to create a good first impression.
You don't want to be caught struggling with your furniture pieces when the floor is open. Plus, you want to be able to disassemble quickly when the event is over.
3. Tables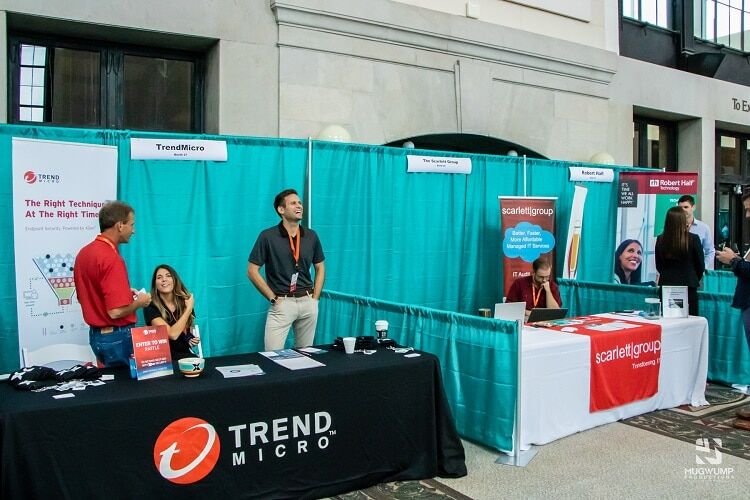 In addition to giving booth visitors a place to keep their stuff, tables are a great place to display your merchandise.
Depending on the type of table you choose, these pieces of trade show furniture can also encourage more productive interactions with visitors or show attendees.
How to Use Trade Show Tables
If you are buying or renting a trade show table, it makes more sense to pair it with a custom printed fabric that serves as advertising for your brand.
So, instead of displaying your merchandise on a bland table, consider spending a little extra cash to get your message or brand logo on a custom tablecloth.
In addition to seizing the chance to imprint your brand's message on the minds of event attendees, customizing your table will also boost the appearance of your booth or exhibit space.
Types of Tables
Conference Tables: Conference tables are a great addition to your booth because that's where your tabletop displays go. Make sure to use custom table covers and runners to maximize your brand awareness.
Portable Tables: These are small, versatile tables that can be used for anything from displaying your products to offering visitors a place to keep their items.
Charging Tables: These modern, eye-catching tables are designed to serve as charging stations. Adding these tables to your booth creates an opportunity for social sharing. As visitors come into your space to charge their portable devices, you have the chance to engage and connect with them.
4. Seating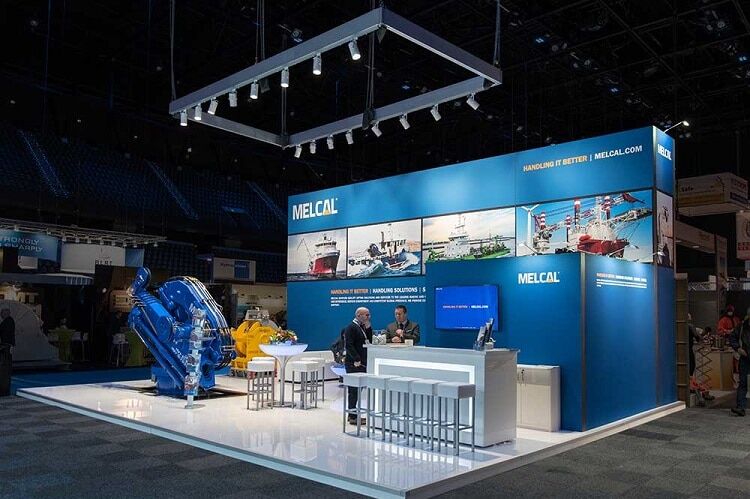 One of the biggest mistakes you want to avoid when planning and designing your exhibit space is not providing seating arrangements for visitors.
Seating shouldn't be an afterthought – not for your trade show staff and certainly not for your potential clients.
Sitting and chatting with clients about what they want and how it relates to your brand is a huge part of your overall success.
Remember that the more time people can spend in your stand or booth, the higher the chances of getting them genuinely interested in your brand and what you have to offer.
One of the "tricks" to make attendees stay longer in your booth is to provide comfortable chairs.
If weary visitors can't find a comfortable place to sit when they arrive at your booth, they will probably move on to the next welcoming booth.
Bottom line: don't ignore proper seating arrangement.
How to Use Trade Show Chairs
Depending on your business, there are a few different ways to provide comfortable seating.
If you are going for a strictly professional setting, it is usually a good idea to set up so that your display works just like your office.
However, opt for a more relaxed and more immersive seating arrangement if you want something that will call on exhausted visitors to come right in, kick back, and unwind.
Types of Trade Show Chairs
Director Chairs: Excellent choice for creating a welcoming environment where exhibitors and attendees or clients can interact.
Consider choosing a folding, casual, yet versatile design if you choose to add a director chair to your booth.
Folding Convention Chair: Folding chairs are great additions to your exhibition space and that's not merely because they are convenient and easy to convey. They serve as advertising space for your brand. You can add your brand logo and customize them with personalized messages.
In addition to these, trade show chairs can also come in inflatable and stool options. While these can be stylish, it is important to choose trade show furniture chairs that reflect the right image for your brand.
5. Furniture Set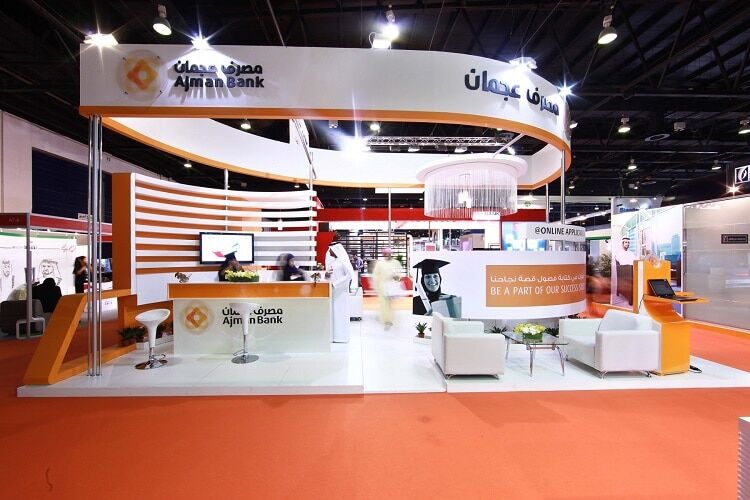 If your business involves consultations, you may want to consider adding furniture sets to your display.
In addition to being cost-effective, the coherent design of these pieces can improve your brand's overall image at a trade show.
Visitors coming to your exhibition space will quickly sense how organized you are. Although that might seem insignificant, every little success will contribute to an overall successful event experience.
How to Use Furniture Set
When choosing a complete furniture set, you want to keep an eye out for options designed to provide consultation.
This way, you will not only focus on chairs for relaxation or tables that display your merchandise.
Instead, you will also include pieces of furniture that will encourage discussions with clients about your products or services.
Indeed, finding ways to keep visitors longer in your exhibition space is great. But to make the strategy worthwhile, introduce elements that will promote interactions that can lead to business growth.
Types of Trade Show Furniture Set
There are quite a few different types of furniture sets, and your type of exhibit and the vibe or environment you want to create will determine what works best for your display.
For example, if you are going for a laid-back atmosphere, you might want to pick something a portable set of tables and chairs.
Some of these options are easy to assemble and take only about two minutes tops to set up.
You want to look for portable sets constructed with high-quality materials and designed to be sturdy, yet without losing that element of fun and relaxation.
Exhibitors looking to create a contemporary vibe can opt for furniture sets that include lounge chairs, sofas, accent chairs, benches, and ottomans.
Keep in mind that you will need a sizable exhibition space to contain all the pieces of furniture required to create this type of pleasant environment.
Final Thoughts on Must Have Trade Show Furniture
The best trade show furniture is not necessarily the most expensive or eye-catching design. Instead, it is something with functionality and versatility.
Keep that in mind when choosing any piece of furniture for your exhibition space.
Remember that the goal is not merely to wow visitors; it is also to maximize your return on investment.
So, pick something that will attract and make attendees more comfortable in your space, but also make sure it serves more than an aesthetic purpose.
Lastly, consider buying trade show furniture if you attend exhibitions quite often. This is a more cost-effective option than rentals.
Resources: