11 Biggest Tattoo Conventions
Tattoo Conventions are organized for newbies and enthusiasts alike to meet with some of the world's best tattoo artists. It is a chance to experience the world of tattooing up close.
Vendors take the chance to sell tattoo supplies, lifestyle products, and collectibles at these conventions.
The events are great for promoting businesses and increasing awareness about tattooing. Plus, it is a lot of fun to attend tattoo conventions.
Here are the 10 biggest tattoo conventions in 2022 you don't want to miss for anything. Plan to attend any of these events for a memorable experience.
1. 20th Annual Boston Tattoo Convention
Dates: 22 – 24 April 2022
Location: Boston, Massachusetts, United States
Venue: Hynes Convention Center, 900 Boylston St., Boston
Don't miss out on New England's premier tattoo event. The tattoo convention's 20th edition is coming to Boston this spring.
For three straight days in April, the best local and international artists will be tattooing enthusiasts and anyone looking to get their first tattoo ever.
And that's not all.
Vendors will be on the ground selling everything kind of tattoo supplies imaginable. Also, you can buy cool clothes and choose from a wide range of lifestyle products on display.
And if you'll like keepsakes or souvenirs, you find plenty of interesting collectibles to pick from.
If you are a vendor, this is one of the biggest tattoo conventions, which gives you a chance to wow attendees with your merchandise.
Highlights of the event will be the popular Miss Boston Ink contest. There will be exclusive stage acts and music performances throughout the weekend, so bring your dancing shoes!
2. 11th Rotterdam Tattoo Convention
Dates: 12 – 13 March, 2022
Location: Rotterdam, Netherlands
Venue: Ahoyweg 10, 3084 BA Rotterdam
This year's Rotterdam Tattoo Convention will feature the best in the tattoo industry, including young and old tattoo artists. It will also have a cross-section of industry vendors, clothing and ink devotees, as well as must-see entertainers.
The event will have enough room for more than 150 booths and over 200 artists, so you will get a chance to connect with both new and old school artists.
It doesn't matter whether you prefer realism, black and gray, traditional, or script tattoo style – all of these will be available under one roof at the Rotterdam Tattoo Convention.
Plus, there will be high-class burlesque acts on stage. It is going to be an amazing experience you will certainly love to explore.
Artists from different countries like France, Indonesia, Germany, Ukraine, Poland, and many more will be present. It's your chance to see all of these exceptional professionals at work. And who knows, you may want to add a new asset to your body.
3. 17th Fresno Tattoo Expo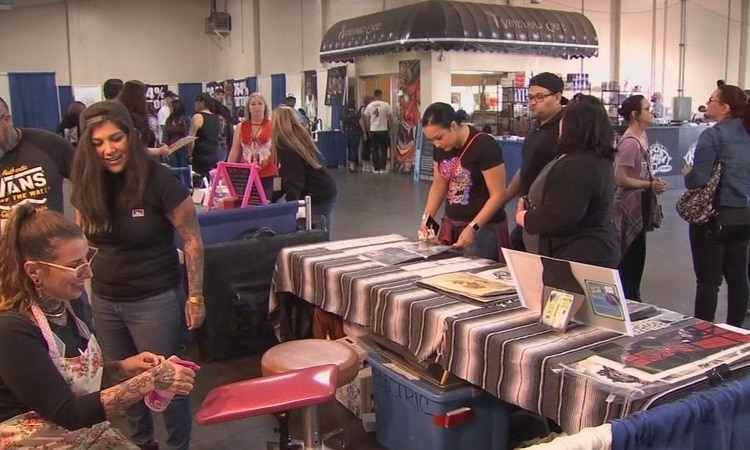 Date: 26 – 27 February 2022
Location: Fresno, California, United States
Venue: The Big Fresno Fair, 1121 S Chance Ave, Fresno, California
Get ready to join over 200 of the very best tattoo artists from across the world as the Tattoo Expo returns for the 17th year in the Golden State, particularly in Fresno about 200 miles north of Los Angeles.
The nation's top tattoo artists will gather at the Big Fresno venue to showcase their expertise.
Another one of the biggest tattoo conventions, this event is open to everyone, including children. Kids 12 years and under will have free admission, so make sure to bring your family.
Enjoy live music, great food, choice drinks, and sideshow performers. Plus, there will be lots of offerings from vendors.
One of the major highlights at the Expo will be the popular tattoo contest. It will feature plenty of different styles including:
Traditional & old school
Full back
Oriental
Portrait
Full sleeve
Small and large color
Small and large grey
You'll have to book an appointment if you want to attend this event. Only 120 people can get in at one time due to health protocols.
4. 14th Ink Mayhem Laughlin 2022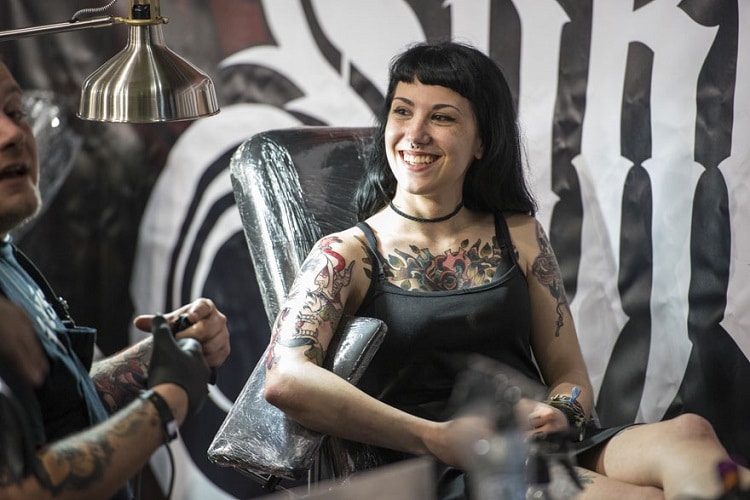 Date: 27 – 30 April 2022
Location: Laughlin, Nevada, United States
Venue: Aquarius Casino Resort, 1900 S Casino Dr, Laughlin, Nevada
The Ink Mayhem Tattoo is one of the most esteemed events in the industry, and this is its 14th year running.
The free and open atmosphere makes it a favorite for artists, vendors, and artists. Little wonder it has a good return rate, so you'll get to see many popular artists every year.
This year will not be an exception as the event is set to bring plenty of fun activities. It will feature four straight days of tattooing from top-rated artists, competitions and raffle draws, awards and giveaways, plus lots more.
There will be prizes for winners. This will include free tattoo and ink mayhem gears.
Entertainment will include music and standup comedy, piercing and tattoo demonstrations, as well as complimentary room accommodations for two at the Edgewater resort for winners of the competition.
You can expect to meet with award-winning tattoo artists from around the world. And you get tattooed live on the spot.
5. 4th Oklahoma City Tattoo Arts Convention 2022
Date: 10 – 12 June 2022
Location: Oklahoma City, Oklahoma, United States
Venue: 100 Mick Cornett Dr, 73109, Oklahoma Convention Center
Get ready for an amazing 3-day fun experience this summer in Oklahoma. The Sooner State will play host to the world's largest tattoo convention tour!
This is the 4th edition and it will feature some of the best local, national, and international tattoo artists. Get tattooed by special guest artists, including:
Annette Larue (one of the world's finest female tattoo artists from VICE Tattoo Age)
Al Fliction (Brooklyn's influential tattoo artist and Ink Master Season 1 contestant)
The event will also feature vendors offering just about every tattoo supply you can think of. So, if you are looking to stock up on some products for your professional practice, you know where you should be, come June 10 – 12.
Even if you are not a tattoo artist, you will find plenty of artwork, clothing, and jewelry particularly tailored to suit the taste of tattoo enthusiasts.
And to make things even more fun, there will be pre and after-parties! It will be packed with lots of entertainment with live human suspension.
This convention is open to all, including children. Kids under the age of 12 get to attend the convention for free!
6. Long Island Ink Tattoo & Sneakers Convention
Date: 19 – 21 August 2022
Location: Puerto Rico
Venue: Embassy Suites Hotel & Casino, Isla Verde
For the first time ever, the Long Island Ink Tattoo and Piercing will play host to the combined Tattoo and Sneaker Convention taking place in Puerto Rico.
The tattoo convention promises to be fun and exciting as attendees will get to meet world legendary tattoo artists and even get tattooed by them!
And that's not all.
What makes Puerto Rico's event a must-visit show is that you can shop for the less common sneakers available. You can also find standout streetwear and the dopest stuff for immediate purchase.
Keep in mind that the sneakers are high-end options, so get ready to shell out for this rather expensive but rare footwear.
And preferably, bring cash since ATMs at even the biggest tattoo conventions may have small transaction limits coupled with unusually high fees.
The Long Island Ink has a high reputation for custom body art. It has been in the game since 2007, driven by sheer passion and admiration for the art and tattoo culture.
If you are passionate about tattoos, this is your chance for an experience of a lifetime while visiting the Caribbean island.
7. 1st Annual Tattooed City Poconos Tattoo Expo 2022
Date: 18 – 20 November 2022
Location: Mount Pocono, Pennsylvania, United States
Venue: Mount Airy Casino Resort, 312 Woodland Rd, Mt Pocono, Monroe County
The Tattooed City Poconos Expo will feature the world's very first medicated tattoo healing salve sponsored by a tattoo nurse. You will be pampered by a relaxing and fun experience.
Choose from over 300 artists doing what they know how to do best. Also, you can get piercings and plenty of cool supplies from vendors.
As one of the biggest tattoo conventions in Pennsylvania, the event promises lots of entertainment and sideshows. It is an experience you will definitely enjoy!
8. 2nd Annual Papillon Tattoo Convention 2022
Date: 25 – 27 February 2022
Location: Massachusetts, United States
Venue: Eastern States Exposition, 1305 Memorial Ave, West Springfield, Massachusetts 01089
Here is a body art expo you don't want to miss. The second edition of the Paillon Tattoo Convention will be packed with lots of fun activities.
Here is what to expect:
Live tattooing
Kids entertainment
Body-painting
Piercing
Take advantage of this chance to meet local and international tattooists from across the world. You can get some real ink work and even connect with some of the renowned artists.
The event will feature an assortment of live music, so there will be no dull moments. There will be a handful of contests and on-site tattoo artistry will be available.
Plenty of mouth-watering food and drinks will be ready, and the event is open for people of all ages.
The Papillon Tattoo Convention is a great place to get some of the best tattoo supplies, as vendors will offer some of their best merchandise.
9. 1st Inaugural HuntsVegas Tattoo Expo
Date: 15 – 17 July 2022
Location: Huntsville, Alabama, United States
Venue: Von Braun Civic Center, 700 Monroe St SW, Huntsville, Alabama
It's the first inaugural HuntsVegas Tattoo Expo in Huntsville. The 3-day fun-filled event is not your average expo – it is an experience! It will be Alabama's biggest expo so far.
Sullen TV's Bernadette Macias will be the host of Huntsville's premier tattoo expo. Expect to meet renowned world tattooers, including Mr. Kito Talbert, Edward "Poch" Best, Saga Anderson, and Ink masters Don Hawkins.
It is a family-friendly show that will feature fun-filled games competitions for everyone and sticker tattoos for the kids!
It will also feature Casino Knight with a special selection of casino games like Black Jack, roulette, money wheel, and poker.
Also, the event will host more than 150 tattoo awards in different categories. In addition, there will be live entertainment, music, and food.
One of the most interesting highlights of the convention will be an awards ceremony where the winner of the best show will go home with $2022 with a "winner takes all" heavyweight championship belt.
No doubt, this is one of the biggest tattoo conventions of 2022, so plan and attend.
10. Ink & Iron Tattoo Convention
Date: 3 April 2022
Location: Birmingham, United Kingdom
Venue: The New Bingley Hall 1 Hockley Circus Birmingham B18 5PP
Spring will usher in the highly anticipated Ink & Tattoo Convention to thrilled attendees as always.
If you are a tattoo enthusiast who is interested in vehicle shows, you might want to clear up your calendar for this one-day event scheduled to hold in Birmingham.
It will feature a slightly different kind of tattoo event from the others on this list. In addition to getting inked, attendees will witness a full custom display of first-rate custom motorcycles, cars, scooters, and trucks.
The show will also feature hot rods on display.
The one-day event will also feature a selection of world-class tattoo artists doing what they know how to do best.
Vendors will have lots of supplies and lifestyle products on display, so bring some cash.
In addition to amazing acts and live music, there will be a tattoo competition with cash prizes to be won.
11. Inksplosion Tattoo Expo 2022
Date: 29 – 31 July 2022
Location: Fredericksburg, Virginia, United States
Venue: Fredericksburg Expo and Conference Center, 2371 Carl D. Silver Pkwy, Fredericksburg
For newbies and enthusiasts looking to get eye-catching and beautiful inks on their bodies, Fredericksburg's first-ever tattoo and body art expo is a must-visit.
The event will have some of the most outstanding tattoo artists from around the world in attendance.
Here is what to expect:
Live Music: There will be no dull moments, as attendees will be entertained by live M.C., live band, and renowned DJs.
Sideshow entertainment: Get thrilled and wowed by some of the most amazing sideshows in the business.
Live tattooing: Attendees will get to choose from a wide variety of tattoo styles. Plus, you will get to meet professional tattooists from around the globe.
Merchandise: A wide selection of merchandise will be available for you to choose from to make your weekend a very memorable one.
Tattoo awards: In addition to getting tattooed by legends in the industry, there will be lots of different contests every day for fresh and healed tattoos to keep you thrilled.
Food and drink: You will get to choose from a variety of foods and drinks to keep you satisfied while having an awesome time at the event.
Conclusion
As you prepare to join other enthusiasts for some of these biggest tattoo conventions in 2022, be cautious of your health and observe all the necessary safety protocols.
This is particularly as the world is still battling with a global pandemic.
Each organizer has its regulations on how to keep the public safe. Be sure to do your part by strictly adhering to them.
In addition to maintaining the social distancing order, you may be required to wear face masks at some of these events.
Remember to wash your hands frequently and use hand sanitizers to stay safe.
Resources: