14 Best Jewelry Trade Shows For Visit
The best jewelry trade shows of the year provide you with opportunities to sell high-quality merchandise as well as restock jewelry.
But beyond buying and selling, these trade events are the best occasions to reconnect and network with exhibitors and industry peers, and also learn about the latest trends and styles.
Check out the top 14 jewelry trade shows you can attend both in the United States and overseas for the remaining part of 2022 and the beginning of 2023, as well as gaming and anime conventions, which may also feature some select jewelry on display.
Save the dates and make plans to maximize these one-of-a-kind trade show opportunities. And of course, if you need any help preparing your trade show displays, please reach out – we'd welcome the chance to become part of your support team.
Dates: Sep. 30 – Oct 3, 2022
Location: Miami, Florida, United States
Venue: Miami Beach Convention Center
JIS brings one of the largest jewelry trade events in the Western Hemisphere, featuring some of the best crops of wholesalers, brands, and manufacturers in the industry. The event will have domestic exhibitors as well as foreign counterparts from overseas jewelry-producing countries, such as Brazil, Italy, and Hong Kong.
You can expect to see a vast range of finished merchandise and samples of the most up-to-date lines and styles on display. Plus, you can take advantage of the special deals and best prices of the year offered by exhibitors.
If you are attending as a buyer, JIS offers flexibility in how to make purchases. You can write orders for subsequent shipment or take instant delivery of merchandise on the floor of the show if that's what you prefer.
Click here to learn more about JIS October. 
Dates: March 26-28, 2023
Location: Miami Beach, FL
If for some reason you won't make it to the JIS Fall event, or just simply don't want to settle for just one JIS event for the year, the JIS Spring event offers another awesome opportunity to trade and interact with the industry peers. 
Launched only in 2019 and running annually every spring now, the JIS Spring show is JIS' latest trade event specially designed to serve retailers on the East Coast.
This three-day show is designed to deliver merchandise just as the busy summer selling season begins to gather momentum.
This is your chance if you are looking for a cash-and-carry buying event. Buyers and exhibitors can connect and take immediate delivery of products with the immediate cash-and-carry option on the floor of the show. Also, exhibitors can take orders for more business in the future.
Click here for more details and how to register for this event.
3. Shanghai World Jewelry Expo
Dates: 25 – 28 Aug 2022
Location: Shanghai, China
Venue: Shanghai World Expo Exhibition and Convention Center
Shanghai is China's largest jewelry distribution and consolidation center, making it a perfect location for hosting the country's biggest jewelry expo. Representing 20% of China's total annual jewelry sales, Shanghai is a leading hub where diamond, gold, silver, and platinum are traded.
The Shanghai World Jewelry Expo is a four-day event estimated to have about 300 exhibitors and nearly 14,000 visitors from all over the globe.
Product categories will include:
Gemstone (Diamonds, Jades, Rubies, and more)
Pearls (South Pearls, Chinese Freshwater Pearls, Japanese Pearls, and more)
Watches and Clocks (complete clocks and watches, jewelry watches, brand name watches, and more)
Finished jewelry (designer jewelry, white gold jewelry, semi-finished products, and more)
There is also manufacturing equipment and accessories as well as technology and trade publication & services.
Click here to learn more.
Dates: September 19th and 20th, 2022.
Location: Tropicana Las Vegas, Nevada, United States
Venue: MGM Grand Hotel
Make plans to attend the International Watch & Jewelry Guild Show and get access to the world's most active central exchange for buying, selling, and trading a vast range of fine jewelry.
Each year, the IWJG Show brings 120 exhibitors and over 12,000 visitors together under one roof to buy and sell collectible timepieces, modern watches, fine vintage watches, diamonds, estate jewelry, and more.
Most visitors find the IWJG Show inclined to market and consumer goods, and this accounts for the annual large turnout. The show offers a worldwide network of 7,800 dealers and collectors from more than 70 countries around the globe.
Besides seeing the planet's largest collection of fine collectibles and fine watches, you also get the chance to meet with the world's largest dealers at the show.
Click here for more details.
Dates: Oct 23-25, 2022 
Location: New York City, United States
Venue: Javits Convention Center
Home to more than 600 of the planet's top jewelry designers, suppliers, and brands, the JA New York trade shows connect exhibitors with motivated buyers. It is also a chance to build key wholesale accounts and network with established industry partners.
The summer show, in particular, is one of the jewelry trade shows that offer an assorted mix of the season's finest jewelry, including a comprehensive collection of gold, vibrant gemstones, and diamonds.
The show offers an intimate and high-end jewelry marketplace for both established and new retail buyers. Presented in a boutique setting, JA New York gives thousands of serious buyers access to a vast collection of curated jewelry.
The JA New York event is your best bet if you are looking for an East Coast jewelry trade show that will fulfill your inventory needs, regardless of the clientele you serve.
Click here for more information.
6. The International Jewelry Merchandise Show
Dates: November 17-20, 2022
Location: New Orleans, Louisiana, United States
Venue: New Orleans Ernest N. Morial Convention Center
Both order writing and cash and carry options are available at the International Jewelry Merchandise Show. This is one of the most popular and largest jewelry trade shows in the southern market. It attracts anywhere from 13,000 to 17,000 visitors yearly and it features 550 booths, giving buyers access to a wide collection of jewelry products.
For this year, the organizers will throw the doors wide open for the general public on the last two days of the show.
Click here to learn more.
7. The Gem Expo
Dates: November 11-13 2022
Location: Toronto, Ontario, Canada
Venue: Hyatt Regency, Toronto
Over 40 vendors will feature in each show in the Gem Expo holding in Toronto to showcase a vast collection of jewelry from their homeland. Countries that will be represented in this year's show include China, Mexico, Brazil, Nigeria, Afghanistan, Poland, India, Russia, Canada, and more.
This show is the perfect place to find rare handmade finished jewelry not available in jewelry stores. You can also find raw and untreated minerals and gems for collecting, home décor, or crystal healing.
The Gem Show also features many local artisans and designers of international repute. This year's show will also have Rubies, Baltic Amber, Emeralds, Tourmaline, Pearls, and other precious and semi-precious stones on display from master gem cutters.
This event is a one-stop source for beaders who want to stock up on sterling silver, beads, and other supplies. A collection of mineral specimens and crystals will also be available for mineral enthusiasts.
Click here to learn more.
Dates: Sep 8, 2022 – Sep 11, 2022
Location: Denver, CO
The International Gem & Jewelry Show is the one-stop destination for buyers who want to bypass middlemen and purchase directly and securely from a vast array of vendors. The direct-to-consumer jewelry show is one of the best jewelry trade shows and has something for just about everyone, no matter who you may be shopping for.
This 3-day event slated during the end-of-year holiday seasons will showcase different jewelry products, including diamond, gold, pearl, platinum, silver, gemstones, and antique jewelry.
More than 12,000 visitors and about 420 exhibitors are expected to be in attendance. Some of the vendors include Universal Color Inc., Regal Gems Inc., Golden Treasure, Amber Design, and more.
Click here for more information.
Dates: Friday, Aug 5th, 2022
Location: Pasadena, California, United States
Venue: Hilton Pasadena Hotel
Start the New Year strong by getting access to many jewelry products offered to the public for the very first time at the Pasadena Bead Design Show. This is one of the best jewelry trade shows that is also open to everyone, where you can shop and buy directly from over 2,500 traders and artisans at the best prices.
It features an array of rare and eye-catching gemstones, jewelry, art gems & jewelry, and the largest collection of handcrafted beads. Exhibitors in attendance and handpicked strictly by invitation and juried application. They include wholesale suppliers, contemporary and traditional artisans, and high-quality merchants.
In addition to buying and selling, the show offers daily workshops and provides a dynamic business opportunity for professionals in the jewelry industry.
Click here for more details.
Dates: 11th – 14th Jan. 2023
Location: Koto, Japan
Venue: Tokyo Big Sight (Tokyo International Exhibition Center)
Every year, Japan's largest and most important jewelry show hosts about 30,000 buyers and 510 exhibitors under one roof. Numerous representatives from department stores, retailers, and other industry professionals interested in the hottest market trends and offerings gather to a comprehensive overview of the jewelry industry.
During the show, a vast collection of products in the jewelry industry are on display under one roof in Tokyo – the world's trend-setting city. Product categories include diamond jewelry, antique jewelry, gemstones, platinum jewelry, wedding jewelry, and beads. Others offerings are surveillance systems, security systems, tools, and more.
The show gives industry experts, especially those in the Asian market, an important communication platform to connect with both old and new business contacts.
Click here to learn more.
Dates: SEP. 1-4, 2022
Location: Tucson, Arizona, United States
Venue: Tucson Expo Center
For nearly six decades, the JOGS Tucson Gem & Jewelry Show has been considered one of the best jewelry trade shows and the preferred destination for many professionals in the jewelry industry.
With over 270 vendors grouped into 9 different pavilions on the same floor, it is easy to see how the city of Tucson can quickly transform into a beehive of activities during the annual JOGS show.
Here, you can find designer jewelry, fine jewelry, gemstones, Native American jewelry, beads, Baltic Amber, ethnic jewelry, raw minerals, minerals, and more.
Click here for more information as well as other Tucson Gem Shows scheduled for the year 2022.
Dates:  JAN 28-FEB 1, 2023 
Location: Phoenix, AZ

Venue: ARIZONA BILTMORE RESORT
The Centurion Jewelry Show is where top jewelry professionals meet annually to shape the future of the jewelry industry. The event is an invitation-only trade show specially designed for the who's-who in the jewelry industry.
While it is typically not a large event, the Centurion Jewelry Show has a huge impact on the industry with products from some of the first-rate jewelry manufacturers on display.
The show is a chance for top brands, exhibitors, and hottest newcomers in the jewelry industry to meet and connect with the most highly regarded retailers from across the world. The Centurion Jewelry Show is your best bet if you want to network with reputable and top professionals in the jewelry industry.
Click here to learn more.
13. Hong Kong International Jewelry Show
Dates: 29 Jul – 2 Aug 2022
Location: Hong Kong, China
Venue: Hong Kong Convention and Exhibition Centre
Regional and international manufacturers, wholesalers, retailers, as well as buyers and distributors converge and take advantage of the global markets at the Hong Kong International Jewelry Show put together by China's international marketing body, the Hong Kong Trade Development Council (HKTDC).
The event features themed zones that showcase outstanding and eye-catching finished merchandise. And for the first time, both jewelers and jewelry lovers will have complete access to the radiant event. Plus, a wide array of high-quality pieces as well as budget-friendly gems will be on display for visitors to savor and buy.
Some of the major exhibit categories will feature finished jewelry, vintage and antique jewelry, silver jewelry, fine jewelry, and more. If you are looking for rare gems that ship to international markets, the HKTDC Hong Kong International Jewelry Show is an ideal place to look.
Besides the chance to buy and sell merchandise, the jewelry trade show offers a host of market intelligence events in addition to networking opportunities.
Click here to learn more about the HKTDC Hong Kong International Jewelry Show.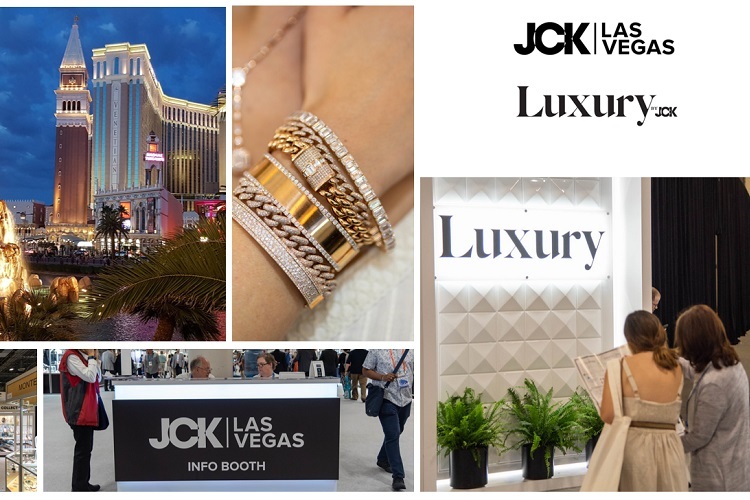 Dates: June 2-5, 2023
Location: Las Vegas, Nevada, United States
Venue: The Venetian Expo
Want to attend the biggest jewelry trade event in the United States? With more than 30,000 industry professionals from across the globe in one place, the JCK Las Vegas is undoubtedly the largest and leading annual trade event in the industry.
The 2022 JCK Las Vegas event has come and gone in the city's trademark glitz and glamour, but there is still more fun to be had in the 2023 edition of the show.
As usual, the event will hold in a secure environment that allows for networking, education, order writing, and, of course, fun! JCK ensures that the experience at the trade event goes beyond mere business to building a united community that will continue to mold and shape the future of the jewelry industry.
With well over 23,000 individual retailers in attendance and more than 2,300 exhibiting vendors from around the world, you can expect to have timepieces, finished jewelry at a wide range of prices, and lose gemstones. Vendors will also include supplies, technology, security, equipment, and business solutions.
If you are looking to discover what's new in the jewelry market, JCK's vast collection of timepieces, gems, jewelry, and services makes it the perfect event to stay up-to-date with the latest trends.
Click here for more information.
Attending one of the Best Jewelry Trade Shows
As you plan to attend the biggest trade events of the year in the jewelry industry, health and safety are the most crucial factors to keep in mind in an era of a global pandemic. As expected, all event organizers are working round the clock to ensure the safety of all trade show participants.
Specific health and safety guidelines may vary slightly, depending on the organizers, level of transmission in the area, and the local health department regulations. However, participants will generally be required to wear an approved face covering at all times. Social distancing, frequent hand washing, as well as a no-handshake policy, are typically enforced.
To keep everyone safe, all participants must strictly adhere to the guidelines at all times, especially on the show floor. Make sure that you check the event organizer's website for information about specific health guidelines before attending any of the jewelry trade shows on this list.
Reference Articles: