Best Banner Designs for Trade Shows
High-impact banners are effective for commanding the attention of people on the trade show floor. If you can get passersby to read your banner, they are likely to stop by your booth to check out what you have to offer.
The question is: how do you create the best banner design to have such a high-impact? Read on to find out exactly how to do this.
How to Create Attention-Grabbing Banner Designs
The primary objective of investing in banners for your show booth is to convey sales messages that support your exhibiting goals.
But that doesn't mean everything printed on a banner will help you achieve that objective. In fact, the opposite can be true if your banner designs are done wrongly.
Here is how to create the best banner design that will attract passersby's attention and bring you closer to achieving your exhibiting goals.
Research Your Audience Needs
The first thing you want to do is to research your target audience. This will help you recognize specific needs and what will likely motivate prospects or potential clients to buy what you are selling or at least be interested to know more.
Researching the needs and wants of your target audience will enable you to tailor your sales messages to focus on the most essential purchase motivators.
The bottom line is to add carefully researched graphics and texts in your banner design to draw potential buyers or investors to your booth, regardless of the trade show banner type you opt for.
Tailoring your banner design (graphics and messages) to potential buyers also creates a funnel that filters out people who are not likely to make purchases. In other words, your booth staff will not have to waste valuable time and effort talking to the wrong people.
Catering your sales message to potential customers mean that visitor coming to your booth are likely to purchase, and your booth team can focus more on building quality relationships with them.
Be Concise
Using short messages gets better results when it comes to creating eye-catching banner designs for your trade show booth. Always use a few wordings and visuals on your banner to communicate your message.
Consider using two to three words to deliver your main message instead of long sentences. Simple, crisps, and straight to the point create more impact.
For example, instead of writing, "We Offer the Best Training for Flight Crew," as the primary message on your banner, a more succinct version would read, "Flight Crew Training" or "Flight Training," written in a large bold font.
Bottom line: less is more.
In addition, remember to position your primary message at eye level on your banner. This makes it easy to grab people's attention, even if they should merely glance at your banner.
Correct Use of Upper and Lowercase Text
Messages in all caps can quickly grab attention from across the room, right? Not quite. You wouldn't be attracted to a salesperson who is yelling at you at the top of their lungs, would you? That's what it feels like when people see your banner message written in all caps.
For the best effect, combine upper and lowercase text. Messages in this format are easier to read, even from a distance.
But that's not to say that text in all caps doesn't have a place in your banner design. Consider using this to create special effects by highlighting key concepts in your message. However, use this sparingly throughout your message for the best results.
Use Captivating Images
Consider adding at least one large, colorful, and vivid image to your banner design. Make sure any image you use supports and strengthen your sales message.
Even if you can't find a suitable image for your message, always include your company logo on your banner design. Let people see at a glance what company is represented on the banner.
Like text, make sure to keep images as few as possible. In addition, use appealing images that are easy to interpret.
Give Room for Negative or White Space
Who says the best banner design must cover every single inch of your material? The trick to creating effective banner designs is to keep things simple, and a good way to achieve this is by using empty spaces on your banner.
High-impact designs often leave room for empty spaces (known as white or negative space) with no graphics or text. Of course, after spending good money on buying good-quality banners, it might be tempting to print your message all over the material. But that's not how to make the most out of your banner.
Instead, the opposite is true. The more room you have on your banner, the higher the chance of your sales message standing out and attracting more people to your booth.
Printing Format
Consider where you plan to place your banner before deciding whether to go for a horizontal or vertical option. How do you plan to mount the banner? Are you going to tie it or display it on a stand?
You don't want to end up with a vertical banner when you only have space for a horizontal type and vice-versa. Therefore, take the time to look that your space on the show floor before you buy a banner.
Tips to Maximize Impact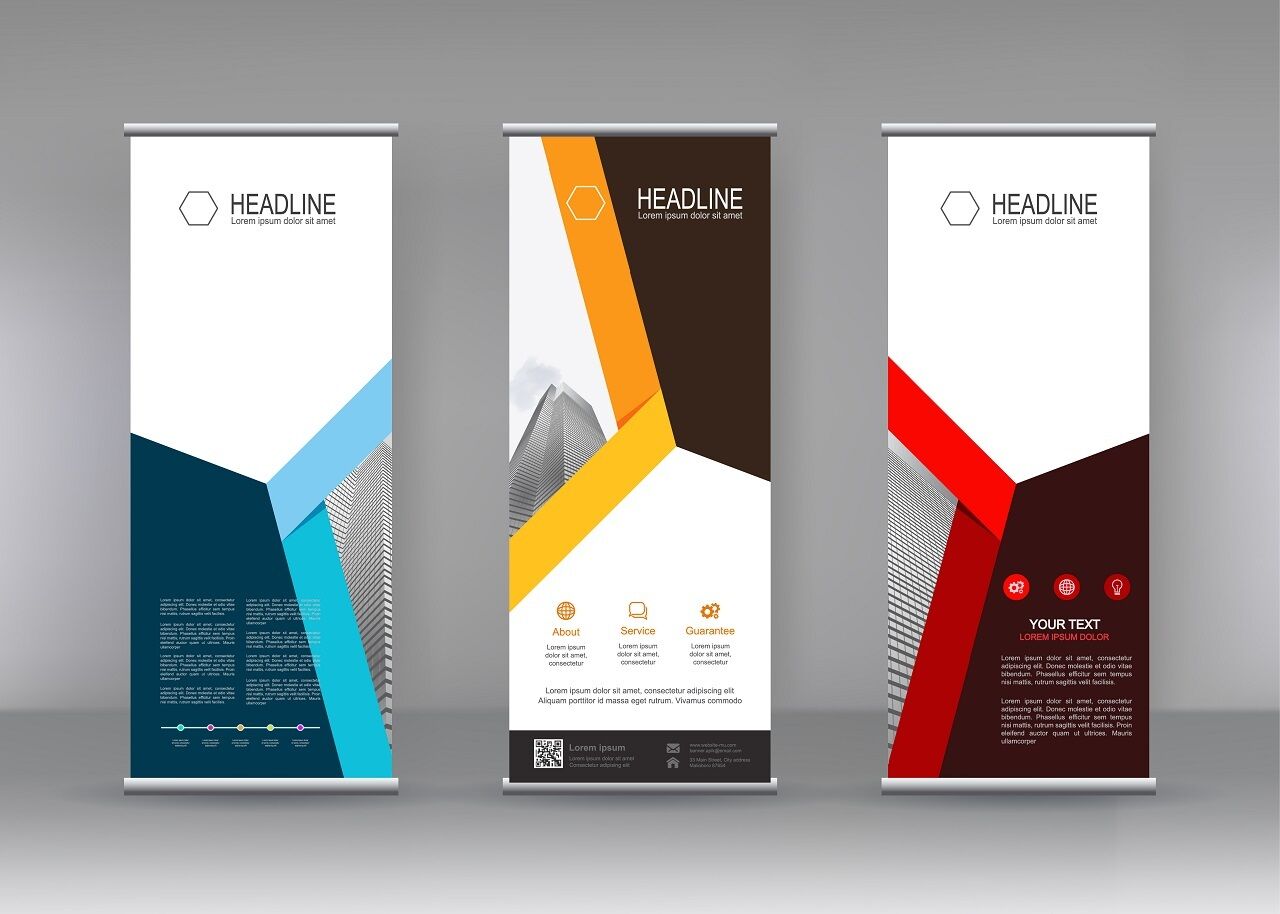 1. Focus Visually Distinctive Designs
Your banner must be distinctive if you want people on the show floor to have your company name at the top of their minds. Make sure that the signage is bold with simple graphics. Choose colors that match or complement your company logo and image.
Your ultimate goal is to attract people to your booth and exhibit. But even if they don't come to you immediately, let your banner design ad design reinforce your brand and message to everyone who glances at it, even for the briefest moment.
2. Create Easily Readable Banners
The best banner design ad design is readable from at least 15 feet away. That means you have to choose large font types and are easy to read.
Also, add your logo somewhere on the banner and make it large enough to highlight your company identity. If your logo on the banner is too small such that it can't be seen from across the room, you may as well not include it.
Whatever you add to your banner should be readable from a reasonable distance, or else it is not effective.
3. Keep Your Banner Clutter-Free
The best banner design is one with a large colorful image and the fewest wording possible. This creates more impact than an overcrowded banner.
People will likely walk by without stopping if they can't grab your message by merely glancing at your banner from the booth aisle.
Here's what a cluttered banner says about your company: "We are not too great at organizing, and we lack focus." That's definitely not the type of message you want to pass to attendees, right?
4. Invest in Good-Quality Banners
Inexpensive banners won't serve you for long, and they may not provide as much clarity as good-quality options.
Good-quality banners are expensive, but they are your best bet when it comes to durability. Besides, they will catch peoples' eyes from afar off, which is the primary reason for using banners in the first place.
Vinyl materials, especially the nylon-reinforced type, are an excellent choice. They support full-color images and offer clear resolutions. Plus, the material is highly durable, so you won't be spending money on replacement banners too often.
5. Consider Having More Than One Banner
It might be necessary to have more than one banner if you have a handful of sales messages to promote at the show. More banners give you more mediums to deliver your messages and will prevent clumping everything into one place.
Equally, displaying a couple of banners will be in order if you have a large exhibit. However, you do not want to crowd your space with too many banners because that would clutter your booth and send the wrong message.
6. Use Neat Banners
Even the best banner design or the most ingenious and creative booth sign will mean nothing to passersby if it is scratched, torn, or done on defective materials.
A worn-out banner or an old one conveys a louder negative message to visitors and passersby than the text or image printed on it. Therefore, do not pinch pennies when it comes to replacing worn and old banner materials.
You don't have to buy brand new banners each time you exhibit at a show. However, your banners (and indeed, every booth component) should be well-kept when not in use. Make sure they are protected in cases or packages and carefully stored for future use.
Final Thoughts
The best banner design for trade shows can help reinforce your sales message. If done correctly, your banner design will draw attention to your trade show booth and help people remember your company.
You are welcome to browse through our improved vinyl banner stands or choose from a wide range of full-color custom vinyl banners designed to meet different vendor needs.