Beginner's Guide To Social Media Marketing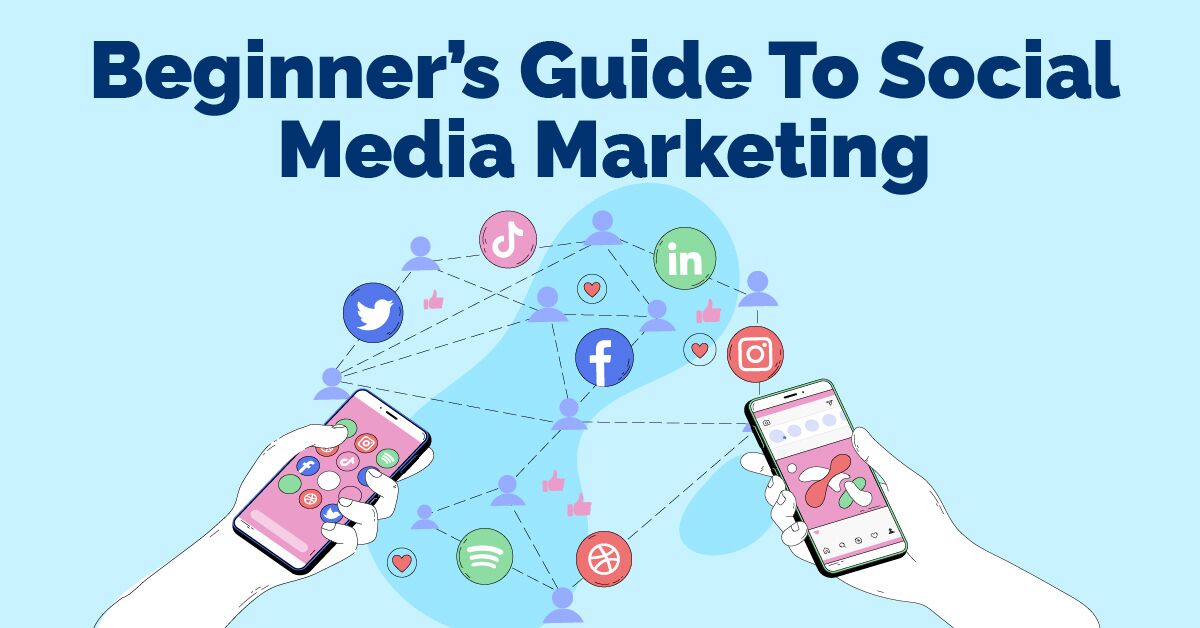 Everything you need to know to successfully market your business on social media
"You don't need a corporation or a marketing company to brand you now: you can do it yourself. You can establish who you are with a social media following."

Ray Allen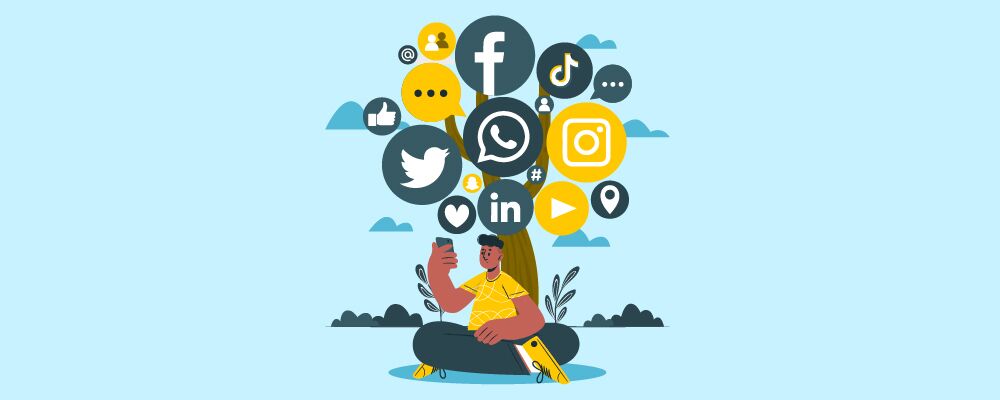 In the time before the internet, marking was limited to newspaper adverts, television, and curbside posters. Marketing was expensive and not something that was always available or affordable to small businesses. And when it was, you could only advertise to people who lived near you.
Then the internet and social media came along and changed everything.
Suddenly, it became possible for businesses being run out of people's sheds to advertise on a platform with over 1.7 billion daily users and to reach customers across the world.
With social media offering the opportunity for organic growth, it is possible for any business to grow using the power of social media. All they need is a social media marketing strategy.
Every business should be putting a social media marketing plan in place to help capitalize on the amazing benefits social media can offer. And today, we are going to show you how to do that. We will be covering how to find your target audience, what social media to reach them on, and how to use social media to grow your business.
What Is Social Media Marketing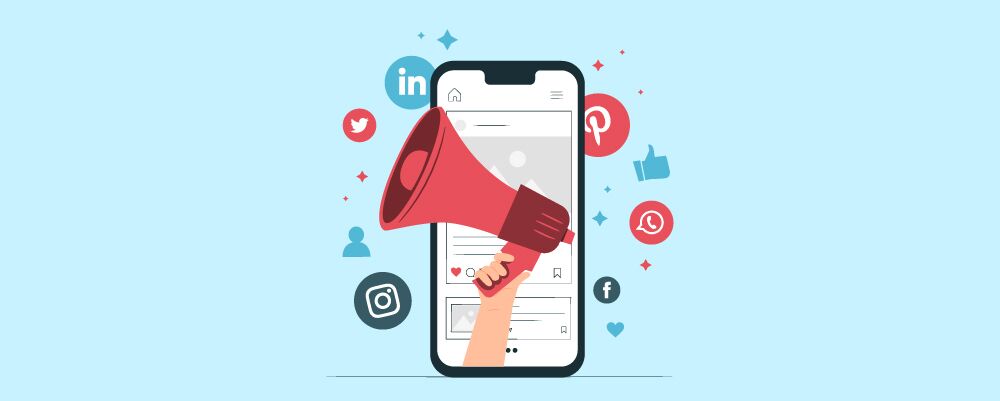 Social media marketing is a targeted use of social media that allows businesses and brands to interact with their customer base.
There are many reasons why a business may want to do this, these reasons include:
Increasing awareness of your brand
Creating a community around the brand
Boosting sales, leads, and conversion rates
Driving traffic to your website
As a brand, you will want to create a tangible representation of your company that your customers can interact with online. You can do this by creating content with a consistent voice and style. Creating brand aesthetics will also help with this.
How you market your brand will depend on your target audience and on the social media platforms you are using.
Each platform is suited to a different group of people, products, and situations. Not every platform will be effective for every business. It is best to do a few platforms well, rather than stretch yourself too thinly. Especially if you cannot afford to hire someone (or multiple people) to run your company's social media full time.
Producing consistent and high quality content is the key to building a successful social media platform for your business.
Why Is Social Media Marketing Important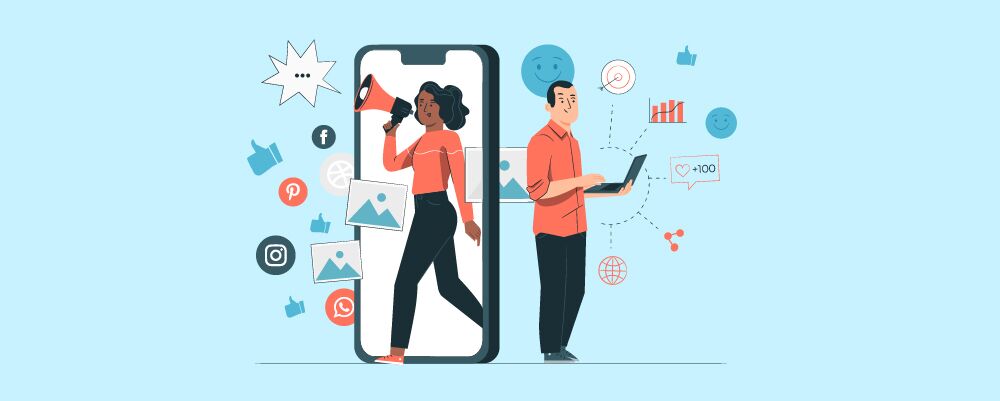 We have reached the point in the evolution of social media where it is now stranger for a brand not to have social media. In fact, many younger people tend to be suspicious of brands that have no online presence.
That aside there are many reasons why social media and social media marketing are essential for all businesses.
3.2 billion people are daily users of social media. No other media has a reach like this. More people use Facebook every day than watched the last 10 Super Bowls combined. Social media can expose you to a global audience, taking your reach from people in your immediate area to people anywhere in the world with internet access.
Social media marketing allows you to present a tangible representation of your brand that customers can bond and connect with. You can use it to interact with your customers and create targeted posts that will encourage people to buy from you.
Social Media Marketing Strategy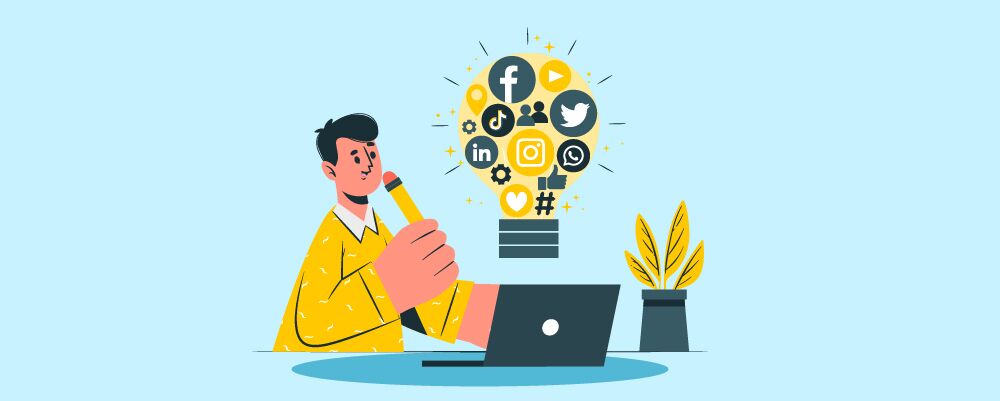 Your brand's social media presence will be useless unless you have a social media strategy.
However, there is no need to worry – we're about to help you put the perfect social media strategy together.
What is a social media strategy?
Well, they are composed of two things – the goals your company has for their social media accounts and a targeted approach for getting those results.
If you get both of these concepts cemented as soon as possible, everything else will fall into place. It is best to set your goals before you launch your social media accounts.
Setting goals
Before you set up any social media accounts you should have some goals. These goals should be inspired by the benefits you want your social media to bring your company. (Hint – check out the end of this article for what social media can do for you).
You may want to use your brand's social media to drive traffic to your website, or you may want to use it to improve your brand's reputation – these are examples of goals you can set for your social media.
Take a look at the brands you love and see what they're doing online – there is nothing wrong with trying to learn from the best.
Knowing what you want your social media to do for you, will help you understand what it needs to look like and how you need to put it together.
Research Your Target Audience
There is one thing that your social media strategy cannot function without – knowing who your target audience is.
Your target audience is your ideal customer. They are the people who you want to buy your products or services.
Being able to narrow your target, you are able to market more effectively and waste fewer resources.
Ways to research your target audience:
Survey your customer base
Look at who your competitors are advertising towards
Analyze your market research
Use tools like Google Analytics
Hire a researcher to find this out for you
Determine Which Social Media Will Work Best For You
"It's important to be where your audience of potential customers is today, and where they might be tomorrow. It's better to be ahead of the curve than behind." — Andrew Delaney, Social Media Marketing Manager at HubSpot
Once you know what your target audience looks like, you will be able to narrow down your social media focus.
If you run trade shows then your target audiences are largely B2B businesses. For you, Pinterest and Facebook aren't going to be a good use of your time, like they would be if you were a craft business. Instead, you will want to focus your efforts on Linkedin and Youtube.
Things you will need to know about your target audience:
Which social media sites your target audience use
When they use them
How long they spend on them
What they are looking to see on them
Best Platforms To Target
Now that you have set your goals and know who your target audience is, it is time to take a look at the different forms of social media that are out there.
There are near infinite social media platforms out there, with more popping up every day. However, when you are first establishing your social media, you will probably want to stick to the big six.
Their combined audience of over 3 billion users will offer you an unparalleled opportunity to build an audience for your brand.
In this section, we will talk you through the 6 main social media platforms, who they are for, and how to use them effectively.
Facebook
Facebook is probably the first thing you think of when you think about social media. For good reason, it has over 2 billion daily users and has held the position of the most popular social media platform for over a decade now.
Facebook is a well oiled machine when it comes to advertising and social media marketing. One of the things that you have to come to terms with on this platform is there is no such thing as organic reach on Facebook. If you want to reach new people, you will have to pay for ads.
This service is worth the money, their targeted ads system is the best in the field.
Users
Average age – 40 years old
Facebook is designed for casual use. No matter your customer base you will benefit from a Facebook presence. Although it is not a place for hard selling.
Do's
Use good product photos
Do live streams for product launches and Q&A's
Engage with complaints positively
Don't
Ignore complaints
Get into arguments with customers
React to constructive criticism negatively
Rely on organic reach
Twitter
Twitter is a social media platform that limits posts to 280 characters. For this reason, every word matters, and audiences move on pretty quickly.
One entertaining or provocative tweet can send your company viral and expose you to thousands of new people in an hour. You don't have to pump money into this platform to see results – which is refreshing and great for smaller businesses.
To succeed on Twitter you need to find your tribe. Find people who are interested in your market – i.e. people who love cycling if you sell bikes.
Users
Average age – 25 years old
Twitter is about tribes. Users follow topics they are interested in. If your market has passionate followers then Twitter is the place for you. This is why fast food stores and bookshops thrive on this platform.
Do's
Use hashtags
React to current issues
Use a more relaxed tone
Be brave and interact with other companies
Share positive feedback from customers
Don't
Plan your content too far in advance
Ignore current trends
Instagram
Instagram is now owned by Facebook and is more than a place to show off your lunch. It is a visual platform.
It has a younger user database than its parent company. Trends do not change as frequently on Instagram as they do on Twitter. If you need to bulk-create content to save time, then this is the perfect platform.
Sadly, advertising on Instagram is expensive and not available for everybody. If you don't meet Instagram standards then you should look into paid advertising with influencers or mutually beneficial collaborations with people in your industry who aren't direct competitors of yours.
Users
Average age – 29 years old
Instagram is gearing itself towards being a shopping platform. People are looking for aesthetically pleasing photos that will sell them a fantasy. It's not a platform for engaging or commenting.
Do's
Use hashtags
Post stories
Have an aesthetic that you stick to
Post very high-quality photos
Don't
Engage with negative comments (their comment's system isn't designed for this)
Steal content
Jump on trends
Post more than twice a day
Linkedin
Linkedin is a business social network. It is a space for businesses to present themselves as professionals, rather than a brand.
Linkedin offers paid marketing campaigns with better than average conversion rates. There is also a small amount of organic growth on the platform. But the platform is structured around keeping networks feeling exclusive but close-knit.
Users
Average age – 35 years old
Linkedin users are professionals, who usually have more cash to spare. This is the perfect place to advertise to business owners and professionals.
Do's
Be professional
Share things about your industry
Share posts that will start discussions
Engage as often as possible
Don't
Share too often
Share things that are too personal or outside of your industry
Share clickbait
Youtube
Youtube is the place to establish yourselves as experts in the industry. You will want to use the platform to share knowledge and add value to your customers' lives. This is a place where you can sell by showing your customers that you know what you are talking about.
You will want to build a niche and stick to it. Post regular content that engages your audience and you can't go wrong.
One of the downsides of Youtube is they regularly update their algorithm – meaning that to get organic growth you will have to tweak your content. This may mean editing the metadata of your videos, or something as simple as producing longer videos.
Users
Average age – 24
People turn to Youtube to be entertained or informed. Users tend to be on the younger side and look for dynamic content with engaging hosts.
Do's
Post regularly
Post videos longer than 10 minutes long
Fill your videos with information and content from start to finish
Try to add value with your content
Don't
Post too frequently
Post without a schedule
Pinterest
Pinterest is a difficult social media to use, however, 93% of social media marketing firms use it. Why? Well, 98% of Pinterest users say that they have bought something new because of the social network.
Users
Average age – 40
The average Pinterest user is a mother between the ages of 30 and 40. She lives in America and uses Pinterest to find inspiration.
Do's
Install widgets to make content easier to pin
Share high-quality content that is themed
Post regularly
Keep track of the trends
Use your own content and others
Don't
Let your links go out of date or break
Create Unique & Engaging Content
Once you have worked out which social media platforms you need to be using to reach your target audience – it's time to start making content.
When making your content you want to have a clear idea about your brand's voice. You will want to keep a consistent tone and style across all of your posts. And you will try to avoid hard selling.
The type of content you make will vary depending on the platform that you are using. However, there are here are some tips that will help you make great content for any platform:
Keep a consistent brand voice
Keep a consistent brand aesthetic
Speak directly to your audience
Create content that adds value
Keep paragraphs short
Use subheadings
Use high-quality pictures
Stay positive
Use calls to action
Don't ignore major events
Share positive feedback from customers
Don't steal content
Link to your other social media accounts
Post Content At The Right Time
A lot of businesses miss this simple trick, which can be the main difference between a successful post and an unloved one.
Google Analytics is a great tool to help you narrow down when your target audience is using their social media accounts. The platforms also release their own data on the subject which is worth keeping an eye on.
When doing your research into your target audience you should have found a good deal of information about how they use social media. You should use this data to plan your posting schedule.
For example, Linkedin sees a lot less use on weekends, so if you are advertising your B2B service like trade shows or training courses, then post on weekdays, in the morning.
Goods times to share posts:
Facebook – Weekday mornings (6-8 am) and lunchtimes (12-2 pm)
Twitter – Weekday lunchtimes (12-2 pm) and early afternoons (2-4 pm)
Instagram – Weekday mornings (6-8 am) and lunchtimes (12-2 pm)
Linkedin – Mornings (7 am – 12 pm)
Youtube – After 5 pm
Analyze What Works And What Doesn't
When you first begin posting, you will go through a phase of trial and error, as you work out what posts perform best with your audience.
The best thing you can do during this stage is to experiment and keep an eye on how each of your posts performs.
Every few posts, you should have a look at this data and see what types of posts are performing best for you. Over time very clear patterns will emerge. You should listen to the data and adapt what you are putting out.
Each social media platform will have its own dashboard that will allow you to track these stats easily. They will show you the number of impressions and interactions each post has. Many platforms will also give you a profile of what type of audience you have (age, gender, location, viewing time).
This data will help you to improve your social media strategy and reach a larger audience.
Try To Respond Promptly To Enquiries From People
Finally, you need to use your social media to be social.
This means replying to messages, comments, and inquiries. Lots of younger people will use social media as a way to reach out to brands, rather than calling or emailing them.
Your customers will be checking how you respond to comments as it gives them an opportunity to get to know your brand values better. If you have multiple people using your business's social media accounts then you should put together a company guide to interacting online. Keeping interactions consistent is important.
Make sure that you are regularly checking your social media inboxes and notifications. So that you can quickly reply to inquiries and potentially convert customers.
Another thing that is worth remembering is that anything you post on the internet is pretty much permanent. So, you only want to post things that will show your brand in a positive light. It can be tempting to snap back at rude customers but they can share what you have said and create some negative press around your brand.
Keep it short, positive, and as helpful as possible.
Benefits of Social Media Marketing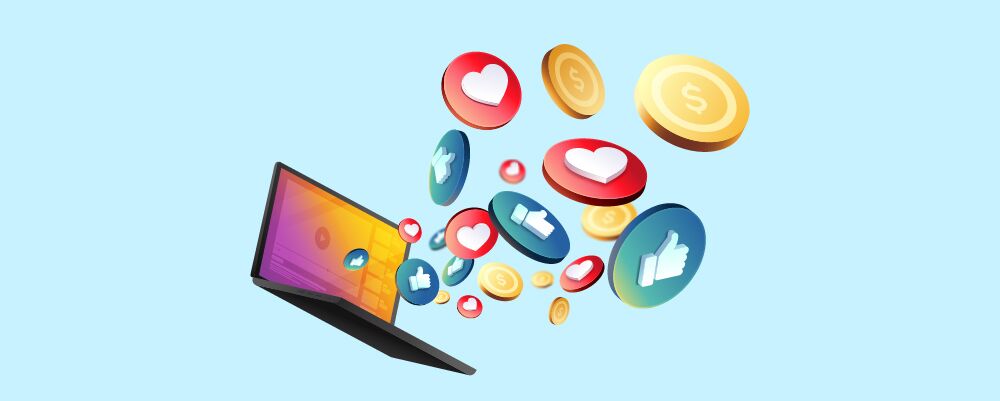 Before we go, let's look at all the benefits of social media marketing for businesses. You can use these as a guide for setting the goals for your company's social media.
It Increases Awareness of Your Brand
Most people's first contact with a brand is not through their website or a TV advert anymore. It is through social media. This may be an intimidating thought, but it is actually a great thing for smaller businesses.
Social media marketing campaigns are a lot cheaper to run than traditional campaigns. And often require a lot less time. Social media is also a more informal version of advertising. It is about building a long lasting relationship with your followers.
A successful social media account can introduce more people to your brand. Whether that is through a viral tweet featuring a pun about a recent news story or a breathtaking picture on Instagram. Social media offers you a chance to extend your reach much further than you could physically.
A great way to increase awareness of your brand, even more, is to collaborate with other brands that are not in direct competition with you. For example, if you sell cookies you could partner with a local milk company and make posts together.
Getting attention on social media requires you to be aware of the platform you are posting on, and of the current trends on that platform. You will want great content that is entertaining, memorable, and valuable.
It Helps You Build A Relationship With Your Customers
Social media will help you to build a community around your business, made up of like-minded customers, with similar interests that are loyal to your company.
Loyal customers are more likely to bring you repeat business – this is why so many companies run loyalty programs. Repeat customers are the cornerstone of any business. They require fewer resources to convert and are more likely to spend more with your company.
If you treat your social media accounts like a loyalty program, you can recreate this feeling of importance within many more customers (and potential customers). Create content that makes these customers feel valued by your company.
Offer your followers exclusive access to future product launches, show them behind the scenes footage, give them exclusive discount codes.
Loyal customers are more likely to talk to other people about your company – providing you with free, positive advertising.
This community will in turn make your company seem more attractive to people outside of it. People will want to join, to feel involved and valued by a company. This is an easy way to increase your audience and customer base.
As Amy Jo Martin, Founder and CEO of Digital Royalty, said "Social media is the ultimate equalizer. It gives a voice and a platform to anyone willing to engage." Interacting with your customers is also a great way to get honest feedback about your company. You can discover what is holding people back from buying from you, or things that have made your company seem more appealing.
Can Boost Conversions And Sales
We mentioned above that building a loyal and engaged customer base can be the key to recurring sales. This is something that keeps businesses afloat, and this loyalty is its own form of free marketing.
But what about first time sales and conversion, can social media help with that?
Yes!
Social media marketing improves brand awareness which in turn has been proven to improve both traffic and conversion rates.
With more people visiting your site you are likely to sell more products. When these customers visit your site after experiencing your social media, they have a better relationship with your brand. This relationship improves conversation rates.
Millennials visit a brand's social media twice on average before making a purchase. They are less likely to buy from a brand that doesn't have any social media. For the younger generations, an engaging social media presence can make or break a sale.
Social media also allows you to stay at the forefront of your customers' vision – helping you to avoid the deadly trap of 'out of sight, out of mind'.
It is important not to go for the hard sell on social media unless you have a very large following. Otherwise, followers can find posts trying to sell repetitive.
It Helps You Learn About Your Competitors
It's not just your social media that can benefit your business, but your competitors' accounts can help you too.
Your competitors' social media will be the most useful when you are doing your market research. It will give you a chance to study your competitors, how they present themselves, and their target audience – in a way that wasn't possible before social media.
If you run tradeshows you get an understanding of how they recruit speakers and stall runners. If you run a candle shop you can look at how your competitors advertise themselves and their price range.
You should study how your competitors use their social media accounts. Note down what works well for them, and what areas they could improve on. Feed all of this information into your own strategy.
You will want your social media to stand out from your competitors, so make sure all your posts fit into your company's brand voice. Develop a brand color scheme and aesthetic as well. Make sure it is not easy to confuse with your main competitors.
Being aware of your competitors' social media presents will help to reduce the amount of time you have to spend on your own social media accounts, but it will also help you to understand your unique selling point.
It Helps You Drive Traffic To Your Site
Finally, gaining attention on social media is a great way to drive traffic to your website.
Social media has become most people's first point of contact with new brands. This is not actually a bad thing if you are able to capitalize on it.
You can introduce your brand through your social media accounts before funneling your visitors to your site, having already built some brand awareness. Which will make them more likely to buy from you.
Place links to your site that are in easy to reach places all over your accounts.
Summary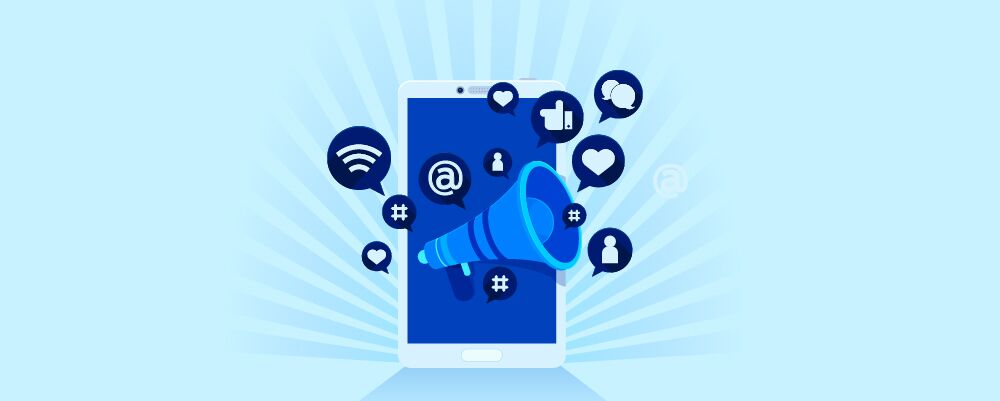 Social media marketing is a low cost way to build a name for your business.
At this point in time, it is seen as unusual for a business to not have a social media presence, however, so many businesses do not take advantage of all the benefits social media has to offer.
On the whole, social media is one of the cheapest forms of advertising – with many platforms offering huge potential for organic growth.
With a well researched social media marketing strategy any company can boost its outreach and brand awareness for less than $100. This article was created to help you do that.
There are a few important things you must do if you want to grow your business online.
Firstly, you must be aware of who your target audience is. You must understand how they spend their time online, what social media they use, and when they use it.
Secondly, you must create content that interests your target audience and that is platform appropriate.
Finally, you must gain an understanding of how each social media platform works, what kind of posts do well, and when to post them.
With all this knowledge you will be able to grow your business using social media. What are you waiting for?