Finding your Voice at Trade Shows
In many ways, the planning and creation of trade show booths are the easiest part of participating in a trade show. Sure, airports and hotels can be a pain, and getting to the show site a day or so early and putting up the trade show booths can sometimes be an effort and a time commitment.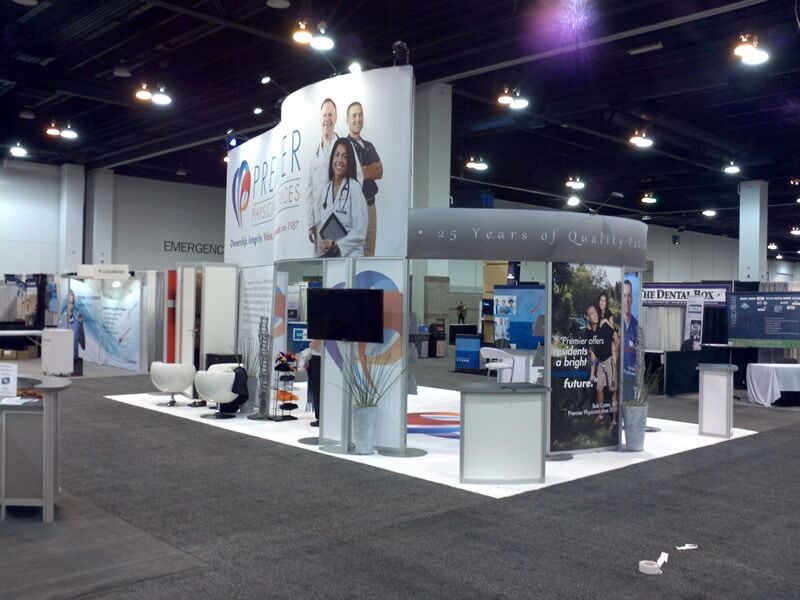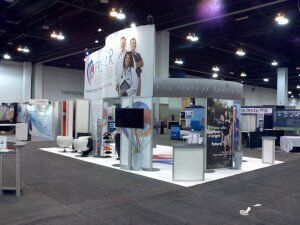 However, once they are up, many participants seems to feel the hard part is over. You can often see company representatives sitting and waiting for potential clients to come to them. It is almost as if they feel that they have earned a rest after all of the preparation.
In reality, the interaction and speaking to customers is the actual trade show. Your trade show booths need to attract visitors, but the rest is up to you and your sales team. The personal touch is the part of your presentation that you can control during the show.
Many people have difficulty with speaking to clients, either by feeling too much anxiety or acting with too little sensitivity to the personal space and receptivity of the passing customer. Here are a number of things to keep in mind when actually speaking with clients, ideas to remember about your voice and what you can do to project the best possible impression through vocal salesmanship.
Never, ever raise your voice: No matter how loud the sales floor gets, no matter how far away the client, never raise the volume of your voice while working in your trade show booths. This isn't a stock market, even though it may feel like it at times. If you are trying to get the attention of somebody, use non verbal tricks.Make eye contact.

Smile.

If you are ten feet away, put your hand out to shake theirs.

Very few people will refuse to shake the hand of a stranger if it is offered with eye contact and a smile. In this way, you seem like a friend even though you are meeting for the first time. When they respond with a shake and a smile of their own, feel your anxiety melt away

.

Maintain a low, well-centered voice during the conversation: When people feel anxious or nervous, they raise the pitch (and sometimes the volume) of their voice. The voice becomes scratchy and comes from the throat. When this happens, a client subliminally feels your tension and feels less comfortable around you instinctively.Maintaining easy, deep breathing automatically lowers your voice into your chest area, where it reverberates more, sounds deeper and more relaxed, and maintains a resonant tone.

It is the voice you hear on television newscasts.

There is no secret to keeping one yourself.
Whatever secrets you have for relaxing tension, use those during a trade show. If yoga is your thing, do that before a show so that you are tension free and ready to speak comfortably. When a representative approaches a client calmly, slowly, and relaxed, it eases the customer into the experience.
Tortoise, not the hare: What one vocal trick, in addition to the above, will differentiate you from every other representative on the trade show floor? Measured speaking and listening – yes, listening.
The vast majority of representatives speak too strongly and too quickly.This blitzkrieg approach of trade shows flies past the client, and usually makes you forgettable.

Speaking in a calm, measured tone, when coupled with firm but not insistent emphasis, makes you confident without being overbearing.

Add in the secret ingredient – knowing when to listen to a client when they are willing to offer their own information and not interrupt – makes you far more friendly and approachable than the average sales representative. One quality interaction is worth far more than ten quick but cursory contacts.
Knowing how to approach and speak to a client is one of the key components of your trade show repertoire that you should always be polishing up. Train your sales team to use these strategies in your trade show booths and you will be surprised at the difference it makes!
For more, learn why trade show chatter matters and how to get better results by building trust.